Time to open the twenty-eighth door in the advent calendar. Until the New Year, I'll be opening a door onto a different landscape from somewhere in the solar system. Where in the solar system is this cratered and streaked surface?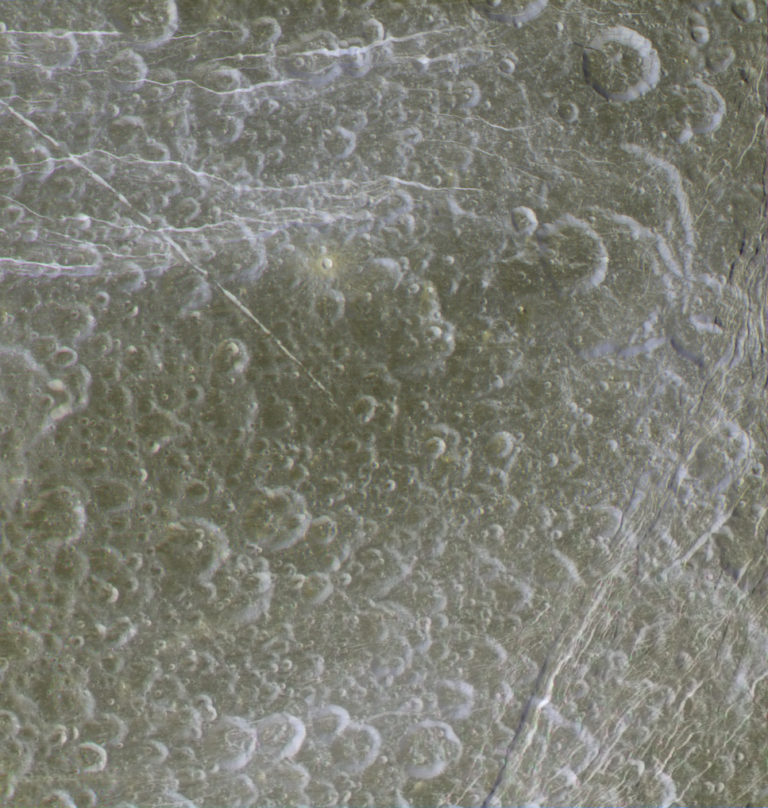 It's Dione, but I'd give partial credit for guesses of Tethys or Rhea, since those three moons of Saturn look quite similar, especially from this close. All are solid worlds of cratered ice, with leading hemispheres discolored a yellowish-greenish color (in this enhanced-color view, which is composed of images taken by Cassini through infrared, green, and ultraviolet filters) by deposition of something that came from outside the moons. Their surfaces are seamed by sharp, relatively fresh fractures. Dione's fractures have especially bright walls, and from Voyager's point of view it looked like wispy deposits overlaid on the surface. From Cassini's sharper eyes and more recent images (this one was taken on September 30, 2007 from a distance of 47,000 kilometers) it's clear that the "wispy terrain" was actually systems of parallel fractures that cut right across the craters, and which may have formed when an internal ocean solidified, causing the crust of the moon to expand and crack.
But there's other neat stuff besides the wispy terrain. There's a very straight but discontinuous crack running across the image from the upper left corner to the center. Near it, there's an especially fresh, rayed impact crater. Underneath it, running from left to right, is a curious pattern of parallel grooves (these are easier to see if you enlarge the image). I honestly have no idea what could have caused those grooves that would be distinct from what caused the formation of the wispy terrain. Maybe Paul Schenk knows!
The Planetary Society Blog 2010 Advent Calendar
Support Our Core Enterprises
Your support powers our mission to explore worlds, find life, and defend Earth. Tomorrow's discoveries begin today.
Donate