Your gifts allow us to continue to seed innovative space technologies, nurture creative young minds, and be a vital advocate for our future in space. Your continued support will ensure that together we can create a better future through exploring other worlds and understanding our own.
Let's change the world!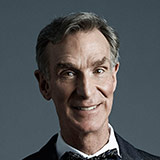 Bill Nye
CEO, The Planetary Society
Explore the membership options of The Planetary Society and join fellow space enthusiasts in advancing space science and exploration.
Gifts from New Millennium Committee members – individuals like you – seed projects. They propel advocacy. They take dreams and turn them into space missions. Let's invent the future together!
Your support of The Planetary Fund powers our mission to explore worlds, find life, and defend Earth. You can support the entire fund, or designate a core enterprise of your choice.
Want to advance space technology and scientific exploration? Choose a project that inspires you, and help ensure its success.
The Planetary Society's Corporate Membership Program offers companies of all sizes the opportunity to enhance their presence in the space exploration community by partnering with Earth's largest and most effective membership-based space action group.
Honor a family member or loved one, pay tribute to a favorite mentor, or celebrate your passion, beauty and joy for space science and exploration.
Celebrate a family member, colleague or friend with a tribute gift honoring them or a special event in their life (a birthday, wedding or other life milestone), or honoring their legacy.
Leave your legacy – include The Planetary Society in your will or living trust with a planned gift.
Gifts to The Planetary Society in the form of stocks, bonds or mutual funds appreciated in value can be an easy way for you to generously support the Society and may also be attractive to U.S. donors under current tax laws.
Give a gift – of cash or stock – and multiply it through your employer's matching gift program. Around the world, corporations, foundations and associations match their employees' charitable donations, sometimes for as much as twice the original gift.