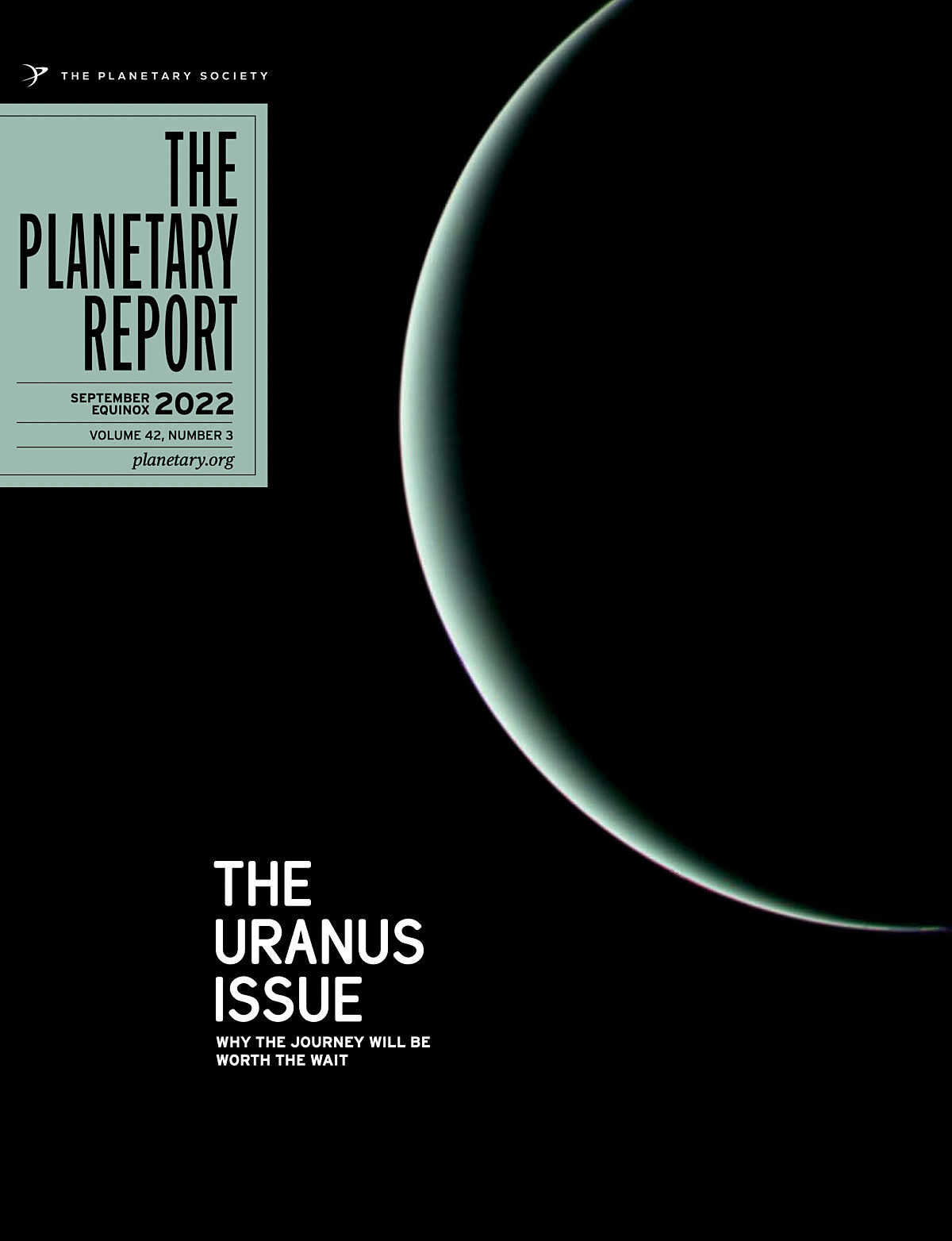 On the Cover: NASA's Voyager 2 spacecraft took this haunting crescent image of Uranus on Jan. 25, 1986 as it left the planet to explore Neptune. The planet's greenish glow comes from a tiny amount of methane in its atmosphere. Image: NASA/JPL
Download PDF
Features
September Equinox 2022
Your place in space
An enticing, enigmatic destination awaits us: Why we'll be advocating for a mission to Uranus
By Bill Nye, Planetary Society CEO

Every 10 years, the planetary science community in the United States works to identify the top exploration priorities for the coming decade. Scientists, engineers, and their organizations produce the Planetary Science Decadal Survey. This report guides NASA's decisions on which missions to fund, and in doing so, it informs many of the decisions made by other national space agencies since international cooperation is such a big part of deep space exploration. At The Planetary Society, the "decadal" is our business.

The 2022 decadal set a new destination for planetary exploration: Uranus. It's a mysterious world. Uranus and neighboring Neptune are ice giants, made mostly of materials that were ices at the time of formation. Now those materials, mostly water along with methane and ammonia, exist primarily as high-pressure, high-temperature fluids. Compared to Earth, these planets are huge. Another odd thing from an Earthling's perspective is that Uranus' north pole is sideways in its orbit. It may have wobbled over after an ancient collision. The ice giants have moons, rings, and a tumultuous past. They played a major role in the evolution of the Solar System. Using telescopes on the ground and in orbit, we've peered at these distant worlds, but there are limits to what we can learn from afar. Only one mission — Voyager 2 — has ever been out there to have a look at the ice giants up close. It flew past both in the late 1980s, not long after the Society was founded. The time has come to pay another visit to this remote part of the Solar System.
At The Planetary Society, we study the decadal survey carefully so as to guide our advocacy work to the best effect. With your help, we work to ensure that lawmakers allocate the funding that these missions need.
As a Planetary Society member, you have a key role in making sure that the planetary science community's advice is heeded by your local government. This issue of The Planetary Report will catch you up on what we've already learned about Uranus, what NASA hopes to do with the new mission to study it, and what it all means to us humans. As my grandmother always said, "An informed advocate is an effective advocate." Actually, I never heard her say that, but we at the Society say it all the time.
Watch this space because when the time comes, we'll rally members like you to make sure this mission to Uranus gets funded from the start to its launch and all the way along its 2.7-billion-kilometer (about 1.7-billion-mile) journey. The more we learn about the ice giants, the more we learn about the Cosmos and our own place in space.

Members on deck
Choosing planetary priorities
When a mission to Uranus was selected as a top priority by the U.S. Planetary Science Decadal Survey, we conducted our own survey to ask our members what they thought about this news. Here is a selection of their responses.
"I want to learn more about the rings of Uranus. There is much to be learned about planetary rings, and Uranus will be a comparison with all the other ringed planets. This will be a highlight of my life, and I hope I live long enough to see it." — David Ogilvie, USA

"There has been so little exploration of Uranus and Neptune that any missions to either of them are golden opportunities. I'd like to learn more about Uranus' moons, in large part because I'll confess near ignorance about them. Is there a potential for life on any of them? Or could we learn more about how the other planets of our Solar System were created through studying more into that frozen world?" — Seán Kane, USA
"Excited: The ice giants have been overlooked in favour of the more impressive gas giants or the distant Plutoids, so I'm very eager to see what's found by exploration to them." — Karen McLean, New Zealand

"I'm stoked! Studying one of our own ice giants will allow for leaps and bounds in exoplanetary science, and Uranus' moon system is intriguing. Who knows, maybe Titania too has subsurface oceans." — Ollie, United Kingdom
"As an undergrad in geology with dreams of planetary science, I am very excited about the recommendation of a flagship mission to an ice giant planet. There's a lot left to learn about Mars or Jupiter, but there's even more to learn about the ice giants. I'm hoping very much that we learn more about what causes the strange tilt in Uranus' magnetic field and more about its rings." — MJ, USA
"Ever since Voyager 2 passed Uranus, I've wanted to know more about its moon Miranda. Its terrain is so unusual and varied, I can't help but be intrigued. How did it get that way? I'm excited that a return to Uranus is now a priority and hope to see what we might find." — Myron Chaplin, USA
"I have long been fascinated with Uranus. I'm old enough to remember when we knew it as little more than a bright point in the sky. Then Voyager brought Uranus to life. It showed us what a strange and intriguing planetary system it is, and my curiosity only grew. Hubble has enabled us to continue observing and learning more about Uranus, but we have reached the limit of what we can learn from so far away. The Galileo mission to Jupiter and the Cassini mission to Saturn have demonstrated that with a relatively modest investment (relative to other things we invest in as a society), we can build outer planet orbiters capable of generating decades worth of scientific discoveries that both inspire and expand our knowledge of the universe. Why wouldn't we want to send an orbiter to Uranus? We know how to do this. We know it pays off. All it takes is for us to make the commitment." — Jonathan Sullivan, USA
"This is a fantastic decision! With the only spacecraft to visit Uranus being Voyager 2, we definitely need more exploration of the ice giants that we still know so little about." — Liz Davison, USA

Honoring Mat Kaplan
20 years of Planetary Radio
The Planetary Society's podcast and radio show, Planetary Radio, is celebrating its 20th anniversary this year. To mark this milestone, take a look at some of the highlights of the program that your membership makes possible.
First episode: Nov. 24, 2002
First guest: Planetary Society co-founder Louis D. Friedman
Number of episodes: more than 1,000
Reach: every major podcast streaming platform and more than 100 radio stations around the world
Audience: listeners hail from more than 40 countries
Honors: Planetary Radio is among the top 0.5% most popular shows out of 2.8 million podcasts globally* and is one of Apple's top five space exploration podcasts
Notable guests: Sir Arthur C. Clarke, Ray Bradbury, Buzz Aldrin, Sally Ride, Mae Jemison, Poppy Northcutt, Brian May, Ann Druyan, Jill Tarter, Elon Musk, Neil deGrasse Tyson, and, of course, our CEO, Bill Nye
Listen for free at planetary.org/radio!
*Source: Listen Notes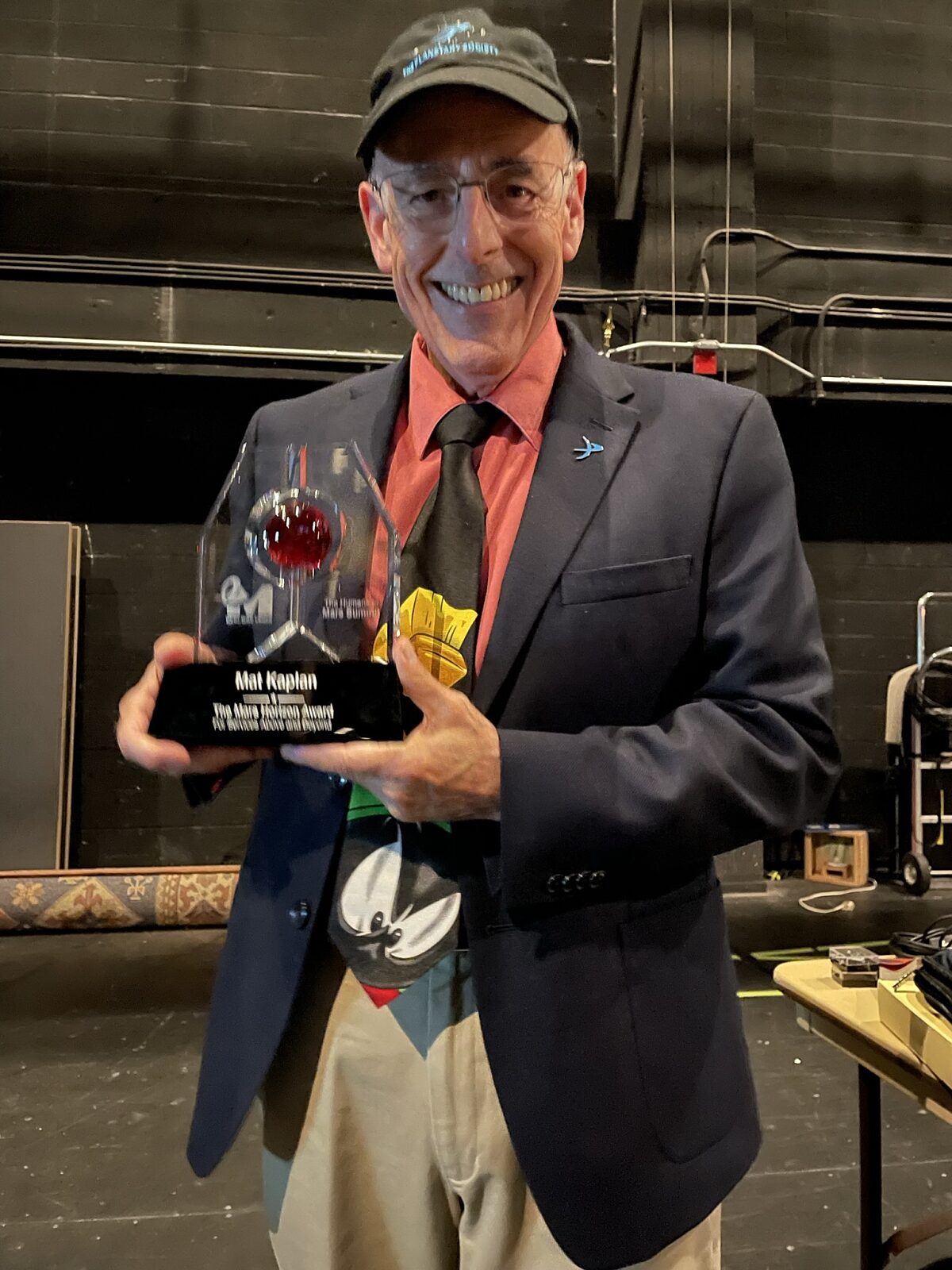 The host with the most

Planetary Radio's founding host and producer Mat Kaplan has been at the show's helm since its very beginning. For 20 years, Mat has done it all: conducting research; finding and interviewing guests; traveling to NASA facilities, science conferences, clean rooms, launches, and much more; recording, editing, and producing every episode; and hosting live events (including a recent Planetary Radio Live show in London, United Kingdom).
Mat was recently honored with the Mars Horizon award at this year's Humans to Mars Summit in Washington, D.C. This award recognizes his decades of work educating the public about Mars science, exploration, and so much more through his work with Planetary Radio as well as his many contributions to the Humans to Mars Summit over the years.
After 20 years of dedicated service to public education about space science and exploration, Mat Kaplan has decided to retire as host later this year. The Planetary Society is truly grateful for the outstanding work he has done over the years and the huge impact he has had on this world. We're also very happy to know that Mat will continue to be an important contributor to our work. Planetary Radio will continue with a new host who will be announced in the coming months.
Get involved
Make space for space!
There's a lot to look forward to in the coming months, especially in October! Here are some highlights.
International observe the moon night: Oct. 1, 2022
Join NASA and its global partners in celebrating lunar science, exploration, and observation. Whether you're just stepping outside to gaze up at our planet's natural satellite or are diving into some of NASA's online resources, there are many ways you can join the fun and learn a thing or two about the Moon.
World space week: Oct. 4–10, 2022
With the theme of "space and sustainability," this year's World Space Week will include virtual and in-person events with thousands of participants in over 90 countries celebrating sustainability in space and sustainability on Earth thanks to things we do in space.
Lucy earth flyby: Oct. 16, 2022
NASA's Lucy mission is on its way to study the Jupiter Trojan asteroids, but first, it's making a quick swing by Earth. Missions with far-away destinations often have to perform flybys of other planets on their way to either slow down or, in Lucy's case, pick up speed. The spacecraft should snap some great pictures of our home planet on its way past it, so keep an eye out for those!

Learn more about all these events by subscribing to The Planetary Society's weekly email newsletter, the Downlink, at planetary.org/connect.


Your guide to the night sky
Want to know what to look for in the night sky? We've got you covered! Check out The Planetary Society's new monthly series of night sky guides, which tell you what you can expect to see throughout the month regardless of where on the planet you live. Each guide is written by our chief scientist, Bruce Betts, who also writes the What's Up section at the end of each issue of this magazine. Find each month's night sky guide as well as lots of other great resources at planetary.org/night-sky.
Shop to support space exploration
Your membership already does so much to enable The Planetary Society to do our work advancing space science and exploration, and when you shop with us and our partners, you can do even more! We have some great opportunities for you to get cool space gear that supports our mission.
The Planetary Society offers an online store in partnership with Chop Shop. It's full of exclusive Planetary Society clothing, accessories, stickers, gifts, and more. Explore it all at planetary.org/store.

Plus, right now we're partnering with Conscious Step to offer a series of space-themed socks featuring rockets, constellations, and galaxies. Every purchase supports The Planetary Society. Check it out at consciousstep.com/collections/support-space-exploration.

And if you know someone who loves space and isn't yet a Planetary Society member, you can always buy them a gift membership. It's a great way to help them level up as a space enthusiast, all while helping to advance our mission. Learn more at planetary.org/gift.
What's up?
Lunar eclipse, meteors, and bright Mars
By Bruce Betts, Planetary Society Chief Scientist

In the sky
In September, very bright Jupiter and yellowish Saturn are rising in the east around sunset with reddish Mars rising later in the evening. All rise earlier as the months pass. Mars and Earth grow closer during this period, causing Mars to become brighter than the brightest nighttime star as Mars approaches opposition (the opposite side of Earth from the Sun) on Dec. 8. On Dec. 7, bright Mars will appear less than one lunar diameter from the almost full Moon. A total lunar eclipse occurs Nov. 8, visible from Asia, Australia, the Pacific, and the Americas. The Geminids meteor shower peaks Dec. 13/14. The Geminids are usually the best shower of the year, with 100+ meteors per hour from a dark site, but a gibbous Moon will wash out dimmer meteors this year. For more night sky tips, you can always check out planetary.org/night-sky.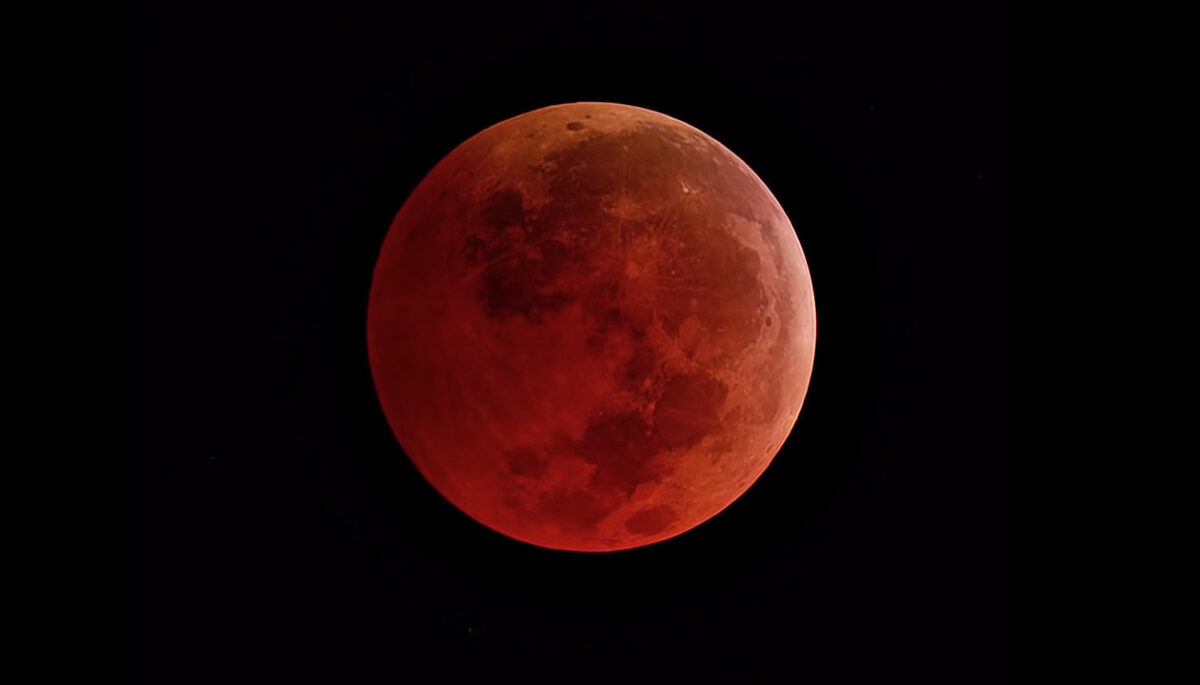 Random space fact
Uranus' moons are named after characters from the plays of William Shakespeare and Alexander Pope.
Trivia contest
Our March equinox contest winner is Karina Parra of El Paso, Texas, USA. Congratulations! The question was: What chemical element is named after the Sun, and which is named after the Moon? The answer: Helium, from the Greek word "helios," meaning "Sun," and selenium, from the Greek word "selene," meaning "Moon."
Try to win a copy of the new book "Solar System Reference for Teens" by Bruce Betts and a Planetary Radio T-shirt by answering this question: Who made the first discovery of a moon of Uranus?

Email your answer to [email protected] or mail your answer to The Planetary Report, 60 S. Los Robles Ave., Pasadena, CA 91101. Make sure you include the answer and your name, mailing address, and email address (if you have one). By entering this contest, you are authorizing The Planetary Report to publish your name and hometown. Submissions must be received by Dec. 1, 2022. One entry per person. The winner will be chosen in a random drawing from among all the correct entries received. For a weekly dose of What's Up? complete with humor, a weekly trivia contest, and a range of significant space and science fiction guests, listen to Planetary Radio at planetary.org/radio.
Astronomical art
Pavel Gabzdyl: View of planet Uranus from a hypothetical cometary nucleus with an extremely thin atmosphere
Planetary Society member Pavel Gabzdyl created this depiction of Uranus as seen from the vantage point of the surface of a passing comet. Gabzdyl chose this angle because it shows Uranus' rings, which are much less noticeable when seen from the side. The artwork also emphasizes the darkness of these far reaches of the Solar System, with only the faintest blue-green coloring visible on the ice giant.

Do you want to see your artwork here? We love to feature our members throughout this magazine. Send your original, space-related artwork to [email protected].
The Planetary Report • September Equinox 2022
Help advance space science and exploration! Become a member of The Planetary Society and you'll receive the full PDF and print versions of The Planetary Report.