Additional guests include:
Jessica Watkins, NASA astronaut
Tawny Newsome, Actor
Penny Johnson Jerald, Actor
Tim Russ, Actor
Denise Crobsy, Actor
Armin Shimmerman, Actor
John de Lancie, Actor
Nana Visitor, Actor
Doug Jones, Actor
Join us as we delve into the heart of Los Angeles' 2023 Yuri's Night party, a celebration commemorating Yuri Gagarin's pioneering 1961 voyage into space. We'll bring you exclusive interviews and insights from a stellar lineup, including Star Trek cast members, NASA's Jet Propulsion Labs Director Laurie Leshin, and astronaut Jessica Watkins. Together, they'll celebrate the future of space exploration and what it means to be SpaceKind. Don't miss our What's Up segment for the latest stargazing opportunities and info on the upcoming rare hybrid eclipse on April 20th.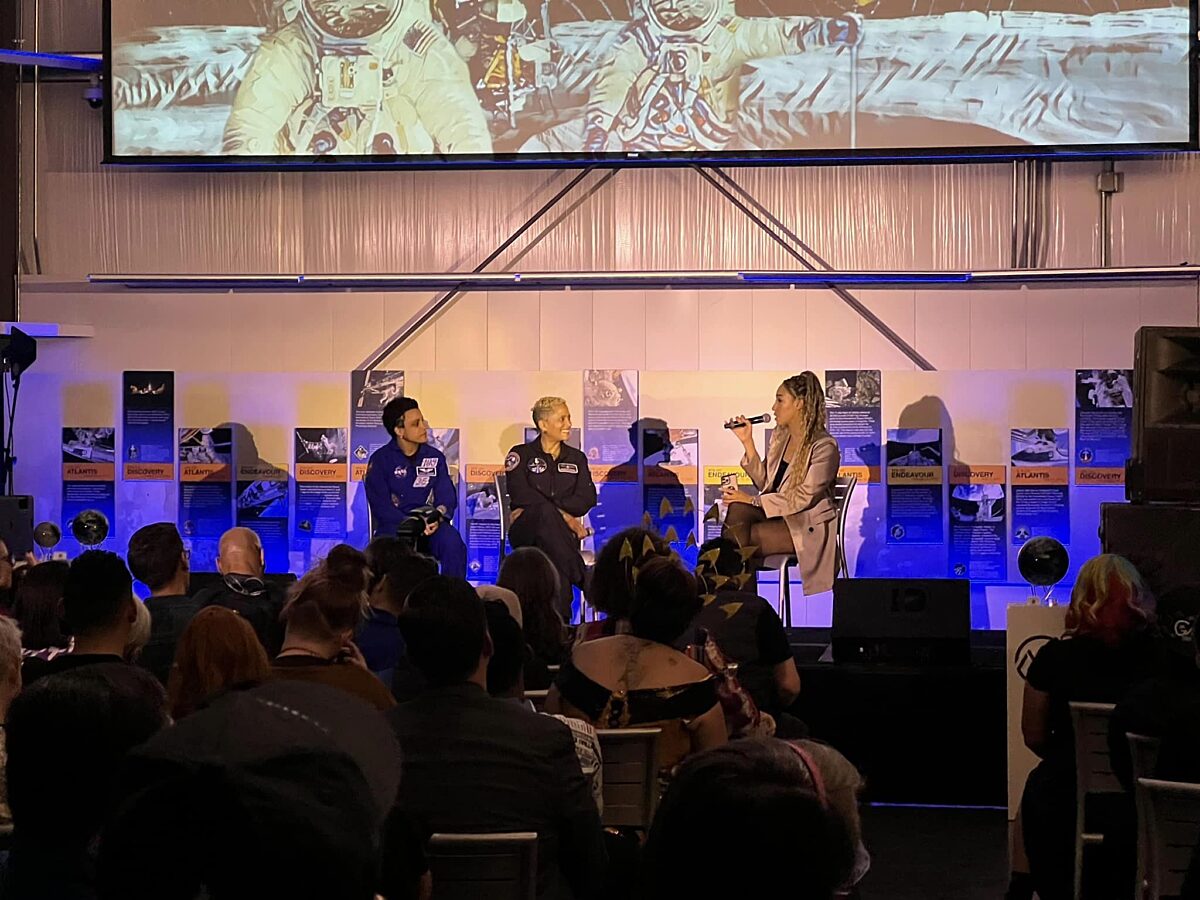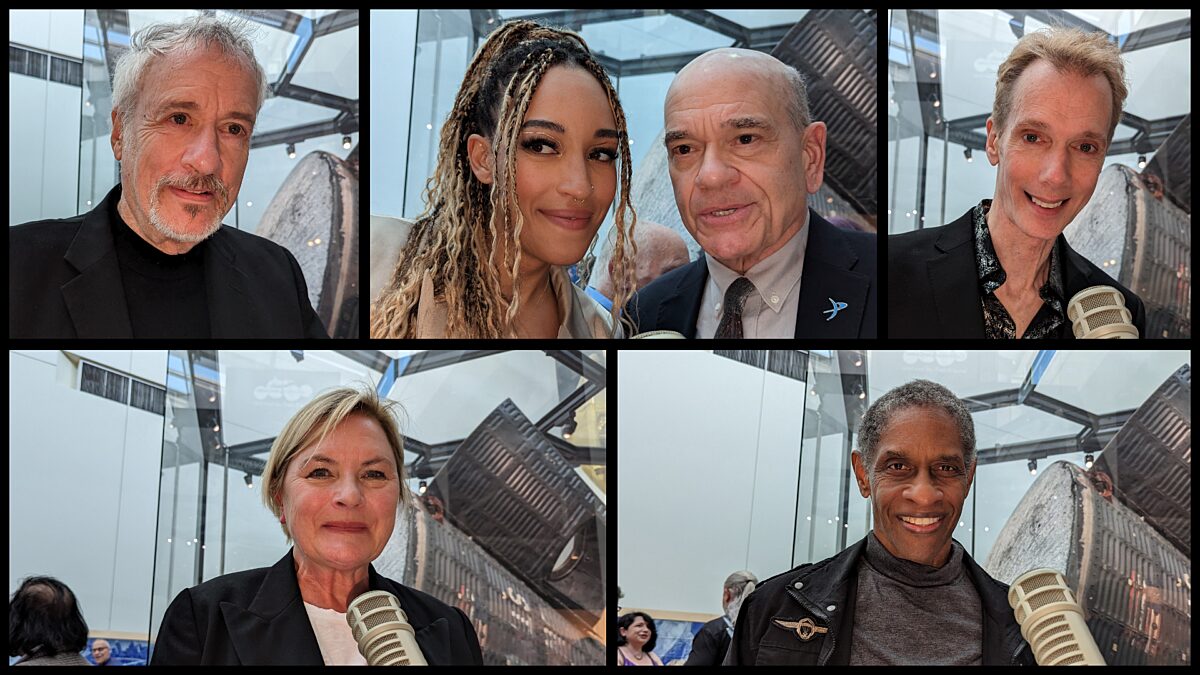 Related Links
Trivia Contest
This Week's Question:
What was painted on the front of Yuri Gagarin's flight helmet and why?
This Week's Prize:
A Yuri's Night Brand ID Gift Set from ChopShop
To submit your answer:
Complete the contest entry form at https://www.planetary.org/radiocontest or write to us at [email protected] no later than Wednesday, April 19 at 8am Pacific Time. Be sure to include your name and mailing address.
Question from the March 29, 2023 space trivia contest:
Who took the iconic picture of Bruce McCandless floating untethered over the earth during the first flight of the Mann maneuvering unit?
Answer:
Robert "Hoot" Gibson took the iconic picture of Bruce McCandless floating untethered over the earth during the first flight of the Mann maneuvering unit.
Last week's question:
On what planet was the city Freehold located in the lore of the Destiny video games?
Answer:
To be revealed in next week's show.
Transcript
Sarah Al-Ahmed: Celebrating Yuri's Night this week on Planetary Radio. I'm Sarah Al-Ahmed of The Planetary Society with more of the human adventure across our solar system and beyond. Get ready for an astronomical adventure as we dive into the heart of Yuri's Night, the biggest space party of the year. It celebrates the anniversary of Yuri Gagarin's groundbreaking journey to space in 1961. The first moment a human left our world. We'll bring you exclusive interviews and insights from Star Trek cast members, the director of NASA's Jet Propulsion Lab's, Laurie Leshin and the reflections of astronaut Jessica Watkins as they share their vision for the future of space exploration. Finally, don't miss out on our, What's Up segment, previewing the stunning night sky and a rare hybrid eclipse on April 20th. And now for some space headlines, Perseverance is sampling a new area on Mars. The rover, which has been collecting samples of the martian surface since 2020 has moved onto a new area atop Jezero Crater's Delta. The first sample was taken from a rock the science team calls, "Berea," which they believed formed from rock deposits that were carried downstream to this location by an ancient river. If so, this rock could differ from those originating in the Delta. Meanwhile, the ingenuity Mars helicopter that's been accompanying Perseverance broke the record this week by flying faster and higher than ever before. NASA is moving away from naming spacecraft after people. A new policy says that missions should be named after people only when they're contributions are so extraordinary that any other form of recognition by the agency would be considered inadequate. This decision comes in the wake of critiques after the naming of the James Webb Space Telescope, several Jackson emissions may be facing delays due to rocket issues. The Japanese H3 rocket failed in its first launch, possibly because of issues with its upper stage engine because the engine is very similar to the one that's on the H-IIA rocket, launches of that vehicle are also on hold. This could delay the launches of the XRISM X-ray Telescope, the slim Lunar Lander, and possibly MMX a mission to return samples from the Martian moon, Phobos. You can learn more about these in other stories in the April 7th edition of our weekly newsletter, The Downlink. Read it or subscribe to have it sent your inbox for free every Friday at planetary.org/downlink. And now on to Yuri's night. On April 12th, 1961, Yuri Gagarin, a Soviet cosmonaut made history by becoming the first human to journey into outer space. This day is now celebrated worldwide as the International Day of Human Space Flight. In honor of Gagarin and all that has been accomplished as humans have explored space, we celebrate Yuri's Night, a global celebration of space exploration, science, and human achievement. Yuri's Night was conceived in 1999 by its founders, Loretta Hidalgo Whitesides, George T. Whitesides, and Trish Garner. The event has evolved over the years and is now run by the Space Kind Foundation, a nonprofit organization with a mission to educate and inspire the next generation of explorers. This year's Yuri's Night theme is, For All Space Kind, a celebration of unity and inclusiveness. We live in a time when all of humanity exists on the surface or an orbit around the planet Earth, but that may not always be true. As humanity ventures to other worlds and perhaps other stars, what celebrations will we take with us? The founders of Yuri's Night hope that this is a celebration that stays with us for generations to come as we venture out into space. It's hard to express what it's like to attend Yuri's Night, the electric energy of the crowds of space lovers in their space inspired outfits, the clamor of Star Wars droids everywhere you go, the instant friendships that are made as the crowd gathers under the space shuttle endeavor to celebrate and dance the night away. The event is packed with a star-studded guest list, including NASA astronaut Jessica Watkins, Dr. Sian Proctor, the pilot of the SpaceX Inspiration4 mission, numerous cast and crew members from science fiction shows and movies, and a host of Yuri's Night ambassadors. There are also many talented artists and some of the most delightful and inspired members of Space Kind you can meet. As we venture further into space and explore the cosmos, it's becoming increasingly clear that the divisions between us matter less and less. We're all just citizens of the planet Earth and this concept is beautifully captured by the term, space kind. Yuri's Night and the Space Kind Foundation are dedicated to fostering unity, understanding, and collaboration among Earth's inhabitants as we reach for the stars. Here's a short clip from Loretta Whitesides, the founder of the Space Kind Foundation and a co-founder of Yuri's Night.
Loretta Whitesides: That's why I launched Space Kind. It's a new kind of space training that helps you not only get to space, but like the person you are when you get there, because who we are when we get to space, it's going to set a precedent for generations to come. Feels like this is a really important time for humanity, and we have a incredible opportunity to use the move into space to make some critical course corrections in how we treat ourselves, how we treat each other, and how we treat our home planet. We're not passengers here. This is a spaceship, that's our windshield. It's got a pretty epic view of the galaxy. We don't treat it like that. It's time for us to step up and become crew, as Spaceship Earth.
Sarah Al-Ahmed: I was exceptionally excited for this year's keynote given by Jessica Watkins. NASA selected Jessica to join the 2017 Astronaut Candidate Class. She has an impressive background in geological and environmental sciences. Jessica recently completed her first space flight on NASA's SpaceX Crew-4 Mission to the International Space Station where she spent 170 days in space. She's also part of the Artemis Team. As we look to humanity's future in space, it's important to note that Jessica might become the first woman and Person of Color to step on the Moon. Here's a bit of her reflections on her time and space from her keynote address.
Jessica Watkins: We have such a unique privilege to be able to see the Earth from this vantage point, to be able to see the diversity of colors and climates and ecosystems, and it really just drives home the importance of our responsibility to take care of it. The night sky from the cupola is equally as beautiful, getting to see the stars in the sky and then as well as all of the lights and city lights and lightning thunderstorms that cross continent on the surface of the Earth. Some of our favorite moments as a crew were times where we gathered together in the cupola and just watched the world go by together, really often in stunned silence at just how absolutely beautiful our home is.
Sarah Al-Ahmed: Jessica stuck around after her keynote for an interview conducted by Tawny Newsome. Tawny is best known to space fans for her roles as Ensign Beckett Mariner on Star Trek Lower Decks, and Angela Ali in the Netflix original series Space Force where she plays the first Black woman on the Moon. Fittingly, Tawny had the opportunity to interview two groundbreaking women in the space industry, Dr. Sian Proctor and astronaut, Jessica Watkins. Sian Proctor was the first Black woman to pilot a spacecraft aboard SpaceX's Inspiration4 Mission. And as I said before, Jessica Watkins might become the first Black woman to step foot on the Moon. This powerful conversation highlights how far we've come and how exciting the future of space exploration truly is.
Tawny Newsome: So there continue to be many historic firsts by women in the space sector, especially for women of color and still a lot more to go. Dr. Proctor, how do you see your career being shaped or influenced by the barriers that you've broken or by any hardships that you've faced?
Sian Proctor: I'm a seasoned individual, and so going through a lot of my education and a lot of the spaces I've been in as a geoscientist and a teacher, I've been the only person of color, the only woman of color too, and so to be able to go and be a part of the SpaceX Inspiration4 Mission and become the first Black woman to pilot a spacecraft, woo woo, woo woo. Here we go. Here we go. Give the woman her flowers. There we go. Yeah, really with great opportunity comes great responsibility, and so knowing that I have been able to have an impact on other people being able to see themselves in that space and doing that. How many of you watch Countdown or watched our mission?
Tawny Newsome: I did.
Sian Proctor: Yeah. And followed along and we were called Inspiration4 for a reason, and it was to be able to come back and inspire. And so I've been very fortunate that I often run into people who come up to me and say how much our mission, and me in particular and what I was able to do in for our mission, impacted them and helped change their lives.
Tawny Newsome: Yeah, amazing, thank you. Dr. Watkins, same question. How have the barriers that you've faced influenced you or shaped you?
Jessica Watkins: Yeah, I think certainly for me it is a real privilege to be able to be a part of the legacy of Black astronauts and Black women astronauts that have come before me and a real honor to be a part of that is a testament to that history. And then it's also, I think, a testament to such an exciting future that we have at NASA and in human space fight, moving in the right direction towards more diversity of all types, experience, background, racial diversity, all of the above.
Tawny Newsome: Amazing. Oh, this is good. You basically gave me a segue into the next question. See, you could be an actor. You got this. So Dr. Proctor, you founded Space to Inspire, which is founded on J.E.D.I Training, J-E-D-I, which stands for Just, Equitable, Diverse, and Inclusive. So how can the space industry, both public and private, support these building blocks of inclusivity?
Sian Proctor: I think that when it comes to creating a J.E.D.I space that Just, Equitable, Diverse, Inclusive space for all of humanity, who here wants to go to space? Yeah, right? And so the whole idea that we all play a part in the advancement of human space flight, and I think that it starts with us and things like this, what Yuri's Night represents, what Space Kind, if you haven't taken Space Kind training, that's where I got myself grounded in 2020 with Loretta and then ended up again a year later winning my seat to space with Inspiration4. But I think a lot of it is about us putting pressure on the people who are making the decisions and letting them know that we all want to be a part of the narrative of human space flight, and it might be a Star Wars acronym, J.E.D.I but it is a Star Trek future, that we are trying to create, and it is grounded in that idea that we will boldly go together on this adventure. And so that's what that's all about.
Sarah Al-Ahmed: One of my favorite parts of Yuri's Night is the spirit of Yuri's Night Award. This award is all about recognizing the people who embody the true essence of the celebration, inclusivity, unity, and a deep appreciation for the diverse qualities that make us human. This year's winners have truly captured the spirit of what it means to be space kind.
Speaker 6: Now, one of the fun things we get to do at Yuri's Night is give out an award every year called Our Spirit of Yuri's Night Award. Every year we give this award out for somebody who's made space cool and accessible, who's used art and music and science to be able to bring the world together and appreciate a part of space that we haven't done before. This year, we've chosen a group of people who created something that started out as a fun homage to a lot of the science fiction that we know. It started out as a parody a little bit of some of the tropes that we've seen, but has really grown into an accessible and deep insight into human culture, human nature, and its attacked problems that no other show has been willing to go out there and talk about a national television before. So we'd like to invite up to the stage the cast and crew of The Orville.
Sarah Al-Ahmed: The creators and crew behind The Orville should be proud. They absolutely deserve that award. At first glance, The Orville might seem like a comedic take on Star Trek, but it quickly evolves into one of the deepest, most thought-provoking shows I've seen. Here's what Penny Johnson Jerald, who plays Dr. Claire Finn on the show had to say.
Penny Johnson Jerald: I learned a lot just sitting here. I learned that I'm seasoned. I also learned that there is so much out there in space and that we are so fortunate on The Orville to share stories that are hopeful, that lets us know that there is a future, and now I'm going to leave here knowing that we have so many more stories to tell.
Sarah Al-Ahmed: During the festivities, I had the opportunity to bump into Laurie Leshin, the director of NASA's Jet Propulsion Lab. I couldn't pass up on this chance to ask what upcoming space moments she was most looking forward to.
Laurie Leshin: Well, I can tell you one that we're literally right on the cusp of at JPL, which is the 50th flight of the Ingenuity helicopter on Mars. 50. We were being thrilled if it had lasted five and we're on the cusp of 50, so that's amazing. But here's the one that I can imagine is going to be just mind-blowing. In about, I don't know, seven to 10 years depending on exact timing, we are going to be launching a rocket from the surface of Mars to come back to Earth with the Mars Sample Return Mission, and it's not going to look like a typical launch. We are actually going to throw this rocket up in the air and then light it, and we've got Perseverance Rover who's going to be standing by filming it. So we'll get to see it. That I think, seeing the first rocket launch from the surface of another planet, is going to be a moment to remember.
Sarah Al-Ahmed: We'll be right back with the rest of my adventure at Yuri's Night after this short break.
Casey Dreier: Hi, it's Casey Dreier. I'm the Chief of Space Policy here at The Planetary Society, and I just want to take a moment to thank you for being part of the world's largest and most influential nonprofit space organization. Together we are on a remarkable journey to make a better future for humankind through space, science, and exploration. Your support in the United States enables our team, my team, to work to make sure every US representative and senator in our Congress understands why space exploration is a critical part of US National Policy. From workforce technology to science to even international relations. Each year we urge Congress to maintain robust funding for NASA's ongoing missions, guaranteeing that they stay on course and achieve their scientific goals. Now look, there are 81 new faces in Congress and several returning members that are joining space related committees for the first time, all of these could influence NASA's future endeavors, and already they have begun to discuss next year's NASA budget. The time to act is right now. So in addition to writing Congress yourself, which you can do if you live in the United States, there's something you can do to bolster our advocacy work, and anyone can do this anywhere in the world, and that's to make a donation. Thanks to the generosity of a fellow Planetary Society member, your gift today will be matched up to $75,000. This ensures our advocacy efforts will continue to thrive. Now, to make your contribution, you can visit planetary.org/takeaction. On behalf of everyone at The Planetary Society, thank you for your support and helping us champion the future exploration of space.
Sarah Al-Ahmed: Yuri's Night is not only a celebration of science, but the stories and art that make us dream of exploring other worlds. It's only fitting that we turn our attention to the iconic sci-fi series that's captured the imagination of generations, Star Trek. During Yuri's Night, I had the amazing opportunity to meet some of the talented actors who brought the Star Trek universe to life. I asked them what upcoming moments in space history they thought we would be celebrating for generations to come. Kicking off this star-studded lineup is Robert Picardo. He's not only a member of The Planetary Society's board of directors, but also the actor who portrayed the unforgettable emergency medical hologram on Star Trek: Voyager.
Robert Picardo: I am happy to be here. I come to this event as much as I can. I think it is, it's a worldwide celebration honoring the first human in space. Usually our fearless leader, Bill Nye The Science Guy is here. He couldn't make it this year. So as I look at myself as not only a big fan of Yuri's Night but I'm, Back up Bill, I'm here to represent our society.
Sarah Al-Ahmed: What I love about Yuri's Night is that this is essentially a moment for all of us to celebrate what humanity is going to take with us to the stars no matter where we go, no matter what we do, moments like Yuri's Night when we're celebrating something that is truly human are beautiful, and we will carry that with us. So what other things that are coming up in space in the future do you think might be celebrated for generations to come?
Robert Picardo: What things that are coming up now that'll be celebrated generations now? Well, for example, in the last year we have the Double Asteroid Redirect Test, huge success, proof of concept. We can save our planet if we have an asteroid on a collision course with Earth, we now know what to do. Now all we have to do is get the job done. That's why NASA is, I think, our best American name brand. We're doing things that are not just benefiting our country, that are going to benefit all of humanity and also, of course, all the other space organizations around the world. We are engaged in things for the future benefit of all of us. I think we know now that our future lives in space, we are going to eventually outgrow, or perhaps over damage our home planet. I hope that doesn't happen. I hope we're smart enough to reverse all of the terrible things we're doing, eliminating so many species every year. There's so many things we need to do to preserve life here, but we also know that if we're looking hundreds of years into our future, space is our future. So why not get there as fast and as successfully as we can? And that's what nights like this celebrate.
Sarah Al-Ahmed: Next up, we have Tim Russ, who portrayed the logical and insightful Lieutenant Commander Tuvok on Star Trek: Voyager. If you live in the Los Angeles area, you may sometimes find him at Star parties where he operates a telescope and shares his love of space with visitors.
Tim Russ: I am most excited about, number one, the discoveries we can make by using our new technology, the telescopes like the Webb, and being able to try to identify an exoplanet that not only could sustain life, that may actually have life on it. So we are right now at that point where we can do that. So I am waiting with bated breath for the day that they make this announcement at Breaking News on CNN or whatever it is, where they've actually discovered an exoplanet that shows signs of life. Now, that could be either biological life or that could be artificial life, which would be even more exciting, if they can find an atmosphere that contains chemicals that could only be manufactured and produced by technology. That would be... That's the day that I'm waiting for.
Sarah Al-Ahmed: Joining us next is Denise Crosby, best known for her portrayal of Security Chief Tasha Yar in Star Trek: The Next Generation.
Denise Crobsy: We need to carry forward the best of humanity. And the best of humanity is a empathetic awareness of all things around us, sympathetic, empathetic, and a nurturing, caring, desire to better things than the way we have found them now. So that to me is futuristic and that means carrying along others who aren't as evolved, who haven't reached that understanding and that awareness yet. All of us are in a certain stage of development in terms of our psyche, in terms of our analysis, our development, our impact, and we need to be sensitive to that. Not demonize, not criticize, but be caring of everyone who they are and where they're at. Not everyone is the same. That's the beauty of us. It's our differences that make us the best of humanity, not our sameness.
Sarah Al-Ahmed: Let's be honest, who doesn't love Armin Shimmerman? He played the Ferengi, Quark, in Star Trek: Deep Space Nine.
Armin Shimmerman: The Kepler telescope, that's very, very exciting. I know that they've discovered thousands and thousands of worlds outside of our solar system, and several of them have water on them as well. So I'm hoping that there's a possibility that some sentient life is somewhere in the universe besides our little speck of dust here in this solar system. So that is the most exciting. Going back to the Moon is very exciting, and I hope that someday that we are able to put settlements on the Moon, on Mars, and beyond.
Sarah Al-Ahmed: If you like space tricksters, John de Lancie is probably one of your favorites. He plays Q from Star Trek: Next Generation and Star Trek: Picard.
John de Lancie: Well, I know this sounds a little strange, or maybe not strange, but kind of retro. We celebrate big space events, Winter Solstice, Easter, we have Easter tomorrow, and when you think about it's really celebrating Spring. And so that's a pretty big solar event, an Earth event.
Sarah Al-Ahmed: I can't wait to see what strange holidays we'll have when we go out among the stars and end up on another planet. It was an absolute joy to meet Nana Visitor who portrayed the strong and resilient Kira Nerys in Star Trek: Deep Space Nine.
Nana Visitor: I had a very personal moment connected to space. I had interviewed Samantha Cristoforetti at my home, and when she was at the Space Station, I had the opportunity at ESA to go and talk to her, and here was a meta moment. They said, "Open a channel," and I'm on Earth talking to a young woman on a space station who watched me on a science fiction show. It was like, and my brain ping ponged and almost exploded with the joy, the wonder, the amazement, because we didn't even have... When we'd made the show, we'd started out, we didn't have phones, we didn't have phones. So to be talking to a young woman on a Space Station, that knocked me out.
Sarah Al-Ahmed: Do you have any idea how hard it is not to fan girl when you're meeting people like this? Next up, I met Doug Jones, the talented actor behind the empathetic Saru on Star Trek: Discovery.
Doug Jones: Well, gosh, so everything about space has fascinated me since I was a kid. I was the one who would lie on my front lawn in the summertime in Indiana and look up at the stars and wonder, "Gosh, how far does that go? What all's out there? Oh my gosh." And then being Saru, Saru as a teenage Kelpien was looking at the sky doing the exact same thing I did when I was a kid. So I really related to that storytelling and those possibilities. I remember 1969, I was on a road trip out west with my family in our station wagon as a nine year old boy, and big news was the Moon landing, and it happened while we were on our road trip till we stop at a motel, turn on the news, and watch the footage, and that alone was unfathomable to me. That thing I see in the sky, they made a trip to it, got out of the ship and went, dun, dun, dun dun on the surface. Well, I'm excited about the possibilities, what we've been hearing about Mars now. It's our a neighboring planet and with the rover, what else are the possibilities?
Sarah Al-Ahmed: And finally, I got to meet Tawny Newsome, who voices the fun and fearless Ensign Beckett Mariner in the animated series, Star Trek: Lower Decks.
Tawny Newsome: I'm just so excited that we're going back to the Moon. I'm so excited that we're leaving lower Earth orbit. It's a very cool time to be even tangentially associated with space. So I wish them all the best of luck.
Sarah Al-Ahmed: I've done a lot of cool things in my life, but it was truly an honor to speak to these amazing actors. Star Trek has inspired generations to explore the cosmos. I literally don't know who I would be without that show. I'm sure that's true for so many of us. It is my deepest wish that we carry that spirit of kind exploration with us as we venture to the stars. Almost everyone you meet at space events like this have an amazing story. I asked a few of the attendees what they were most looking forward to in the future of space exploration.
Sarah Seward: Hi, my name is Sarah Seward and I'm a contemporary, surreal wildlife artist. There is this awesome thing called the Lunar Codex that was put together by Samuel Peralta, and it is basically a series of time capsules of art in all its forms. So there's writing, there's music, there's fine art that's being transformed into a digital medium and then launched onto the Moon. There's already one launch that's happened, the Artemis that went up and back down, and then there are three more happening, two this year in 2023, and then the third scheduled in 2024, and that's what my art is going to be on, the Polaris mission in 2024, and it's going to land on the Southern Pole of the Moon and stay there for, I don't know how long. The painting that's going up is called, Luna, and it's part of a series that I worked on that is actually inspired by the Moons of our solar system and the deities that inspired their names.
Darren Moser: Hi, my name is Darren Moser, also known as Dr. Sci-Fi, and I'm standing here with my puppet. This is BD-1, which is a video game character from Jedi: Fallen Order, a Star Wars video game. I've been coming to Yuri's Night for a couple of years. It's a lot of fun seeing people who are very creative, who are bringing all sorts of cool things and really love space. And one of the things that I'm really looking forward to in the coming years that we can look to, not just the rocket launches and now we're launching from here, the West Coast, we're launching from Florida, and I think every time you see a rocket go up, it is just an amazing thing. So I think that's one of the reasons things like Yuri's Night are so important to just bring out that spark of that future.
David: So my name's David. I'm a camera operator here out in L.A. love sci-fi, kind of what inspired me to get in the film industry, and I'm really excited to see humanity really actually taking the step forward, or I guess back, to the Moon again. Finally announcing the new crew, seeing who the first woman and person of color astronauts are going to be to go around the Moon, hopefully one day soon, step foot on the Moon as well. And even a first Canadian too. That's really cool. Growing up, not really seeing much going on in space other than the shuttle era and the end of it. It was kind of disappointing, but now there's actual progress going on and it's just really exciting because the sci-fi part of me just goes, "Oh wow, it's not sci-fi anymore. It's actually happening." So that's really exciting to see.
Sarah Al-Ahmed: Later on in the night, I ran into a good friend, David Pinsky, who's a museum guide at Griffith Observatory and a lover of meteorites. He was the person who first told me that The Planetary Society was hiring, and that act of kindness changed my life. Here's what he thinks humanity will be celebrating for years to come.
David Pinsky: Without a doubt, going back to the Moon, having footprints on the Moon, and having people walk on the Moon that actually look like people that you see every day from all different walks of life. That will be big because I got to see Apollo 11 land on TV and had my moment, and I know what that moment was like. But for everybody, to be able to see a much better quality video and much better quality everything, people who look like them walking on the Moon and doing things is going to be bigger than anything because we can send machines, it's great, but when you have somebody actually expressing what they're feeling on the Moon and telling you exactly what that rock looks like, machines can't do that and they never will.
Sarah Al-Ahmed: As I look back on the amazing experience of Yuri's Night, I want to take a moment to acknowledge the dedicated and passionate volunteers who made the event possible. They came from a variety of organizations including The Planetary Society. They worked tirelessly to ensure that the celebration of space exploration was a resounding success. These volunteers are the true heroes of Yuri's Night. I want to send a huge thanks to all of them and to everyone around the world that volunteers their time to share the wonders of the cosmos. It days like these that I truly feel hopeful for the future of humanity. Meeting so many amazing inspired and kind people as an experience that I hope all of you have someday. I'll carry that adventure with me for the rest of my life. Not everyone is lucky enough to live near a Yuri's Night celebration, but no matter where you live on this beautiful planet, you can take a moment to appreciate the night sky. Here's Bruce Betts, the chief scientist of The Planetary Society for What's Up. Hey, Bruce. So now that I have fully established that I spent all Saturday being the sparkly magical space girl I want to see in the world, what are you doing to mark this International Day of Human Space Flight?
Bruce Betts: I thought I would work on space related topics and then maybe look at the night sky and check out space overhead.
Sarah Al-Ahmed: I mean, it's worth doing, especially after that ridiculous image of Uranus that just came out from the James Webb Space Telescope. Have you seen that?
Bruce Betts: I have. It looks quite spectacular. It's another amazing picture by an amazing technological achievement.
Sarah Al-Ahmed: Well, since our eyes can't do what JWST can.
Bruce Betts: Maybe yours can't, but well much easier than Uranus is Venus, which is hanging out in the West after sunset looking super bright. I feel repetitive, but don't lose track of our friend, Venus. It's really cool looking. And Mars is getting dimmer, but it still looks like a mildly bright reddish star. Orion and the other bright stars that have been hanging out with it for a while, they're going to separate, they had a little fight with Mars, so God of War, you can only keep him happy so long. And then in the pre dawn East, we've got yellowish Saturn and big stuff coming up depending on where you are, a hybrid solar eclipse on April 20th. Hybrid eclipse is when the moon is just the right distance so that in part of the path it's a little bit closer to the surface and in part of the path it's farther because Earth round and all that. And so in part of the path, you get an annular eclipse along the central line where the Moon does not cover the Sun completely and on the central part you get a total solar eclipse. But you're probably wondering, "Where is it?" Well, the total eclipse will be visible over a small portion of the Northwest corner of Australia from East Timor and various islands in Eastern Indonesia and the seas and oceans nearby, if you're swimming around there. It's a short one, one minute and 16 seconds maximum for totality, but still cool. And you can check out a partial solar eclipse over a much broader area, including most of Indonesia and most of Australia. You can check out planetary.org/eclipse or check one of the many sites. It gives you more information if you are in those areas. Or you can just frustrate yourself by looking at those and being sad that you're not going to see it. April 22nd, everyone with a clear sky will be able to see the crescent moon hanging out near Venus, making a beautiful pairing in the West and centered on the night of the 22nd through the 23rd, a moderate meteor shower, the Lyrids. If you're at a Dark Site, about 20 meteor per hour at its peak moonlight, good news, little interference because there's just that crescent moon that will set early in the evening so it's not competing. So still it's pretty good meteor shower and it has a pretty sharp peak, but from the 21st through the 24th, you can pick up certainly increased midyears and even beyond that. Okay, busy, busy.
Sarah Al-Ahmed: And I don't know if everybody knows this, Bruce actually puts together a guide every month of what's up in the night sky. So I'll link that on the page for this episode of Planetary Radio. So you can still check in back every week, but also Bruce has a heads up weeks out that you can also look at.
Bruce Betts: Yeah, and if you're remember you get the Planetary Report magazine or you check it out online, you can get three months out, but then you don't get as much detail. And on this weekend space history, are you aware of anything space related that happened this week?
Sarah Al-Ahmed: No, absolutely not. I didn't totally just spend this whole last week celebrating anything at all.
Bruce Betts: Okay. Well then I will let you know that the first human in space, Yuri Gagarin, flew in 1961 this week when the show's coming out and 20 years later on the same date was the first space flight of the space shuttle, STS-1, and this week, Apollo 13 had its adventure and returned safely to Earth after a lot of creative problem solving by engineers in 1970. So yeah, some very significant events as well as lots of others that I'm not going to get to. You know why?
Sarah Al-Ahmed: Why?
Bruce Betts: Because we have to go on to [inaudible 00:37:04].
Sarah Al-Ahmed: It was this close to being right out of the Simpsons.
Bruce Betts: So this one I'm borrowing. I will cite my source from Caltech because they unveiled something. You talked about the Uranus picture. There is something else unveiled today that's amazing, which is a mosaic of Mars from MRO Mars Reconnaissance Orbiter. The context camera taking from its 110,000 images. There's a 98 or 99% of the surface at five meters per pixel in one interactive image, and it's amazing. I so wished I'd had this when I was playing with Mars Surface Science to get an idea. It can be accessed through Caltech's Bruce Murray Laboratory for Planetary Visualization, and yes, that is the same Bruce Murray who is co-founded The Planetary Society and was my PhD thesis advisor. Now we get to the really kind of the weird fact part of it. The full mosaic is 5.7 terra pixels. And taking straight from the Caltech release if it were printed out at 300 dots print, the standard printing resolution for many, the resulting image could be used as a sunshade for the entire Rose Bowl and a significant chunk of the Rose Bowl's parking lot. That is a big image, but I just couldn't believe when you go online and you go through, it is very easy to move around. And so there's higher resolution coverage of parts of Mars, but to have an entire mosaic of essentially almost the whole planet, it's just incredible. So I got excited.
Sarah Al-Ahmed: No, it was absolutely amazing. I saw it come into my email when you sent it to me. Had to check it out and my gosh, it's startling.
Bruce Betts: Yeah, it's amazing. Let's go into the trivia contest, shall we?
Sarah Al-Ahmed: Let's do it.
Bruce Betts: I asked who took the iconic picture of Bruce McCandless floating untethered over the Earth during the first flight of the man maneuvering unit where he is just floating out there, space in the background, Earth down below. How'd we do?
Sarah Al-Ahmed: Interestingly, we had a lot of variation on this one. It seemed like people had a hard time trying to find the answer to this, even the ones who did admit to Googling it. But the answer is Robert "Hoot" Gibson. That's got to be a really weird moment to just be watching someone on your crew just floating in space.
Bruce Betts: It was amazing. And "Hoot" Gibson was a pilot astronaut, flew on several missions, and so he had the camera and took that stunning picture of him just hanging out there.
Sarah Al-Ahmed: Cool.
Bruce Betts: All right, you got anything more? Anything exciting? You got a winner, maybe?
Sarah Al-Ahmed: Our winner this week is Steve Sheridan from Redondo Beach, California. So we'll be sending you a Good Night, Oppy thermal mug, and I hope you cherish it because there were several people that are like, "Please let me have the Oppy thermal mug." So I don't know, our supplies are running a little low, but I will continue giving them out until we run out of awesome Oppy thermal mugs. And I did like this. It's been a while since we've shared one of our poet laureates poems that they sent in, Dave Fairchild from Kansas, USA sent us this poem: "Back in 1984, a backpack went to space where Bruce McCandless wore it and it wasn't commonplace. In fact, it was a first in line, the jet pack, MMU, that took him out from Challenger, 300 feet he flew. And while he did, his fellow crewmen, "Hoot" had snapped a pic. Iconic still though 40 years has passed since that click. Then later on, McCandless helped to launch the Hubble round, another NASA astronaut with wonders all Around. Snaps. I love it when people send us poetry and it's been increasing over time. I don't know if that's ChatGPT's fault, but I still love every poem that people send us. Also got this message from Mark Dunning from Ormond Beach, Florida who said, "Keep up the good stuff and please share more about your fandoms. Us nerds out here in the world want to know more." So I don't know, what are your fandoms, Bruce? What are you into?
Bruce Betts: Planetary Radio.
Sarah Al-Ahmed: That's my favorite answer.
Bruce Betts: Planetary Society. Huge, huge fan. Big fan of things that are unrelated to space like TV show, Psych and Star Wars. I'm an original Star Wars guy.
Sarah Al-Ahmed: Oh, heck yeah.
Bruce Betts: All sorts of fantasy book novelists that people have not heard of and well, some people have.
Sarah Al-Ahmed: Yeah, I think it's fair to say that most of us here at The Planetary Society are big nerds about one thing or another, but you all will learn more as we go on, I'm sure. But I'm definitely an avid gamer. I love fantasy and sci-fi and reading, and occasionally I cosplay at conventions.
Bruce Betts: I was caught off guard by this question, but yes, indeed, the video games, although you are, I think, more advanced than I. Though my history goes back farther for no other reason than age. And I have been to a convention, which is not quite the same.
Sarah Al-Ahmed: You could just cosplay yourself and everybody be like, "Oh, my gosh, it's Bruce Betts. Ah!" And speaking of nerdiness, people loved your question from last week's show about Destiny 2. I won't give the answer away, but we had many Guardians write us in to say that they immediately knew the answer to this. So looking forward to giving one of them a prize.
Bruce Betts: So not surprisingly, there is some demographic overlap with video game audience.
Sarah Al-Ahmed: All right, what is our next trivia question?
Bruce Betts: What was painted on the front of Yuri Gagarin's flight helmet and why? And it's not the obvious answer you'd think of, but dig a little deeper. Go to planetary.org/radiocontest.
Sarah Al-Ahmed: I don't even know the answer to this one, so I will be puzzling over this one as well. And you have until April 19th at 8:00 AM Pacific Time to get us your answer.
Bruce Betts: First part's easy if you can just imagine pictures of him with the helmet in the space craft.
Sarah Al-Ahmed: And we have a special prize this time. We will send the winner a Yuri's Night gift set that includes patches and pins and stickers and little Yuri's Night temporary tattoos. So get us your answers. This one is totally worth it.
Bruce Betts: All right, everybody go out there, look at the night sky and think if you, and you wouldn't of course, carve something in a tree, what would it be? Thank you and goodnight.
Sarah Al-Ahmed: We've reached the end of this week's episode of Planetary Radio, but we'll be back next week with more Space Adventures. Planetary Radio is produced by The Planetary Society in Pasadena, California and is made possible by our space partying members. You can join us as we continue to celebrate humanity's amazing achievements in space at planetary.org/join. Mark Hilverda and Rae Paoletta are our associate producers. Andrew Lucas is our audio editor, Josh Doyle composed our theme, which was arranged and performed by Pieter Schlosser. And until next week, ad astra.