Jason Davis • Nov 08, 2018
Here's (almost) everything you need to know about Israel's Moon lander
An Israeli spacecraft is gearing up for a 2019 Moon mission that features unique partnerships, investigation of the Moon's origin, and closure for an 11-year-old contest designed to spur commercial lunar activities.
SpaceIL, a privately funded Israeli non-profit, designed and built a four-legged lander that will touch down in Mare Serenitatis, one of the dark, lunar basins visible to the naked eye from Earth. The craft, which weighs less than 200 kilograms without fuel, will send home high-definition pictures and video before hopping to a new landing spot half a kilometer away. If successful, the mission will make Israel the fourth country to soft-land on the Moon, following Russia, the United States, and China.
The overall purpose of the mission, SpaceIL says, is to inspire more Israelis to pursue STEM careers. Three engineers formed the non-profit in 2011 to compete for the Google Lunar X-Prize, a $30 million contest encouraging privately funded groups to land on the Moon. The first team to land, travel 500 meters and transmit imagery would have earned $20 million. A second-place team would have earned $5 million, and another $5 million was up for grabs through stretch goals like visiting an old Apollo site and contributing to STEM diversity.
Google withdrew the cash prizes in April 2018 when no group was able to meet the contest deadline, which had already been extended from 2017. A few teams, including SpaceIL, pushed on, and despite a brush with bankruptcy at the end of 2017, SpaceIL announced they would be ready to fly at the end of 2018. The launch has since been delayed until the "beginning of 2019," SpaceIL representatives said in response to emailed questions.
The lander, which is in the process of being named through an online contest, will leave Earth aboard a SpaceX Falcon 9 rocket from Florida. SpaceIL is one of at least three customers with spacecraft aboard the flight. The primary payload is an Indonesian telecommunications satellite called PSN-6, built by sat-building company SSL. Another undisclosed rider rumored to be a U.S. government satellite.
Rideshare missions are common, but this one is unique because one spacecraft is headed to the Moon while two others will trek to geosynchronous orbit, a region almost 36,000 kilometers above Earth. There, satellites have one-day orbits to match Earth's rotation, enabling them to linger over the same ground spot.
All three spacecraft will detach from the Falcon 9 into a geosynchronous transfer orbit with a high point, or apogee, of 60,000 kilometers. The SpaceIL lander will orbit Earth three times, raising its orbit until being captured by the Moon's gravity. The process will take more than two months, and at the Moon, the lander will make two orbits before landing.
In another mission twist, Spaceflight, the company that arranged the rideshare aspect of the Falcon 9 launch, says the undisclosed satellite will remain attached to PSN-6 while both satellites head to geosynchronous orbit. Ryan Olcott, a Spaceflight mission manager, called this arrangement "groundbreaking."
"We're really thrilled to develop this relationship with SSL," Olcott said. "It is a great enabler for a broad category of rideshares that would be much harder or impossible to perform with a single ring below a primary spacecraft." The company is already offering geosynchronous ridealongs as a dedicated service for future launches.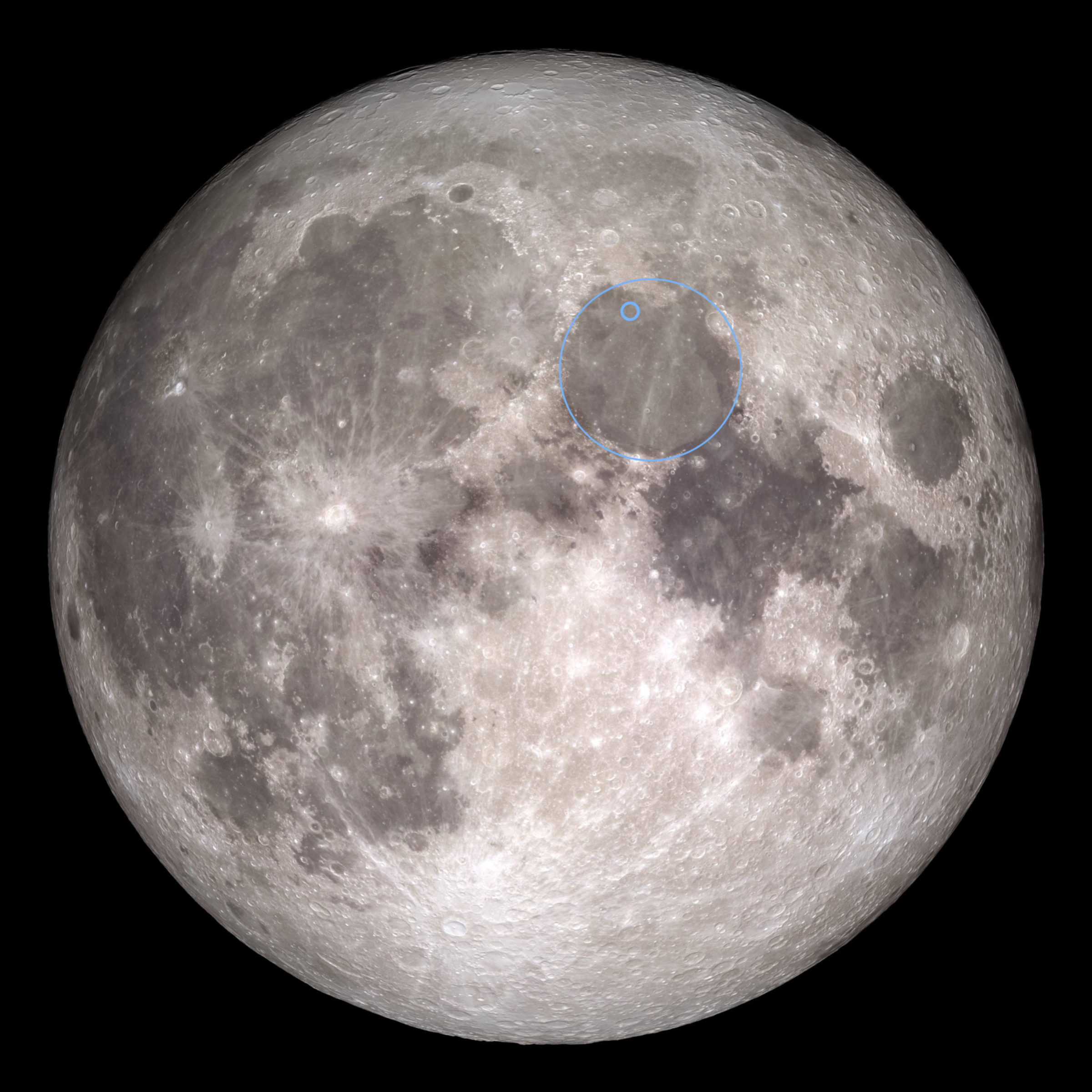 Another big partner joined the mission in October: NASA announced it would provide SpaceIL with observations from a Moon-orbiting spacecraft, a laser retroreflector for the lander, and communications support during the mission. The partnership was made under the agency's new Lunar Discovery and Exploration Program, or LDEP, which is part of the Trump administration's plans to return humans to the surface of the Moon.
As the SpaceIL lander descends to Mare Serenitatis, its engine will stir up the lunar soil, and NASA's Lunar Reconnaissance Orbiter, or LRO, will use its science instruments to look for mercury and hydrogen in the dust plume. LRO has been surveying the Moon from lunar orbit since 2009.
But don't expect any dramatic pictures of the spacecraft landing like the ones NASA's Mars Reconnaissance Orbiter has captured over the years. Stephen Cole, a NASA official at the agency's office of communications in Washington, D.C., said it's "very unlikely" LRO will take visible light images of the landing. LRO will, however, take images afterwards to see how the lander's descent exhaust altered the landing site.
NASA's Goddard Space Flight Center is giving SpaceIL a laser retroreflector array, or LRA, to install on the spacecraft — essentially an array of mirrors that reflect lasers in order to measure distance (LightSail 2 and other Earth-orbiting spacecraft carry similar arrays). There are no immediate plans to use the retroreflector; LRO has a laser altimeter, but the team actually avoids aiming it at retroreflectors left behind by the Apollo astronauts because the return signal could damage the spacecraft. Earth-bound laser stations use the Apollo retroreflectors to measure the distance to the Moon, but the SpaceIL equivalent will be too small for that.
Instead, NASA is providing the retroreflector with the future in mind. Over time, a network of similar reflectors could be built and used for navigation by spacecraft in orbit.
"Each lander that carries an LRA, we can build up a navigational system on the Moon, providing more information to orbiting satellites and future landers, both robotic and human," said Cole.
NASA is also giving SpaceIL time on the agency's Deep Space Network, which communicates with beyond-Earth missions via satellite dishes in California, Spain, and Australia. In return, NASA will get a copy of all the data collected by the mission's single science instrument: a magnetometer to measure "magnetic anomalies" in Mare Serenitatis. The Soviet Union's Luna 21 mission, which landed in the same region in 1973 and deployed the Lunakhod 2 rover, detected magnetism there.
Understanding the Moon's magnetism is key to learning about its origin. While Earth has a global magnetic field caused by the continued churning of liquid metal near the core, the Moon does not. But 3.6 billion years ago, the Moon had a magnetic field just as strong as Earth's. When new-forming rocks solidify from their melted states, they lock in traces of the ambient magnetic field at the time. By looking at the ages of different regions and the strength of the magnetic field embedded in rocks, scientists can piece together the Moon's history. The magnetometer data will be archived in NASA's Planetary Data System.
SpaceIL's mission control will be located at Israel Aerospace Industries, the country's government-owned aerospace corporation located southeast of Tel Aviv. The mission, which now has a reported price tag of $95 million, is bankrolled by billionaire investors that include Israeli entrepreneur Morris Kahn, and U.S. business magnate Sheldon Adelson.
Let's Explore More
Our time to take action for space is now! Give today to have your gift matched up to $75,000.
Donate