Bill Nye • Nov 15, 2022
Meet The Planetary Academy
Launching a lifetime passion for space
When did you fall in love with space? Perhaps it was when you had your first look through a telescope or opened a book with pictures of craters of the Moon or Mars. Perhaps you were mesmerized by awe-inspiring pictures sent down from distant spacecraft or when you witnessed the launch of human explorers leaving Earth on enormous rockets. Maybe you found yourself looking into the night sky and wondering just what, or who, might be out there.
Our lifetime love of space exploration can start when we are very young. And so, we have developed The Planetary Academy, a 100% space-related membership created for kids 9 years old and younger.
Through The Planetary Academy, we want kids to become:
intrigued by our solar system
empowered with fun, sharable space facts
knowledgeable about space and its vocabulary with hands-on activities
inspired to learn more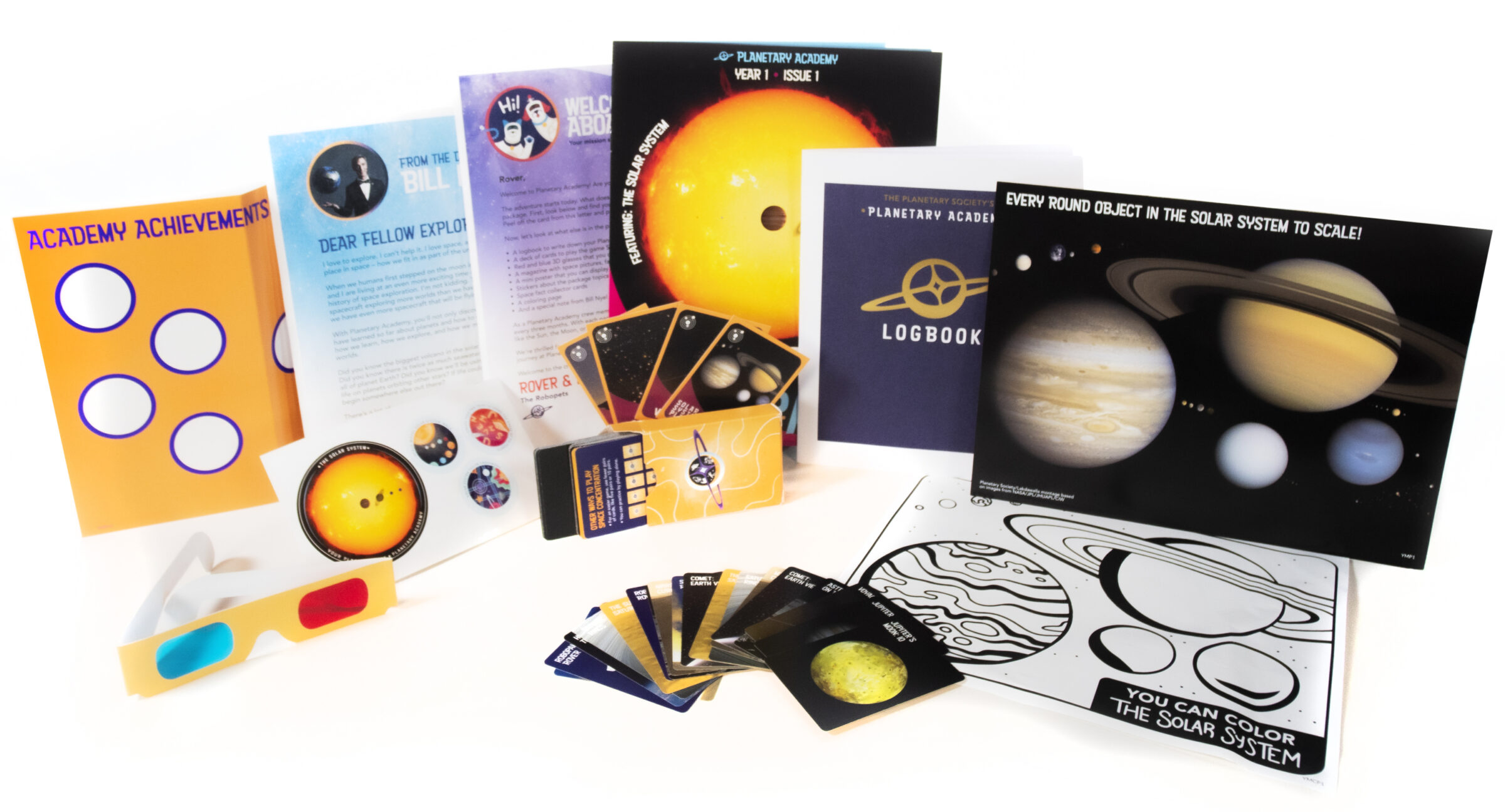 Members of The Planetary Academy will take journeys through our Solar System, see the awesome sights of alien worlds, learn facts about the planets that are easy to share with family and friends, and do their own observations and experiments as they explore planets, moons, asteroids, and comets.
Each Planetary Academy member is shipped an educational adventure pack every three months. Each adventure pack has been thoughtfully developed by the education experts at The Planetary Society and includes images and facts about our Solar System, hands-on activities, experiments, games, and surprises.
Planetary Academy members can follow their adventure through the Solar System for up to 3 years of unique Adventure Packs.
Year 1:
Your Place in Space
The Sun
Earth
The Moon
Year 2:
Mercury
Venus
Mars
Asteroids and Comets
Year 3:
Jupiter and its moons
Saturn and its moons
Uranus and Neptune
Pluto and Kuiper Belt Objects
After completing their journey, young members will know they live on a planet, in a star system, in a galaxy; the order of the planets; the major characteristics and differences between moons, traditional planets, asteroids, comets, and dwarf planets; the primary ways we learn about our Solar System; and will be introduced to the concept of exoplanets and other galaxies.
Just like our traditional adult membership, Planetary Academy members support The Planetary Society's mission to increase discoveries in our Cosmos, search for other life, and defend Earth from asteroids and comets. Membership also funds our educational programming to inspire more of the world's young space enthusiasts.
Space exploration — the imagination, ideas, and the possibilities — brings out the kid in all of us. Parents, grandparents, relatives, friends, and teachers who are space enthusiasts — or who care about an educational gift that values the sciences — can share their passion with the young people in their lives via The Planetary Society's Planetary Academy.
Support Our Core Enterprises
Your support powers our mission to explore worlds, find life, and defend Earth. Tomorrow's discoveries begin today.
Donate