Comet ISON reached perihelion at 18:25 UT (10:25 PT). It's was an event that's was watched around the world, accompanied by tons of commentary and streams of photos. We updated this blog entry periodically with links to all the resources that we hear of for following the comet's progress.
Update: Comet ISON is at least mostly dead. Most think all that remains is a rapidly fading and dispersing cloud of dust. For insights on what happened, check below and the links therein, and read Bruce's Comet ISON wrap up blog (A Tail of Cat-Possums and the Undead), and check out Emily's animations page that includes animations of images from many different solar observation spacecraft, as well as seeing the animations below, and check our Comets page that will list all recent Planetary Society posts on comets, ISON or otherwise.
Had enough animations yet? Here's one from the STEREO Behind spacecraft, a unique perspective on the comet rounding the Sun. I (Emily) am not sure why it's so much brighter in this view than in the SOHO ones -- I suspect that the viewing geometry makes dust much more visible than from other points of view.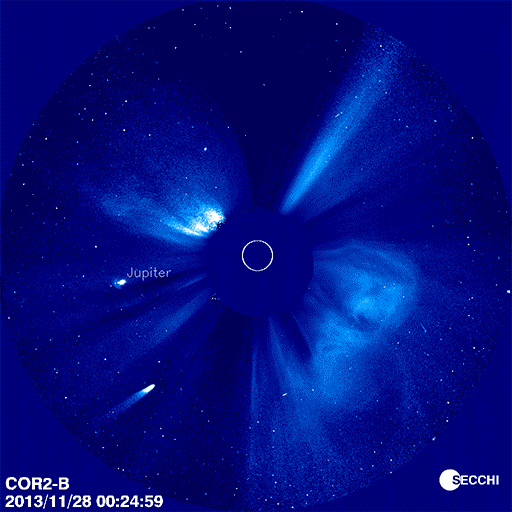 Here's a really nice video put together by Babak Tafreshi that combines the SOHO LASCO C2 and C3 images:
Comet ISON Dives Toward the Sun (SOHO LASCO images) Comet ISON (C/2012 S1) captured by the SOHO spacecraft as it dives in to the sun's corona on November 28, 2013, and in a dramatic action a fraction of the icy body returns from the hell the next day. I edited this stunning sequence of images released by SOHO (Solar and Heliospheric Observatory), leveled, enlarged and sharpened them for full HD viewing.Video: NASA / ESA / SOHO / Babak Tafreshi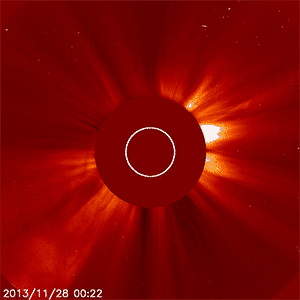 Here is the latest LASCO C3 animation of the departure (up to date as of Nov 28 at 06:30 UT, including data through 00:18 UT). There is one more frame from much later (05:30 UT) that I have not yet added into the animation: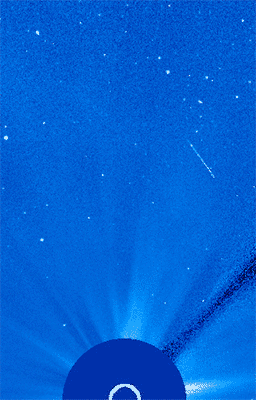 Here is the latest LASCO C3 animation of the approach (up to date as of Nov 28 at 06:30 UT, including data through 00:18 UT):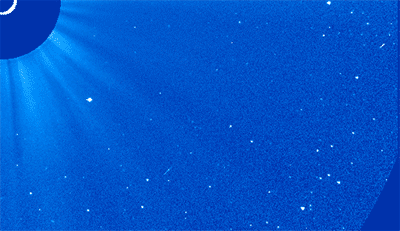 Here is the latest STEREO-Ahead animation (up to date as of Nov 28 at 18:00 UT, including data through Nov 27 10:49 UT). This version has been aligned on the comet to show its dramatic brightening:

Brief summary of the comet's behavior:
Most likely, Comet ISON has broken up and vaporized near closest approach to the Sun. Awaiting confirmation.
It has been brightening steadily since November 23, after a confusing drop in brightness followed what now appears to have been an outburst Nov 20-22.
The comet has now entered the field of view of SOHO's LASCO C3 camera, entering at the same moment that the Sun spat out a large coronal mass ejection. Here is the latest LASCO C3 image. And here is the latest LASCO C3 GIF animation, covering the last four days of observations. ISON is entering at lower right. The bright dot at lower left is Antares.
Dramatic brightening occurred on November 27. The comet was at magnitude 2.5 on Nov 27 at ~1:20 when it entered the LASCO C3 field of view and had brightened to mag 0.5 on Nov 27 at ~12:58 UTC.
As of about 21:00 on Nov 27, Karl Battams estimated it had brightened to magnitude -1.
As of about 04:00 on Nov 28, the estimate was magnitude -2.
As of about 13:00 on Nov 28, the COMET BEGAN FADING. This could indicate the comet is doomed, but ISON has been full of surprises.
At 17:45 on Nov 28, Solar Dynamics Observatory (SDO) off-pointed in order to watch the comet zip close to the Sun. Look for SDO images here.
As of 19:00 UT, SDO did not see the comet in its images, and dimming (which you can see in SOHO video above) and lack of a distinct comet head in other spacecraft data seem to incicate the nucleus has broken up. Further observations will absolutely confirm, but it does not look promising for ISON's survival.
As of 22:18 UT, the comet had reappeared -- surprisingly bright -- from behind the occulting disk on LASCO C2.
As of 04:00 UT on November 29, nobody really had any idea what was going on.
As of December 5 (after a lot of head scratching), most are convinced ISON is dead, a spreading and dimming collection of dust, and certainly no active nucleus, is all that remains of the once glorious comet
Websites and twitter feeds with reliable, updated information and photos:
Press briefings, Google+ hangouts, and other live events:
Oct 10: Enters STEREO/SECCHI HI-2A (to Nov 22)
Nov 21: Enters STEREO/SECCHI HI-1A (to Nov 28)
Nov 26 0400: Enters STEREO/SECCHI COR-2B
Nov 27 0200: Enters SOHO/LASCO C3
Nov 28 0400: Enters STEREO/SECCHI COR-2A
Nov 28 1300-2300: Transits SOHO/LASCO C2
Nov 28 1600-2300: Transits STEREO/SECCHI COR-1B
Nov 28 1700-2200: Transits STEREO/SECCHI COR-1A
Nov 28 1720-1920: Transits SOHO/SUMER
Nov 28 1810-2010: Transits STEREO/SECCHI EUVI-B
Nov 28 1820ish: Transits SDO/AIA
Nov 29 1400: Exits STEREO/SECCHI COR-2A
Nov 29 2000: Exits STEREO/SECCI COR-2B
Nov 30 2300: Exits SOHO/LASCO C3
Nov 31 0000: Enters STEREO/SECCHI HI-1A (to Dec 7)
Here is an animation composed of data taken by the STEREO Ahead spacecraft through November 26 at 12:49 UT (4:49 PT):
ISON approaches the Sun as seen from STEREO-A (Nov 21-26, 2013) This animation is composed of 208 images captured over a period of five days from November 21 to November 26 as comet ISON approached the Sun. Also in the frame are Mercury, Earth, and comet Encke.Video: NASA / STEREO / animation by Emily Lakdawalla
How close will ISON get to the Sun? This close:
Need background/basics on Comet ISON? Watch this 3 minute video:
Comet ISON: Super Bright or Super Lame? Video by Planetary Society Director of Projects Bruce Betts providing the basics about Comet ISON (C/2012 S1) including information about visibility and its close pass by the Sun.
Support Our Core Enterprises
Your support powers our mission to explore worlds, find life, and defend Earth. Tomorrow's discoveries begin today.
Donate