Emily Lakdawalla • Nov 03, 2009
Another marvelous image from Cassini's Nov 2 Enceladus flyby
This image goodie was produced from the raw images from Cassini's close encounter with Saturn's geyser moon Enceladus yesterday by Gordan Ugarkovic. At the time that this photo was taken, Cassini was in Saturn's shadow (that is, it was in eclipse); it saw Enceladus sunlit, but at an extremely high phase angle of 172 degrees. Behind Enceladus is the F ring. Both the F ring and the Enceladan south polar plumes glow because the Sun is nearly in front of Cassini, and both F ring and plumes forward-scatter sunlight. For a bonus, below and to the right of Enceladus we see the potato-shaped moon Pandora, whose nightside is faintly lit by Saturnshine. There is a LOT of JPEGgy artifacting in this photo -- the data really got eaten by the conversion to JPEG format -- so I am looking forward to the date about 10 months from now when these data hit the Planetary Data System and we can make a much better-looking version of this view.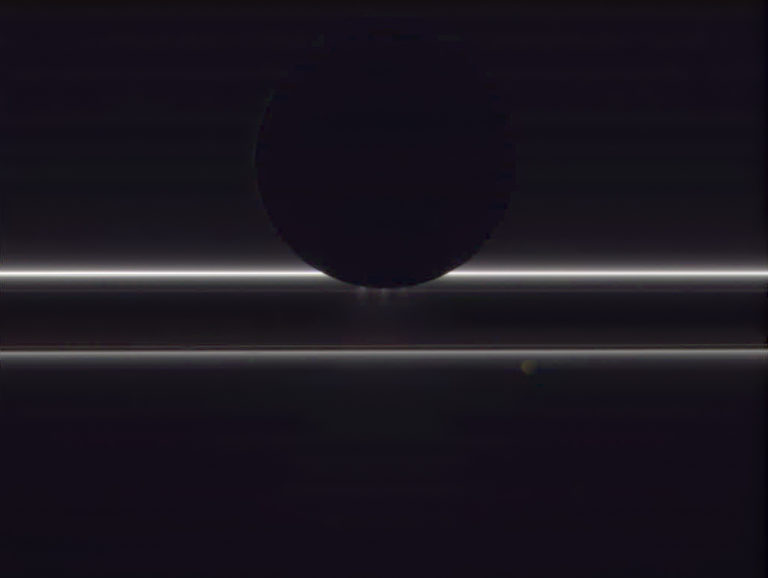 (Thanks to John Spencer for some corrections to my original post.)
Support Our Core Enterprises
Your support powers our mission to explore worlds, find life, and defend Earth. Tomorrow's discoveries begin today.
Donate