Jason Davis • Mar 10, 2016
First SLS flight engine test goes the distance in Mississippi
A rocket engine that once blasted space shuttles into orbit was test-fired today in Mississippi, in preparation for its upcoming duty launching an astronaut crew to the moon.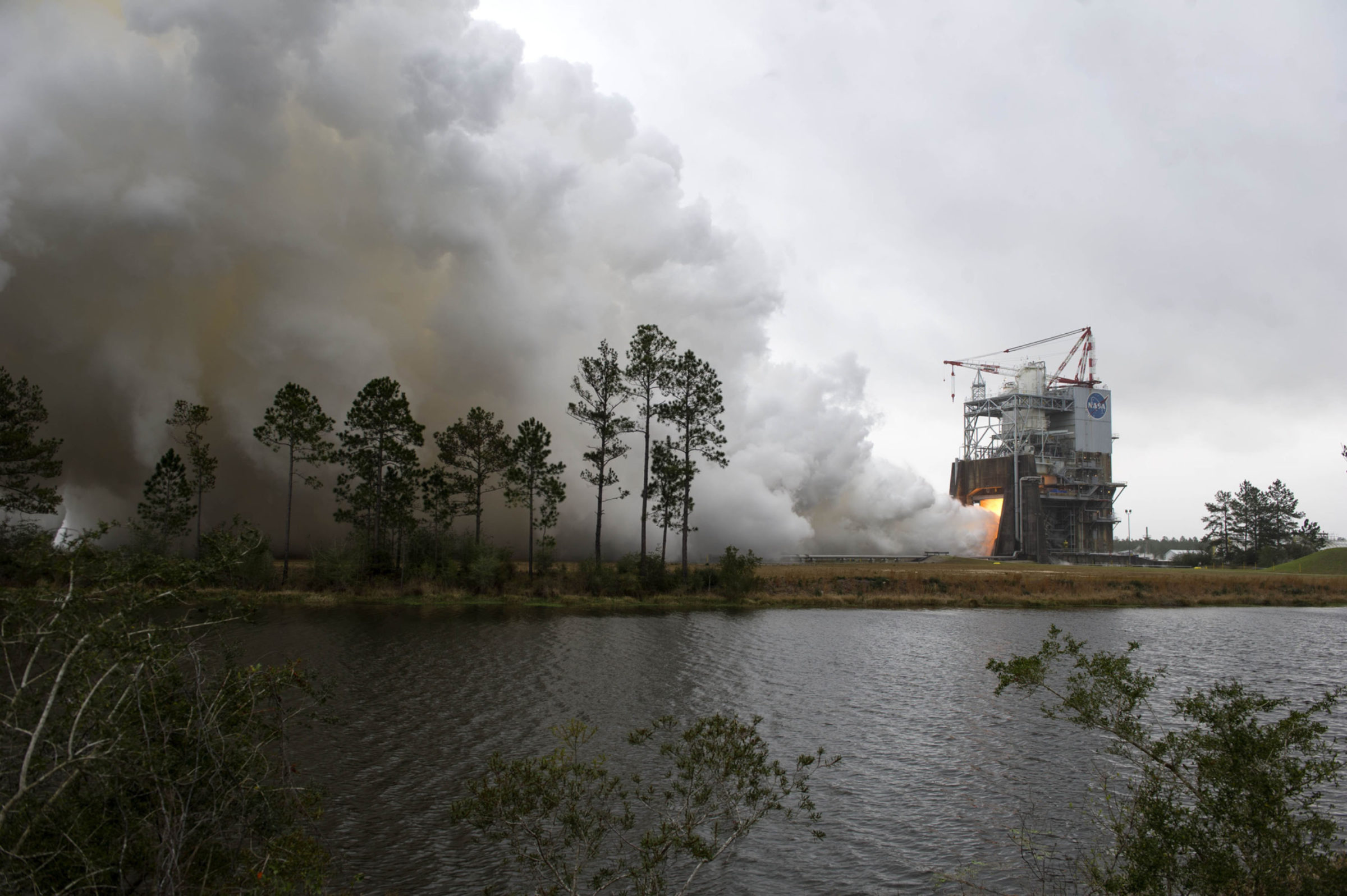 RS-25 engine number 2059 roared for more than eight minutes under overcast skies at NASA's Stennis Space Center this afternoon. It was the first time the engine had been fired since 2001, when it launched commander Mark Kelly and five other astronauts aboard space shuttle Endeavour. Now, it is earmarked for the second flight of the Space Launch System, which will carry a crew of astronauts to lunar orbit for the first time since 1972. That mission, however, isn't currently expected to fly until sometime between 2021 and 2023.
Today's test, which started at 4:41 p.m. EST on test stand A-1, lasted the full, planned 500 seconds—just under the duration for a typical SLS ascent. Four RS-25 engines power the core stage of the large rocket, which will launch to the moon on an uncrewed test flight in 2018.
It's expected to be the only test-firing for engine 2059. This summer, a development engine, number 0528, will be installed in the same test stand for a series of five tests. Two brand-new engines also earmarked for the second SLS flight, Exploration Mission 2, will be test-fired starting at the end of the year.
Sixteen flight-worthy RS-25 engines were salvaged from the shuttle program for use on the first four SLS flights. Those flights will deplete the remaining shuttle stock, since unlike the shuttle, SLS is not reusable. Aerojet Rocketdyne, the engine's manufacturer, was awarded a contract last November to restart RS-25 production. The company says the new RS-25 will offer "significant affordability improvements over previous versions."
SLS core stage engine testing timeline

These test dates were obtained from officials at NASA's Marshall Space Flight Center, and are subject to change as the test program continues.

March 10, 2016: 500-second test of engine 2059 (EM-2)
Summer 2016 : Five tests of development engine 0528
End of 2016: Single test of engine 2062 (EM-2)
Early 2017: Single test of engine 2063 (EM-2)
December 2017: Core stage SLS test with engines 2060, 2058, 2045 and 2056 (EM-1)

November 2018: EM-1 launch
2021-2023: EM-2 launch

The fourth EM-2 engine, number 2047, does not require testing.

EM-3 engines: 2061, 2057, 2048, 2054
EM-4 engines: 2052, 2051, 2044, 2050
You are Part of LightSail's Legacy
Let's share the story and success of LightSail® - help secure LightSail's legacy!
Donate Today