Jason Davis • Dec 04, 2014
Orion Scrub Report: Sticky Hydrogen Valves
Windy weather and stuck liquid hydrogen valves forced a one-day delay of the maiden voyage of NASA's Orion spacecraft. Prior to the initial liftoff time of 7:05 a.m., a hold was called due to higher-than-acceptable winds around the base of the Delta IV Heavy rocket. A second retry attempt was halted for the same reason. On the third try, two liquid hydrogen fill-and-drain valves that top off the rocket's fuel tanks got stuck in the open position—ultimately scrubbing the launch.
More scenes from Orion's scrub, as seen from the Vehicle Assembly Building, can be found here.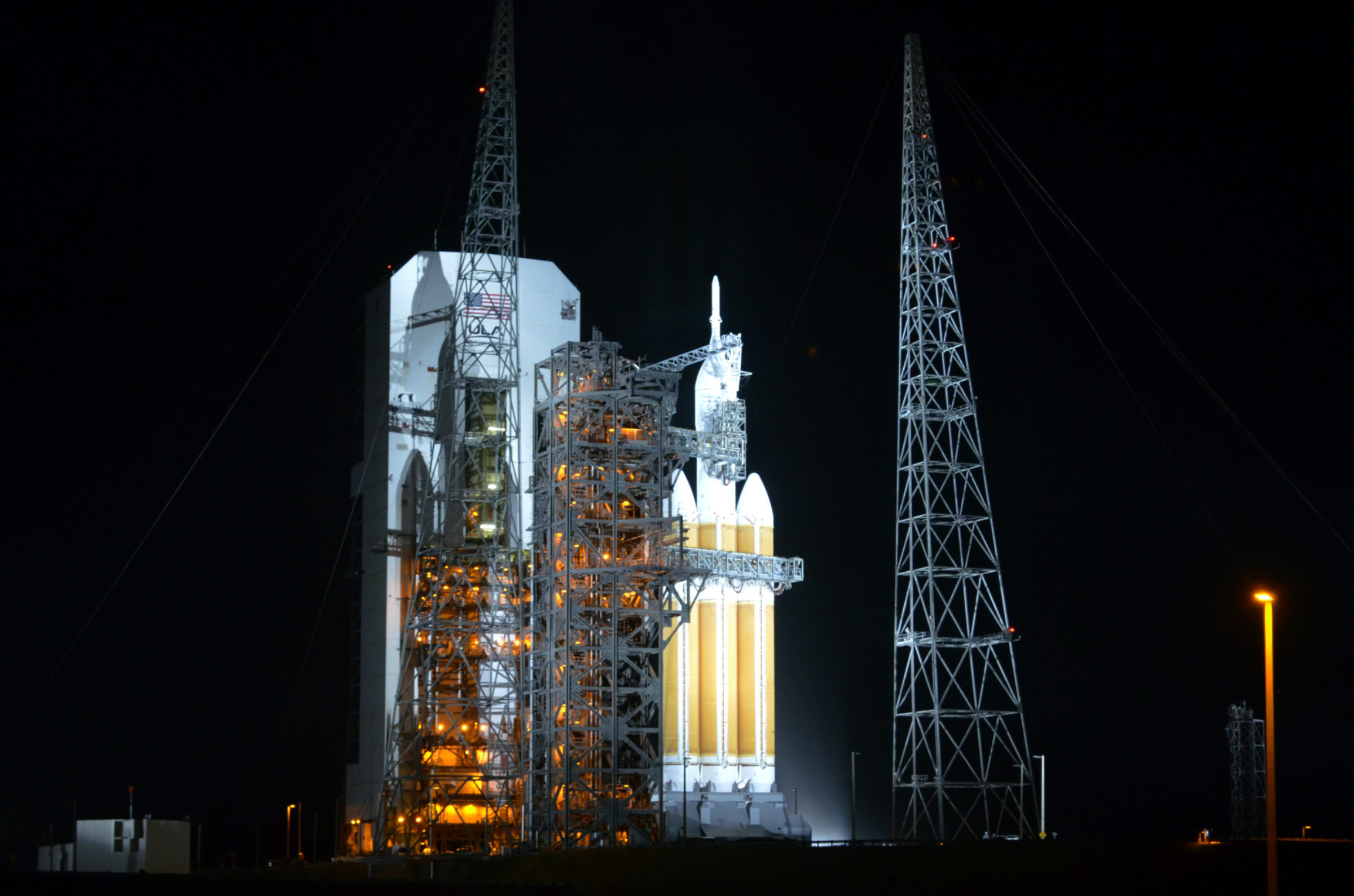 Dan Collins, United Launch Alliance's Chief Operating Officer, said the hydrogen valves in question appeared to be cold and sluggish after extended operation during the long countdown phase.
"This is something that we have seen on one previous Heavy launches, where we have gone quite a ways into the window," Collins said, referring to Orion's two hour, forty minute launch slot. "We're very confident we're going to be able to exonerate the hardware and then get going on console early Friday morning." He added that teams were onsite at the rocket determining if a previous fix for the frozen valves could be implemented again.
The Eastern Range at Cape Canaveral is already reserved for identical Orion launch attempts Friday and Saturday morning. But there is only enough fuel available in the Space Launch Complex 37 storage tanks for one more attempt.
Therefore, if NASA and United Launch Alliance begin fueling Friday morning around 2:30 a.m. EST (7:30 UTC), they will have to either launch as scheduled or scrub for an extended duration. ULA's attention will soon be diverted to the west coast for an upcoming Atlas V military launch from Vandenberg Air Force Base on Dec. 11. Additionally, SpaceX is planning to send a Dragon cargo spacecraft to the International Space Station via Cape Canaveral Air Force Station Launch Complex 40.
As of Thursday afternoon, the 45th Weather Squadron at Patrick Air Force Base is projecting just a 40 percent chance of favorable weather for launch Friday morning. However, Orion Program Manager Mark Geyer said tomorrow's wind is expected come at the rocket's side, rather than at its face—slicing around the vehicle as if it were a knife edge. "We have higher margin in that case, so it looks like it actually will be about a push for us tomorrow," he said.
You are Part of LightSail's Legacy
Let's share the story and success of LightSail® - help secure LightSail's legacy!
Donate Today