One of my favorite annual tasks is to read and review new space-themed books for children. My own daughters are now 8 and 5 years old, so have become sophisticated enough readers to supply their own opinions of many of the books I review here. I have fiction and nonfiction books for kids from preschool on up. The books listed below represent fewer than half of the ones I received or purchased for review -- I don't recommend books with boring stories, significant factual inaccuracies, or poorly chosen photos. (Bad photo editing kills many an otherwise good nonfiction book!)
Clicking on any of the book title or photo links will take you to Amazon.com, with a link that delivers a little kickback to The Planetary Society if you purchase it there. Having said that, I encourage you to support your local independent bookstore by buying some of these great books from them! If these books aren't enough for you, at the bottom of this post is a list of my kids' books reviews from previous years.
Books for Young Children
Planet Kindergarten
, by Sue Ganz-Schmitt, is an adorable storybook that uses a space journey as an extended metaphor for the first day of kindergarten. Shane Prigmore's bold, retro-styled illustrations are energetic and full of funny details of all the "aliens from many galaxies" who inhabit the narrator's new class. This book isn't just for rising kindergarteners -- it's a useful story for any kid who views a big future event with trepidation, and my older kid (who tends toward anxiety) likes it as much as her sister does!
Star Stuff
is a storybook biography of Carl Sagan by Stephanie Roth Sisson. I find biographies of scientists for children to be hit-or-miss; many run afoul of the "lone scientist" myth. But Star Stuff avoids that, as the biography is almost incidental to the book's purpose. The book is more about curiosity and wonder -- how a childhood curiosity about stars led to a lifetime of exploring space, and how child's and a scientist's curiosity are one and the same. It's also fun to read aloud; every time young Carl looks up at the sky, the book tilts sideways to allow the reader to look up and up across the spread of two pages from the ground to the sky.
This is not really a space book, but I know that Andrea Beaty's Rosie Revere, Engineer
will appeal to you readers. It's a sequel to the wonderful Iggy Peck, Architect
(which was also illustrated by David Roberts), but I like Rosie better because the book's engaging rhyme deals with something all engineers (indeed, all humans) have to face: not giving up when your best efforts fail, even being proud of your failed attempts. Rosie's grandmother Rose (an homage to Rosie the Riveter) helps Rosie go back to the drawing board when her invention flops: "Life might have its failures, but this was not it. / The only true failure can come if you quit."
Big Machines Fly!
by Catherine Veitch is an easy nonfiction read, good for reading aloud to young children, including just a few facts per two-page spread on eight big flying machines from the A380 to the Space Station. My kids especially liked a little meter on each page that indicated whether each machine was "big," "super," or "mighty". Other "Big Machines" titles include ones on things that float, drive, build, rescue, and ride rails.
The First Space Missions
is a good first space history book by Megan Cooley Peterson. Each two-page spread has a single large photo and a short paragraph of text devoted to a space first: first monkey, first satellite, first human, first woman, first man on the Moon, first Venus landing, first space station, and first shuttle, with a timeline holding all the pages together into a story. The text is enjoyable to read aloud and large enough to be visible to a rug full of 6-year-olds, though I do wish that the last fact it contained was not the end of the shuttle program. I want to insert a final page on the first comet landing!
Oh my gosh this book is fun. Do you remember Choose Your Own Adventure books? In The Race to the Moon: An Interactive History Adventure
Allison Lassieur tells the story of the space race in the same style, letting you, the reader, choose which of three protagonists you will be (a "young scientist," a "jet-setting reporter", or "a member of Mission Control.") Your choices affect your personal storyline as it plays out against the backdrop of fact-rich history. On my first read, I, of course, elected to be a reporter, and after a few choices I was deported from Moscow after trying too hard to get an interview with the legendary Chief Designer. It's a highly effective method to engage the reader with history; my third-grader enjoyed reading it several times as she made different choices. There are nine other books in the series, on everything from the Harlem Renaissance to War in Afghanistan.
Another incredibly fun book is the fantasy graphic novel Lowriders in Space
. Yes, you read that right. In text by Cathy Camper and illustrations by Raúl the Third, a young mechanic named Lupe Impala, her assistant Flapjack Octopus, and detail artist Elirio Malarita enter a "Universal Car Competition", modify a lowrider with rocket engines, and embark on a tour of the galaxy to collect materials to properly detail the vehicle. It's not exactly the most fact-based journey but it's a heck of a lot of fun! (That is, it's not a fact-based journey about space, but I learned a lot about lowriders and Spanish slang reading it.) And of course they win the competition and ride off low and slow....
If fantasy space exploration is not your style, you can find much more science and cultural fact in the storybook Windows to Adventure: Venus, the Morning Star
, which was written by Claudia Alexander, project scientist for the American contributions to the Rosetta mission. Her book reminds me of the Magic School Bus, with the goddess Venus in the Ms. Frizzle role, taking kids Rashad and Angie through a magic window to an adventure across Venus. Alexander delivers a surprising level of detail about Venusian geology, thoroughly covering Venus' complex tectonics, while also relating myths about Venus from a wide range of world cultures. Rashad and Angie learn about the astronomy and climate of Venus, too, but the focus is on geology and mythology. This was actually intended to be the second book in the series; the intended first book, Which of the Mountains is Greatest of All? should be available soon. Alexander sent me a galley of that one and it looks even more fun, taking Rashad and Angie touring the solar system's largest peaks.
Don't let the geometric, primary-color illustrations fool you: Professor Astro Cat's Frontiers of Space
(by Dominic Walliman and illustrated by Ben Newman) is a fact-filled book on space and how we explore it. Each two-page spread features detailed cartoons on a different topic in surprising depth. The pages on "going to the Moon" explain each stage in an Apollo mission, and the "Satellites" spread covers everything from Sputnik to GPS. The book does deliver on its cartoon promise with little jokes in the margins that keep my third-grader reading. My favorite part of the book is the last several pages on "Life in the Unknown" and "The Future of Space," where the stylized illustrations give the reader room to imagine what such unknown life and future spaceships may actually look like.
Lonely Planet Kids How to be a Space Explorer
, by Mark Brake, is one of the better nonfiction space compendiums I've seen for this age group. It avoids the norm of being an encyclopedia-like book that just lists facts in a predicable path from the Sun to the Kuiper belt. How to Be a Space Explorer addresses you, the reader, with the important information you'll need to know in order to make your own space journey. Taking a comparative planetology approach to its 160 fact-filled pages, it moves all over the solar system as it discusses different themes: distances, rockets, landings, rovers, asteroids, moons, volcanoes, oceans, etc. It's also very up-to-date and comprehensive -- it includes such recent missions as Juno, Chang'e 3 and Yutu, and Rosetta, and features recent science results from missions like Cassini and Kepler. The photos and art are well-chosen (no lazy old recycled photo selections here) and the design is engaging.
On a more serious note, The Apollo 13 Mission: Core Events of a Crisis in Space
, by Kassandra Radomski, retells the dramatic events of the Apollo 13 mission. Radomski details the design of the command module and explains what went wrong, the troubleshooting of the problem, and both the physical suffering and determination of the astronauts. Then the book looks at lessons learned and explains what it means for Apollo 13 to have been a "successful failure," contrasting it to the fatal Apollo 1 accident. Apollo 13's is a story that doesn't need sensationalization; just a straight retelling, well-illustrated, makes for a dramatic read.
The Blue Marble: How a Photograph Revealed Earth's Fragile Beauty
, by Don Nardo, is just the latest in an excellent series of books from Capstone press that uses an iconic photo as the inspiration for a deep dive into history and culture. (See here and here for the other 11 books in the series.) The namesake photo, showing a nearly full-phase Earth with Africa, Antarctica, and swirling clouds, was taken by one of the Apollo 17 astronauts, but which astronaut is still a matter of debate (a question that this book considers at some length without making a definitive judgment). Nardo looks at other space-based photos of Earth; explores the art and history of imagining journeys above Earth's surface; and talks about the cultural impact of the Blue Marble photo.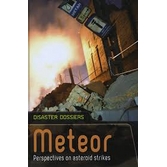 Meteor: Perspectives on Asteroid Strikes
is an outstanding book that uses the Chelyabinsk impact event as a case study for how society responds to a disaster. Author Alex Woolf begins with facts about the event but quickly moves into how people responded to it -- from members of the public to emergency workers to elected representatives to the media to scientists to meteorite hunters to profiteers and more. The book invites readers to consider how they would respond in many of these roles, given the incomplete information available. Then it goes beyond Chelyabisnk to consider the threat of a larger impact. In this section, pull-quotes from experts show how those experts hold a wide range of opinions on the nature of the threat and how society should respond to it. The book is rich with both science and civics, and there's a lot for adults as well as teens to learn from it.
Women in Space: 23 Stories of First Flights, Scientific Missions, and Gravity-Breaking Adventures
is a thorough history by Karen Bush Gibson. It's well-written and well-researched, but the opening one-third of the book (covering the Mercury Thirteen, the four women cosmonauts, and the beginning of American women in space) are pretty depressing for their stories of barriers and blatant sexism. Happily, the final chapter in the cosmonaut section, titled "Ready and Waiting", on Yelena Serova, is now out of date, as Serova blasted into space on September 25. Of course the difficult experiences of early women in space have given way to, if not parity, at least representation, and the stories get more inspiring and less frustrating as the book goes on. As she profiles different asttronauts, Gibson shows the diversity of personalities, jobs, and missions that make up the space program; I can imagine a teenaged me reading this book and picking and choosing from the role models it contains to suit the quirks in my own personality -- If I managed to get beyond those depressing first six chapters. (If your kid throws it down in disgust after 20 pages, tell them to skip to page 73; the chapter on American women in space starts out depressing but things improve from there.)
That's it for the 2014 book reviews! I had hoped to review some toys this year as well, but several Kickstarters have failed to deliver their products on time. I may have to post toy reviews in January! I do recommend the LittleBits Space Kit if you have $150 burning a hole in your pocket, and of course you can also give a kid a terrific space calendar that benefits The Planetary Society. For further recommendations, check out my reviews from previous years: