In September, the second edition of European Rover Challenge (ERC)—the biggest space and robotics event in Europe—took place in Poland. This year, over 300 constructors from 10 countries competed against each other, including Canada, the U.S., Australia, Turkey, Bangladesh, Egypt and India. Approximately 30,000 people participated in the event.
The student-constructed robots performed tasks in conditions simulating the surface of Mars. Rovers competed in five categories: engineering, transport, geology, and service. Their tasks included, inter alia: changing over the switches on a reactor, measuring the current, collecting the subsystem located in the parts storage or completing the set route, without the video from the cameras.
The podium was dominated by the Canadians. First place went to the University of Saskatchewan Space Design Team from Canada. The next on the podium were the Poles from Bialystok University of Technology (#next team). Third place was also taken by the Canadians, going to McGill University in Montreal.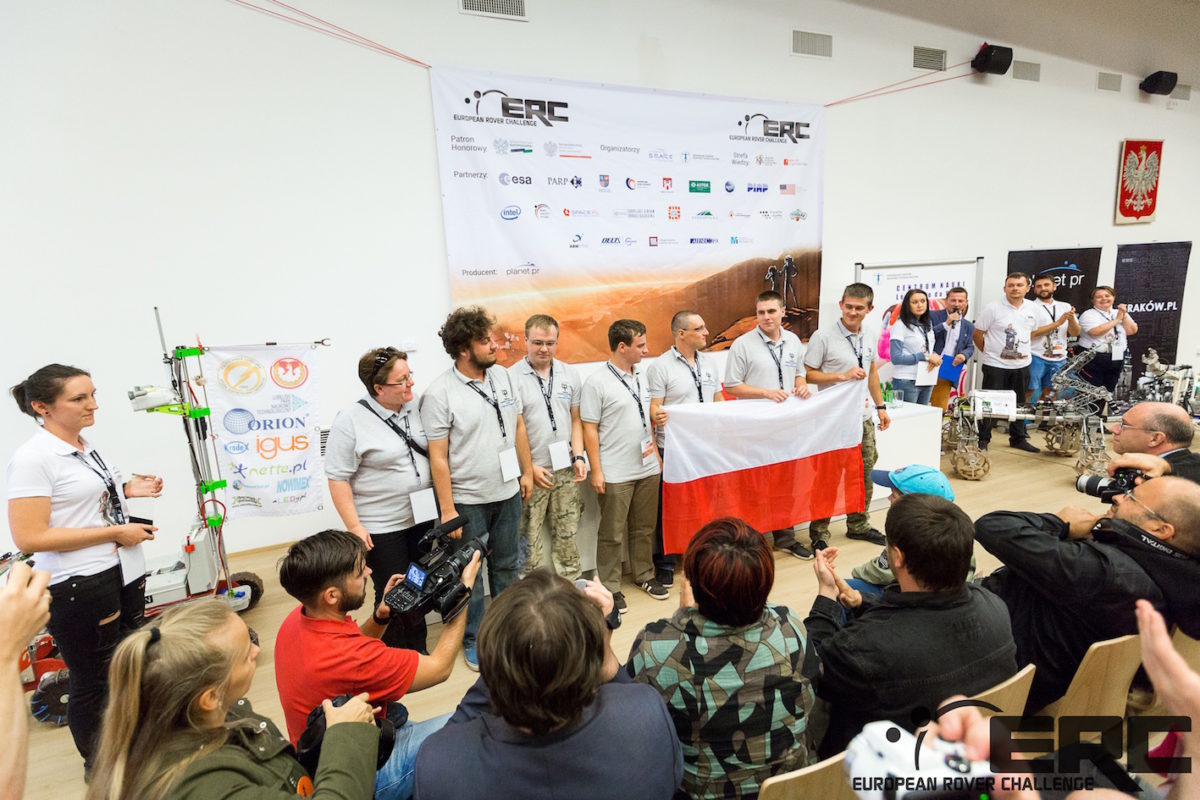 The contest was accompanied by a two-day science and technology picnic. The activities planned in the program included: launching the racket, robotics workshop, and presentations for the youngest. European Space Education Resource Office (ESERO) workshops on space education were prepared especially for the teachers. Professional robots, used by the military or the police (among others), presented their application on an additional track. The event was supported by nearly 100 volunteers and the jury represented 5 countries, whereas the information about the event came up over three thousand times in the media all over the world.
The special guest of the event was Harrison Schmitt—a renowned geologist, university professor, and a former NASA astronaut who walked on the Moon during the Apollo 17 mission. Gianfranco Visentin, the Chief of the Robotics Department at European Space Agency, and Prof. Giancarlo Genta, an acknowledged expert in robotics from Polytechnic University of Turin, also attended the event. Moreover, literature and cinema fans had a chance to talk to Andy Weir, author of the best-selling novel The Martian, which was the basis for Ridley Scott's film starring Matt Damon.
ERC is the twin version of University Rover Challenge, organized by The Mars Society on the desert in Utah. More about European Rover Challenge can be found at www.roverchallenge.eu.
European Rover Challenge 2015 was organized by European Space Foundation and the Regional Science-Technology Centre in Podzamcze. The event's patron is the Polish Ministry of Economy and the Polish Ministry of Foreign Affairs. ERC's partners were: ESA European Space Agency, Polish Agency for the Enterprise Development, the Świętokrzyskie (Holy Cross) Voivodeship, Astor, WoBit, US Embassy in Poland, Intel and Mars Society Poland.
Support Our Core Enterprises
Your support powers our mission to explore worlds, find life, and defend Earth. Tomorrow's discoveries begin today.
Donate