Darian Dixon • Aug 06, 2018
Mastcam-Z Team Blog: A Special Team Photomosaic
The Mastcam-Z instruments will be a set of zoomable, high-definition color imagers atop the mast of the Mars 2020 rover. Mastcam-Z and all the rest of Mars 2020's science instruments were selected four years ago this week, and now we're just months away from delivering the completed science instruments to NASA.
Mastcam-Z will help the mobile laboratory explore the surface of Mars. Dozens of amazing scientists and engineers from across the globe contribute to the development of Mastcam-Z. Once a year, we gather in one place to talk all things Mastcam-Z. It's become tradition to take a big group photo at the end of day one of the meetings. We all line up, put on our best smiles, and say cheese. The photo this year was a bit different though. Instead of using a typical camera, we used our very own Mastcam-Z stereo testbed! Here's the result:

What's a testbed? In space flight we use testbeds in two ways. A testbed can be a piece of hardware--or software!--used to develop and test operation and performance of the yet-to-be-built flight hardware. We also use testbeds to test brand-new methods of operation or software for existing hardware or software that is already in flight. Testbeds can range from fairly simple demonstrations to near-replicas.
Testbed usage is fairly common in space science. Testbeds allow researchers to conduct rigorous preliminary tests of new technologies, tools, or techniques. We want to work out all the kinks before we dive into using the real thing. Or, as is the case with the Curiosity rover testbed, we test new techniques and functions on the replica at the Jet Propulsion Laboratory before we perform them with the real rover up on Mars. For example, the Curiosity testbed rover was used to develop the methods by which the rover can take a 'selfie' of itself! Testbed usage has also been crucial in understanding and diagnosing issues with Curiosity's drill. This provides an opportunity to identify risks, flaws, and performance long before an unnoticed variable or unexpected glitch could lead to a fatal mistake on Mars.
You might be thinking, why do we need a testbed of Mastcam-Z if we already developed and mastered the use of its predecessor cameras: Mastcam and Pancam? While we do have similar cameras operating on Mars, Mastcam-Z presents unique operational challenges. Unlike its predecessors, Mastcam-Z houses a zoom assembly allowing operators to image Mars at different zoom magnifications. Having testbeds allows us to work out how new functionalities, such as zoom, will aid us on Mars before we're actually on Mars.
Now, back to the awesome picture we took. What is the Mastcam-Z testbed that we used to take our picture? It consists of two high-performance digital cameras mounted to a rolling tripod. The cameras are positioned at the head of the tripod with a gimbal allowing them to rotate horizontally and pan vertically to simulate the motion of the cameras on Mars-2020.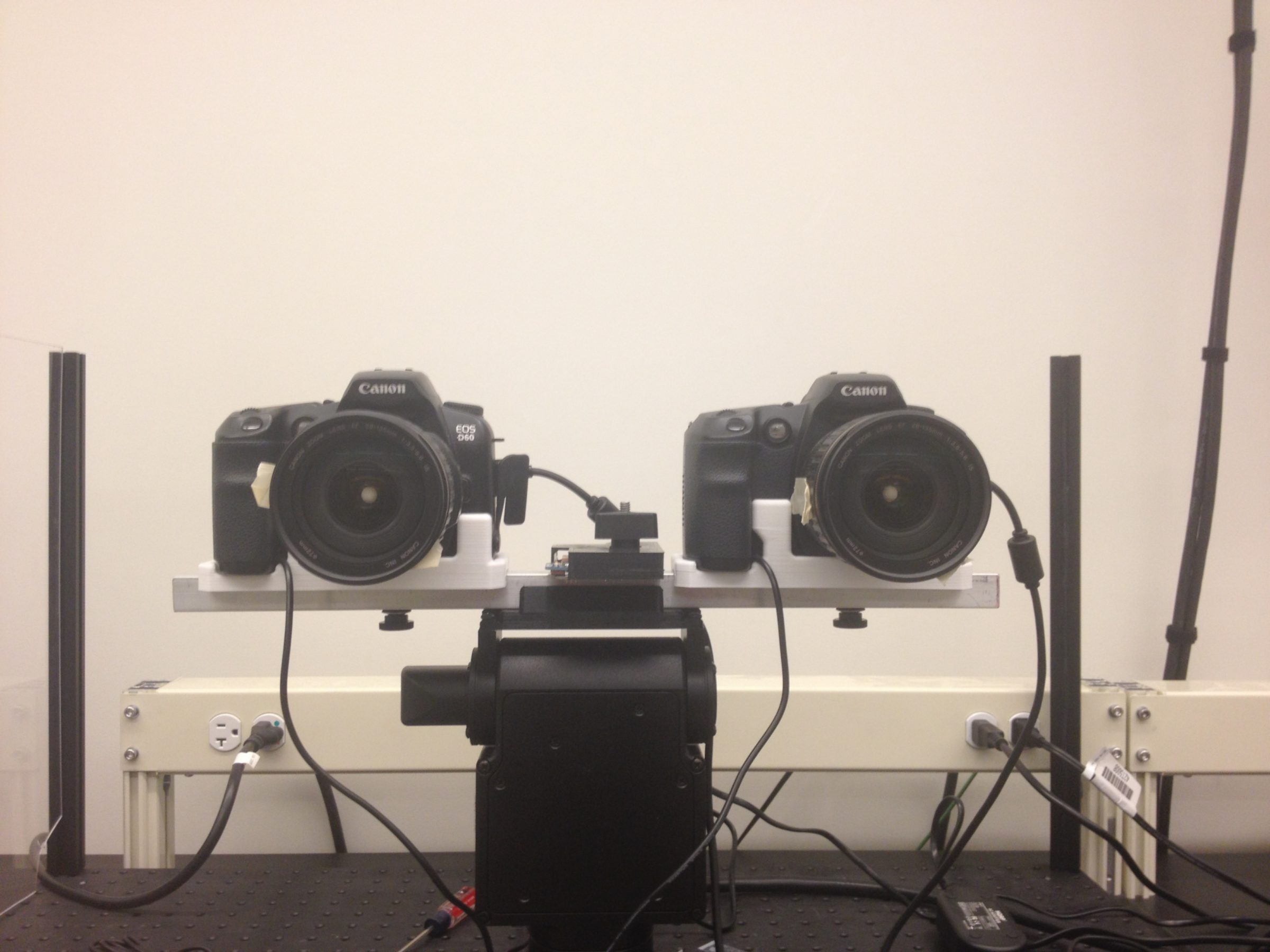 The cameras are controlled by a computer with specialized software that can instruct the cameras to perform simulated Mastcam-Z sequences, such as a multi-image panorama (a composite of multiple individual images stitched together to produce one super-image of a large area) – which is exactly the kind of image we took for our group photo! The photos were taken in stereo, with both cameras being active simultaneously and producing images that can be combined into a final product.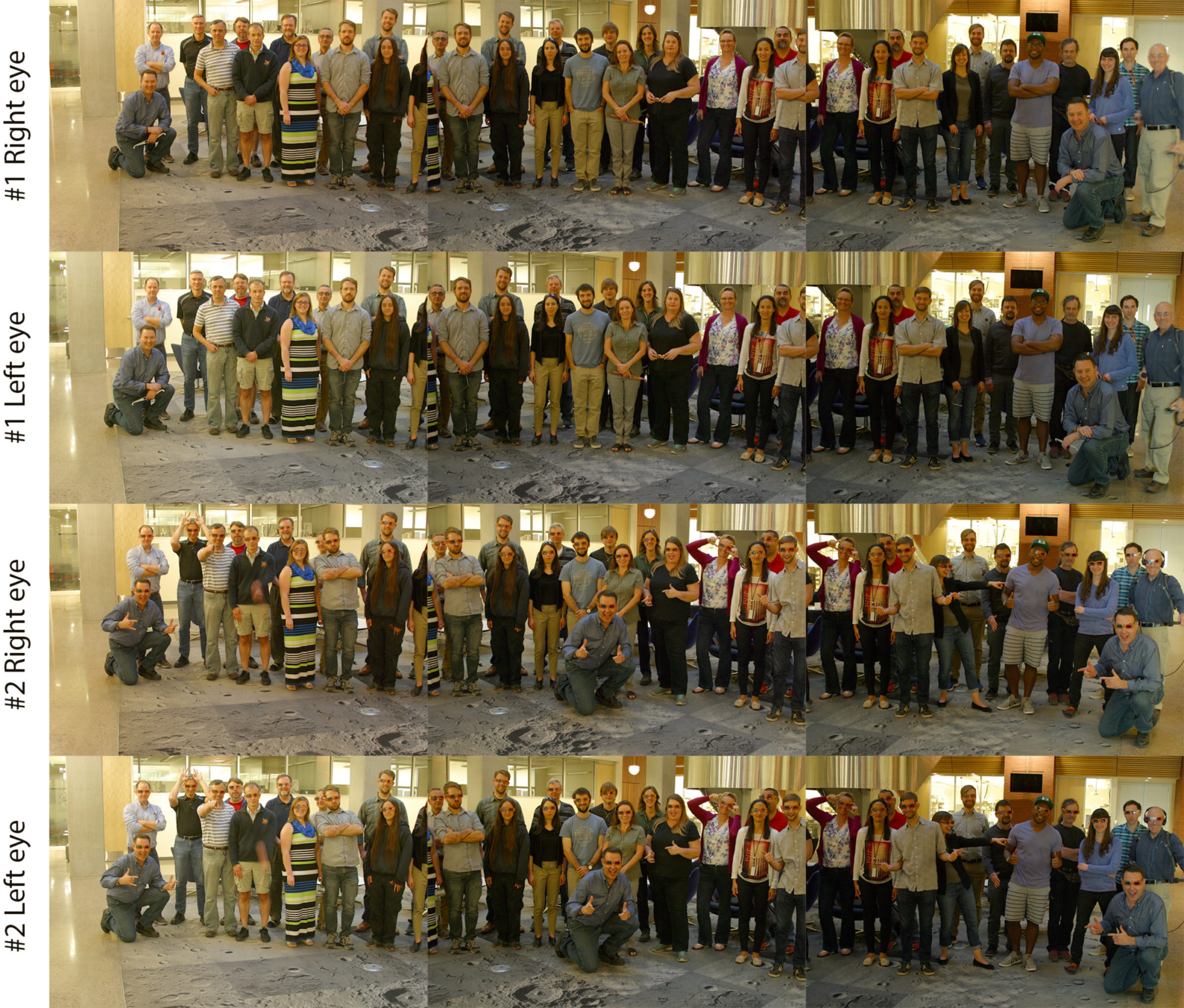 We all stood in a large arc and held our smiles and poses as the camera took 3 side-by-side images, capturing the full breadth of our arc. The end result (seen at the top of this post) is a photo taken in the exact same way Mastcam-Z will acquire large panoramas on Mars!
You may have noticed that Jim Bell, our fearless leader, shows up multiple times in the panorama. How did that happen? The cameras need time to capture individual images, process them, and then pan to the next position (just as Mastcam-Z will). This gave Jim a few precious seconds to sprint to a new location and be captured in the next image of the panorama. We took the photo on the third floor of the Interdisciplinary Science and Technology Building 4 at ASU on top of an awesome carpet of the moon's surface and flanked by various replicas of real planetary science equipment! Everyone present in the photo is a member of the Mastcam-Z team, including The Planetary Society's Mat Kaplan.
Support Our Core Enterprises
Your support powers our mission to explore worlds, find life, and defend Earth. Tomorrow's discoveries begin today.
Donate