Tianhe, the core of the Chinese Space Station
Highlights

Tianhe is the foundational module for China's space station in low-Earth orbit.

The module has a control center, docking hub and living quarters for three crew members. It'll also provide life support to those eventually on board.

Tianhe launched on April 29, 2021 on a Long March 5B rocket. China will follow up by launching 11 missions to complete its multi-module space station by 2022.
Why China is building a space station
China has long had its sights set on establishing its own space station in low-Earth orbit. The country, which is not an International Space Station partner, has spent the last few decades making preparations, even launching two space labs — Tiangong-1 in 2011 and Tiangong-2 in 2016. Though both space stations were eventually destroyed upon re-entering Earth's atmosphere, they provided critical information for future modules that would form a much larger space station.
That's where Tianhe comes in. Tianhe — which means "harmony of the heavens" — is literally and figuratively at the core of China's space station. As the foundational module, it will provide life support and living quarters for 3 crewmembers. It will also host a control center and docking hub, which will allow Tianhe to link with yet-to-be-launched science modules.
How Tianhe works
Tianhe launched on April 29, 2021. The 24-ton space station blasted off from the Wenchang Satellite Launch Center on the Chinese island of Hainan aboard a Long March 5B rocket.
Tianhe got its first visitor just a few weeks after it arrived at its destination. On May 29, 2021, China launched the Tianzhou-2 spacecraft, which supplied Tianhe with fuel and astronaut supplies for later missions.
On June 17, the Shenzhou-12 spacecraft launched carrying three astronauts docked with Tianhe. The crew spent three months testing equipment on Tianhe, preparing it for future astronauts, and successfully returned to Earth on September 17.
On September 20, the Tianzhou-3 spacecraft docked with the station carrying around six tons of supplies for future astronauts and experiments. On October 15, Shenzhou-13 carried three more astronauts to the station for a five month mission.
The Tianhe core module is just one component of the Chinese space station, albeit a critical one. China plans to launch six missions in 2022 in order to complete its 73-ton space station.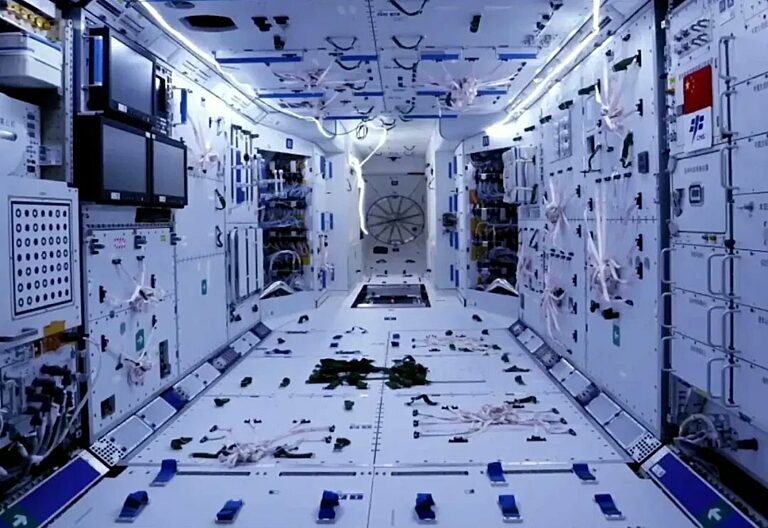 Whether it's advocating, teaching, inspiring, or learning, you can do something for space, right now. Let's get to work.