Tianhe, the Core of the Chinese Space Station
Facts Worth Sharing

Tianhe is the foundational module for China's space station in low-Earth orbit.

The module has a control center, docking hub, and living quarters for 3 crew members. It'll also provide life support to those eventually on board.

Tianhe launched on April 29, 2021 on a Long March 5B rocket. China will follow up by launching 11 missions to complete its multi-module space station by 2022.
Why China is Building a Space Station
China has long had its sights set on establishing its own space station in low-Earth orbit. The country, which is not an International Space Station partner, has spent the last few decades making preparations, even launching two space labs—Tiangong-1 in 2011 and Tiangong-2 in 2016. Though both space stations were eventually destroyed upon re-entering Earth's atmosphere, they provided critical information for future modules that would form a much larger space station.
That's where Tianhe comes in. Tianhe—which means "harmony of the heavens"—is literally and figuratively at the core of China's space station. As the foundational module, it will provide life support and living quarters for 3 crewmembers. It will also host a control center and docking hub, which will allow Tianhe to link with yet-to-be-launched science modules.
How Tianhe Works
Tianhe launched on April 29, 2021. The 24-ton space station will blast off from the Wenchang Satellite Launch Center on the Chinese island of Hainan aboard a Long March 5B rocket.
Tianhe will likely get its first visitor just a few weeks after it arrives at its destination. In May 2021, China is expected to launch the uncrewed Tianzhou-2 spacecraft, which will supply Tianhe with fuel and astronaut supplies for later missions.
The Tianhe core module is just one component of the Chinese space station, albeit a critical one. China plans to launch 11 missions between 2021 and 2022 in order to complete its 73-ton space station. Chinese astronauts have already begun training for crewed missions to Tianhe, but firm dates for those missions haven't been set.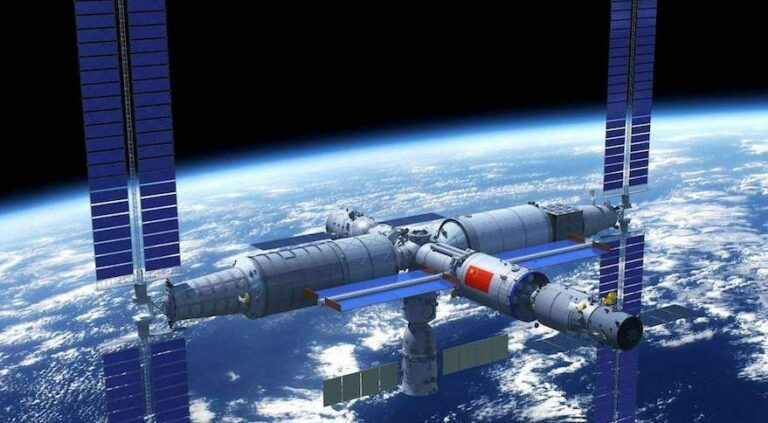 How You Can Support Space Exploration Missions
Planetary Society co-founder Carl Sagan once said that when you're in love, you want to tell the world. Space missions are dependent upon sustained public enthusiasm from people like you. You know your audience best; we've got tools to help.

Tell the World
Spread the Facts Worth Sharing at the top of this article on social media

Send this page to others using the short URL planetary.org/tianhe

Share pretty pictures from our Bruce Murray Space Image Library
Learn More
Ready to take your next steps as a space advocate? Become a member and find out how you can take action in your community and government.
Whether it's advocating, teaching, inspiring, or learning, you can do something for space, right now. Let's get to work.
Chinese Human Spaceflight in Recent Articles, Newsletters, and Podcasts
With missions like Chang'e 4 on the far side of the Moon, China has firmly established itself as a leader in space exploration. Space journalist Andrew Jones helps us explore the nation's ambitious near and long-term plans.
With the space station likely to fall on April Fool's Day, it's important to know whom to follow for reliable information.
It may not host an alien "megastructure" but Tabby's Star still guards many mysteries of science. Astronomer and astrophysicist Tabetha "Tabby" Boyajian leads the worldwide team that is revealing this strange light in the sky.