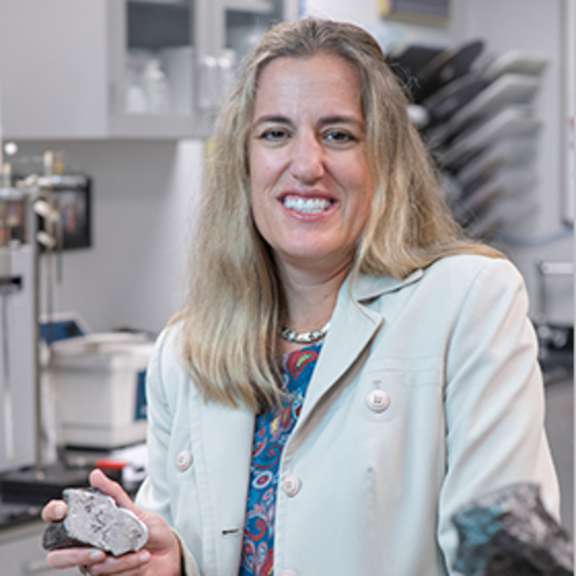 Nancy Chabot
DART Mission Coordination Lead and Planetary Scientist, Johns Hopkins Applied Physics Lab
I am a planetary scientist at the Johns Hopkins University Applied Physics Laboratory (APL). I received an undergraduate degree in physics from Rice University and a Ph.D. in planetary science from the University of Arizona. My research interests involve understanding the evolution of rocky planetary bodies in the Solar System. At APL, I oversee an experimental geochemistry laboratory that is used to conduct experiments at elevated temperatures and pressures to investigate the differentiation and evolution of planetary bodies. I am currently the Deputy PI for the MEGANE instrument on the MMX mission and Project Scientist for the DART mission. Prior to joining APL, I worked at NASA Johnson Space Center and Case Western Reserve University. I have also been a member of five field teams with the Antarctic Search for Meteorites (ANSMET) program, the Instrument Scientist for the Mercury Dual Imaging System (MDIS) on the MESSENGER mission, an Associate Editor for the journal Meteoritics and Planetary Science, chair of NASA's Small Bodies Assessment Group (SBAG), and a member of NASA's Planetary Science Subcommittee. Asteroid 6899 Nancychabot is named after me.
Latest Planetary Radio Appearances
Planetary Radio Live Defends Planet Earth!
Leaders of the global effort to avoid a catastrophic Near Earth Object impact gathered at the 2019 Planetary Defense Conference. On the evening of May 1st, The Planetary Society partnered in an exciting PDC public event at the University of Maryland College Park. Presentations by Society CEO Bill Nye and NASA Chief Scientist Jim Green were followed by Planetary Radio Live.
The DART Mission: Learning How to Swat Dangerous Asteroids
Why did the dinosaurs die? They didn't have a space program! The upcoming DART mission will test our best thinking about how we may someday deflect a Near Earth Object that is speeding toward fiery Armageddon on Earth. Nancy Chabot of the JHU Applied Physics Lab is the mission's Coordination Lead.