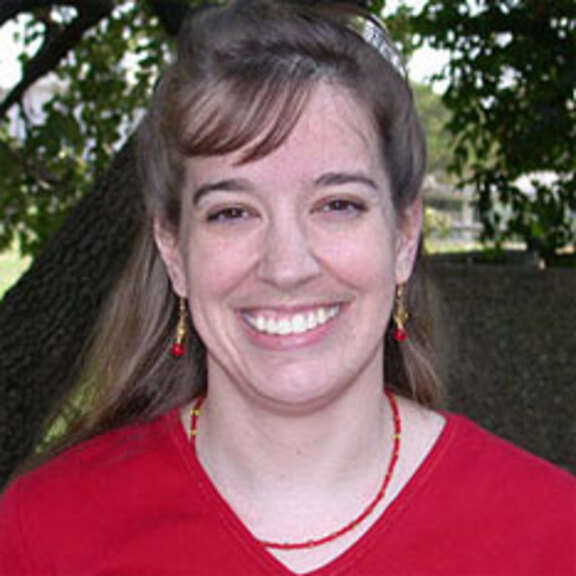 Luisa Rebull
I've always wanted to be an astronomer, ever since I was very little. I grew up in the Washington, D.C. area, where my favorite museum, no contest, was the National Air and Space Museum. As a kid, I was a "NASA junkie," collecting NASA lithographs, which was how NASA made "pretty pictures" available to the public before the web. I was born after Apollo 11, but the sheer coolness of NASA things was indescribable, and the images from Voyager mission hit me at just the right time to really entrance me.
As a girl interested in science and technology, sometimes I felt a little left out. In kindergarten, for the after-Christmas show-and-tell, I was in tears because I was the only little girl who didn't bring in a doll -- I brought my motorized Lego set, which I hadn't put down since I got it. (I had received dolls, but they were still in their plastic packaging!) Sometime in mid-elementary school, I learned astronomers needed math, and somehow I decided that of course girls can't do math! It took me until college(!) to get over that. I went to William and Mary in Williamsburg, VA because it was good in a lot of different things -- I figured if I didn't like physics, I'd major in chemistry or maybe even history. Much to my surprise, I did like physics, and I was pretty good at it. I went to grad school in astronomy and astrophysics at the University of Chicago. In college, math was a tool to be gotten through as soon as possible so you could get to the physics, and in graduate school, physics was a tool to be gotten through as soon as possible so you could get to the astrophysics!
I do research on the rotation of young stars in and around the Orion Nebula Cluster (the fuzzy patch in the sword). These "teenage" stars will grow up to be stars like our Sun, and exactly how fast they rotate may have something to do with whether or not they are forming planets. Without rotation, stars don't have magnetic fields, and without magnetic fields, the Sun would be as boring as most people think it is. I also study the chemical abundances of these young stars as well as some of the oldest stars in our Galaxy.
In addition to all of the science I learned in grad school, I also learned that I enjoy sharing what I do with the general public. I feel strongly that since taxpayers help pay for my salary, that they deserve to find out what I do in terms that they can understand. I volunteered at Adler Planetarium and worked with the CARA Space Explorers. I helped found an organization that brought the internet (T-1 lines) to 29 inner-city schools around the University; it continues to work with the teachers to enhance teaching and learning through the use of the internet and other computer technologies.
Before working for SIRTF, I had a postdoc at JPL with Mike Werner. Given Mike's dedication to SIRTF, perhaps it's not surprising that now, I work for SIRTF too! I am a member of both the MIPS Instrument Support Team and the Observer Support Team. My husband is also an astronomer -- he works at JPL, in part also on SIRTF. I enjoy travelling places as part of my job and try to take time off to see places I go. I take lots of photos, and keep more scrapbooks than I care to admit.
Since I grew up in the DC area, of course I am a huge football fan. Originally I rooted only for the Redskins (and of course whoever's playing the Cowboys!). While in Chicago, though, I learned the way the true game of football is played, in open-air stadiums, in the depths of December, with 40 mph gales whipping off a frozen-over lake, driving the wind chill way down. Only real teams play like this, in the black-and-blue division! The Bears struggled while I was there, but wow, I enjoyed the Packers. My time in Chicago also coincided with Michael Jordan playing for the Bulls for their most recent 5 championships. This made it easy to learn to like basketball too! Now I've arrived just in time for another championship run, this time featuring the Lakers. I have to say though, with all due respect to Shaq and Kobe, that Michael is clearly the best player who ever has or will play the game!