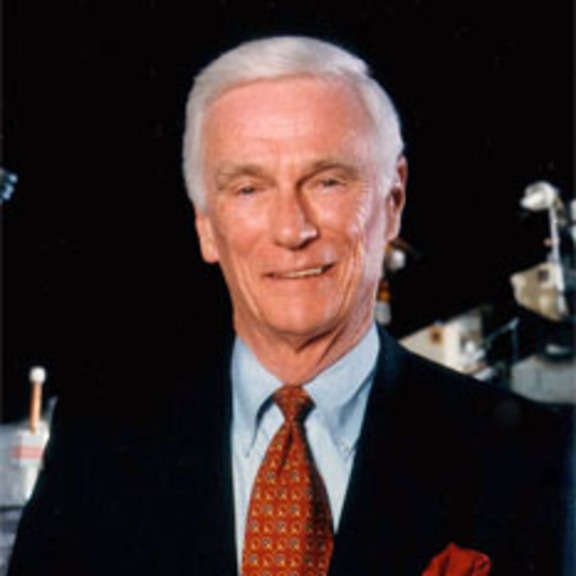 Eugene Cernan
Apollo 17 Commander, NASA
Captain Eugene A. Cernan, USN (Ret.) was born in Chicago, Illinois, on March 14, 1934. He graduated from Proviso Township High School in Maywood, Illinois, and received a BS in Electrical Engineering from Purdue University in Lafayette, Indiana, in 1956. He earned a MS in Aeronautical Engineering in 1963 from the United States Naval Post Graduate School in Monterey, California.
Cernan was one of fourteen astronauts selected by NASA in October 1963. He was the pilot of Gemini 9 which launched on June 3, 1966. During this 3-day flight commanded by Tom Stafford, Cernan became the second American to walk in space.
Cernan was lunar module pilot of Apollo 10, launching on May 18, 1969, with Thomas P. Stafford, the commander, and John W. Young, the command module pilot. The Lunar Module, Snoopy, came within 8 miles of the lunar surface.
He made his third space flight as commander of Apollo 17 -- the last mission to the moon for the United States in the 20th century. On December 7, 1972, Apollo 17 was the first night-time launch of the American program. Ronald Evans was the pilot of the command module America, and the pilot of the lunar module, Challenger, was Harrison H. Schmitt. Cernan and Schmitt spent more than three days on the lunar surface in the Taurus-Littrow area. Apollo 17 ended with a splashdown in the Pacific Ocean approximately 0.4 miles from the target point and 4.3 miles from the prime recovery ship USS TICONDEROGA on December 19, 1972.
At the conclusion of Apollo 17, Captain Cernan had logged 566 hours and 15 minutes in space -- of which more than 75 hours were spent on the surface of the moon.
After serving twenty years as a Naval Aviator, Captain Cernan retired from the United States Navy in July 1976 and concurrently terminated his formal association with NASA.
From 1976 to 1981, Captain Cernan served as the Executive Vice President, International, and Director of Coral Petroleum, Inc. He was charged with the corporate development of a world-wide supply and marketing strategy. During this period, Captain Cernan furthered his education at the Wharton School of Finance and Northwestern University.
He most recently resided with his wife, Jan Nanna Cernan, in Houston, Texas. They have three daughters and nine grandchildren. His hobbies included a love for horses and all competitive sports activities, including hunting, fishing and his passion for flying.
Cernan passed away on January 16, 2017.
Biographical information and photo from the Rotary National Board for Space Achievement website.
Latest Planetary Radio Appearances
Ice, Snow and Lava: Exploring Antarctica's Mount Erebus
Earth's southernmost active volcano may also be its most remote. Rosaly Lopes and Michael Carroll recently spent a few frigid days on the slopes of Antarctica's Mount Erebus. What they learned may help us understand volcanos on other worlds.