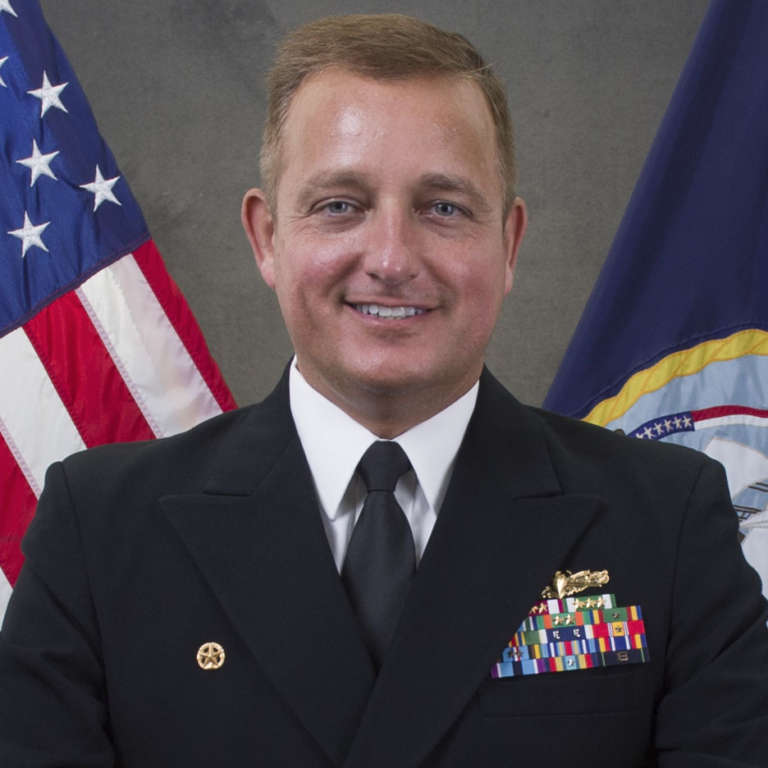 Captain Dennis Jacko
Commanding Officer, USS Anchorage
A native of Sayreville, New Jersey, Capt. Dennis Jacko is a 1994 graduate of the U.S. Merchant Marine Academy at Kings Point, N.Y. He holds a Bachelor of Science degree in Marine Transportation, an unlimited tonnage USCG 3rd Mates License and is a designated Qualified Member of the Engine Department (QMED-1). He also has civilian experience on six US flagged merchant vessels.
Jacko's first assignment following Surface Warfare Officers School - Division Officers Course (SWOSDOC) was as a deck division officer and navigator on USS Seattle (AOE 3), completing a Mediterranean and Persian Gulf deployment as part of George Washington Carrier Battle Group. His following tour was as combat information center officer and communications officer on USS Hewitt (DD 966) in San Diego, conducting a Middle East Force deployment in 1999. On his subsequent shore duty assignment he served as an instructor and lead surface syndicate war game coordinator at Tactical Training Group Pacific.
Following department head school, Jacko reported to USS Pearl Harbor (LSD 52) as the 1st Lieutenant, conducting a wartime deployment as part of Amphibious Task Force West for the start of Operation Iraqi Freedom in 2003. He later reported to his second department head tour as the 1st Lieutenant on USS Bonhomme Richard (LHD 6) where he again deployed in support of Operation Iraqi Freedom in 2005, and served in Umm Qasr as the Commander, Task Force 58 liaison officer responsible for coordinating Iraqi Navy operations.
Jacko reported to the Commander, Naval Surface Forces staff in November 2005 where he was responsible for the coordination of the Surface Warfare Enterprise. He also completed an Individual Augment deployment to U.S. Central Command (CENTCOM) where he served as the team chief in the Joint Operations Center for the CENTCOM area of responsibility (AOR).
He returned to USS Pearl Harbor (LSD 52) as the ship's executive officer in June 2009, and completed another Western Pacific deployment in 2010, conducting Theater Security Cooperation (TSC) engagements with Timor Leste, Sri Lanka, and Kuwait, as well as conducting counter piracy operations off of the Horn of Africa.
Jacko took command of USS New Orleans (LPD 18) in June 2011. He took the ship through final basic phase certification and advanced integrated training as part of Amphibious Squadron 1 with the 11 Marine Expeditionary Unit embarked. Deploying in November of 2011, New Orleans participated in TSC engagements in Cambodia, Kuwait, Saudi Arabia and Jordan, as well as participating in counter piracy operations and supporting CENTCOM's Crisis Response Element operations in U.S. 5th Fleet AOR.
In January of 2013, Jacko reported to Expeditionary Strike Group 3 in San Diego as the Operations Officer, which certified as Amphibious Task Force Commander and as Commander Maritime Prepositioning Force. He then served as the Deputy Assistant Chief of Staff for Operations at U.S. 3rd Fleet, from May of 2015 to May 2017. Jacko assumed command of USS Anchorage (LPD 23) in July 2017.
His decorations and awards include the Legion of Merit, Meritorious Service Medal(3), Navy Commendation Medal(4), Joint Service Achievement Medal, Navy Achievement Medal (3), Atlantic Fleet Junior Officer Shiphandling award, and the Commander, Naval Surface Force Tactician of the Year award.
Photo and biographical information from the U.S. Navy.
Latest Planetary Radio Appearances