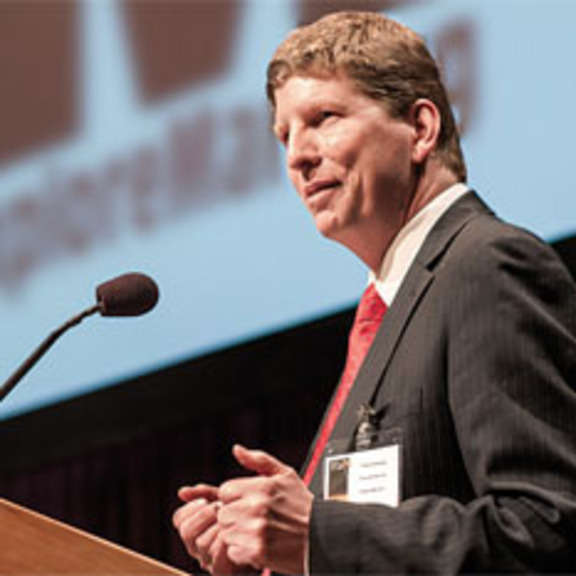 Chris Carberry
CEO and Co-Founder, Explore Mars
Chris Carberry is CEO and co-founder of Explore Mars, Inc. a nonprofit which was created to advance the goal of sending humans to Mars within the next two decades. The organization also encourages the use of STEM curriculum in the classroom to instill a desire to pursue space exploration for future generations.
Carberry is a well-respected expert and influential director of strategic alliances in the space community and has been responsible for growing many partnerships, grants and sponsorships for leading industry organizations. His innovative ideas and vast knowledge regarding space have given him a political presence when it comes to policymaking concerning the space related matters. Currently, as Explore Mars Executive Director, he acts as the main liaison for efforts and project ventures. He has been an international spokesperson on behalf of various space related entities on numerous occasions.
Prior to joining Explore Mars, Carberry served as Executive Director to The Mars Society. In his early career, he acted as a member of the Steering Committee where he organized congressional outreach efforts around the country. He also played a part in congressional lobbying events such as the 2007-2010 Space Budget Blitz, the 2007 Moon-Mars Blitz, the 2006 Space Blitz, and the Great 2006 Mars Blitz as chairman and co-coordinator.
In more recent years, he has led successful international conferences including the ISS and Mars Conference in Washington, D.C. and Strasbourg, France, and the Women and Mars Conference in Washington, D.C. In 2012, he represented Explore Mars as a delegate to the Mars500 Symposium in Moscow, Russia, and is spearheading the Humans to Mars Summit in Washington, DC in May 2013.He currently serves as Chairman of the Steering Committee for the Space Exploration Alliance, which is an umbrella group representing 13 space advocacy organizations with total membership of over 700,000 people.
Aside from his accomplishments as a space thought leader, Carberry is a noted writer and has contributed positioning work for the Republican Party's National Platform in 2000, and co-authored Congressional testimony. During his time as director at the Mars Society, he began The Mars Quarter, an online and print magazine. He is also the author of dozens of articles and Op-Ed pieces concerning space policy and politics that have appeared in such publications as USA Today, US News and World Report, the Huffington Post, and many others – and has been featured on national and international such as NBC Nightly News. BBC World, NPR, and many other news outlets. In 2006, he published a mystery/science fiction novel called Celestial Pursuits: in the hub of the Universe.
Chris has helped launch programs such as the Mars Education Challenge, Mars Exploration Magazine and Mars Talk (an online video talk show) and the GetCurious.com Campaign. Chris has a black belt in Kung Fu and is an avid ocean kayaker.
Prior to his space career, Chris worked as an archivist of modern political papers and was research assistant for numerous best-selling biographers.
Chris received a B.A. degree in political science and a M.A. in history and archival methods.
Biographical information from Explore Mars. Photo credit: Northwestern University.
Latest Planetary Radio Appearances