Jason Davis • Dec 18, 2013
An Updated Mars Exploration Family Portrait
The Mars Exploration Family Portrait has been updated—just in time for the holidays.
I created the portrait before the launch of Curiosity in 2011 to answer this question: How many spacecraft have we sent to Mars? Curiosity, I concluded, was number 40. Humans have been sending robotic ambassadors to Mars for over half a century, but that's certainly no guarantee of future success. Just ask the engineers and scientists behind Russia's sample return spacecraft Phobos-Grunt (number 39). After the engines responsible for sending Phobos-Grunt out of Earth orbit failed, the vehicle became stranded and eventually tumbled back into the atmosphere.
The portrait received its first major update after Curiosity survived its seven minutes of terror in 2012. Since then, the portable science laboratory has found evidence that early Mars was wet and suitable for life. Its ChemCam laser has went pew-pew-pew 100,000 times. And it has measured the age of a rock that's around four billion years old.
Curiosity and the handful of other currently operating Mars spacecraft will soon be joined by India's Mars Orbiter Mission. The spacecraft launched on November 5 and is expected to arrive at Mars in mid-September 2014. MOM is India's first Mars mission, placing the country in an elite group that includes the United States, Russia/former Soviet Union, Japan and the European Space Agency.
And so, the Mars Exploration Family Portrait received its third update. EDIT: I completely forgot about MAVEN, which launched November 18. My apologies—it has been added. It will soon be fixed in the Zazzle store as well.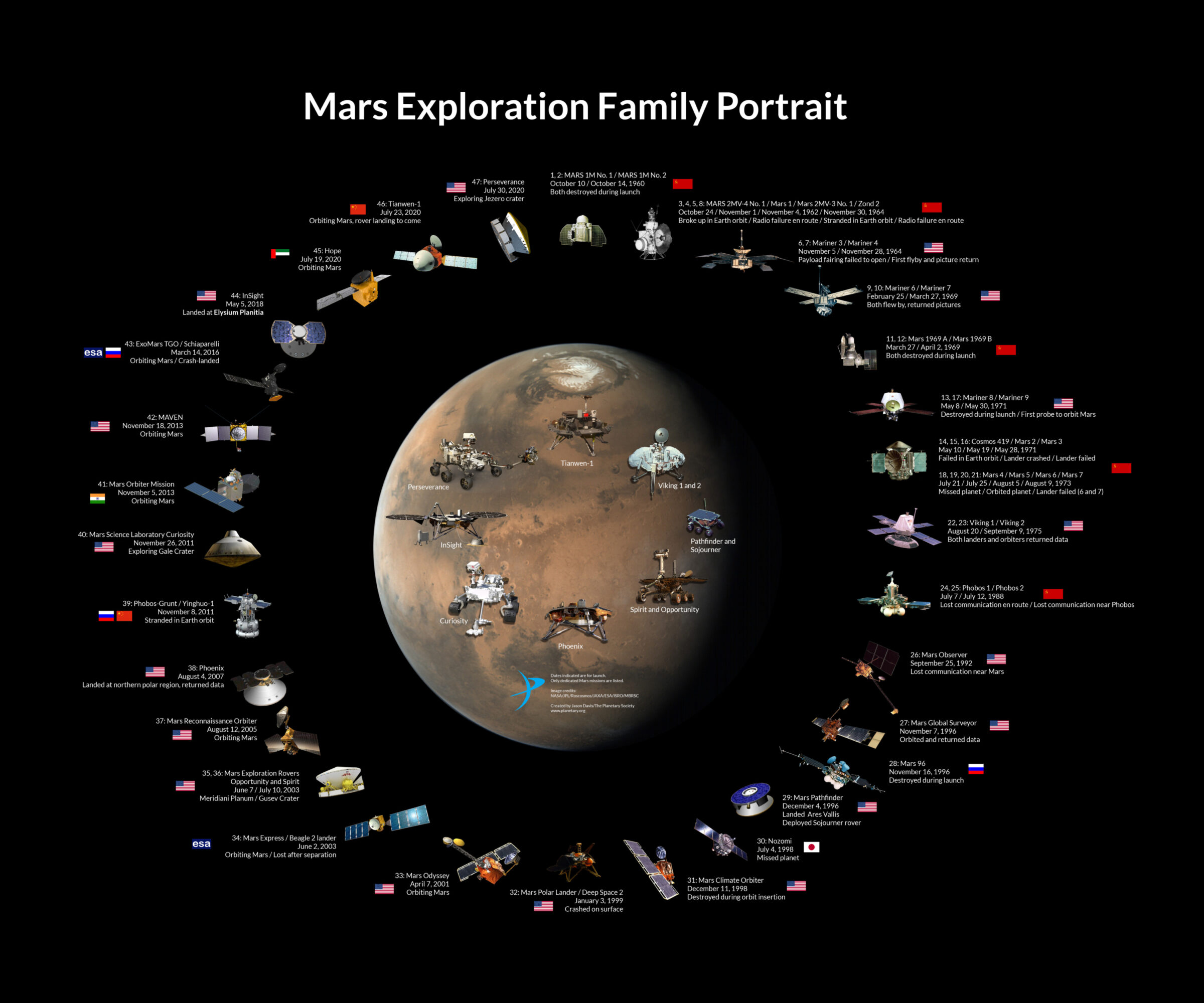 You can download the portrait free for personal use, or head over to The Planetary Society's Zazzle store and buy a poster-sized version—suitable for any space fan this holiday season. While you're browsing the store, I recommend you check out some of the Society's other swag—personally, I'm a fan of the shuttle landing T-shirt.
I also want to thank everyone for their continued interest in the portrait. It has been translated into Dutch and Italian, and will soon appear in the latest edition of the textbook Information Graphics.
Support Our Core Enterprises
Your support powers our mission to explore worlds, find life, and defend Earth. Tomorrow's discoveries begin today.
Donate