What to Wear?
by Sara Jennings
It was summer 2016 and I was shopping for a dress to wear to an event celebrating the Apollo Moon Landing. I wanted a dress fitting with the theme, but as you might imagine the pickings were slim for lunar dresses. I had very little luck finding a dress.
Despite the public's growing fascination with space and its visuals, I noticed there were actually very few clothing lines with science and technology themes. In an article in STARtorialist I found the dress I was looking for. Designer Ana Gonzalez made a beautiful Moon gown for her American Landscapes 2014 collection. Seeing how getting a dress from a famous designer in Spain was pretty much out of the question, I realized if I wanted a lunar dress for this event, I was going to have to make it myself—so, I did. I found a website that allowed you to purchase fabric with custom prints called Spoonflower and purchased fabric with NASA images of the lunar surface. Having learned some basic sewing skills from my Dad when he taught me how to sew rocket parachutes, I used the single stitch I remembered using my personal sewing machine to make my own version of the dress I envisioned.
I had so much fun making this Moon dress that I wanted to fill my wardrobe with more sci-tech fashions and try my hand at making and coding my own lighted designs. I had seen some other women with lighted fashions before, such as Hannah Kerner's LED constellation dress and ThinkGeek'sTwinkling Star Skirt. Diving deeper, I searched for a kit to make something of my own. There were some starter packs from Adafruit but nothing for someone who had absolutely no clue where to start or what they were doing.
If there was nothing for me, an adult with a college degree and years spent working in the technology realm, certainly there were no easily accessible kits for kids to learn how to make a great light up dress or shirt. Clothing is a great way to get a conversation started. Realizing that many young girls are interested in fashion yet there exists a clear gap between participation in fashion and technology, I decided to find a way to combine the two to introduce more girls to science, technology, engineering and math (STEM) fields.
Less than five months after that Apollo Anniversary event, I founded The Science Line to enable young girls to participate in STEM fields, have positive female role models in these fields, and learn useful skills to empower them. The Science Line is a non-profit working to bridge the gap between science, technology and fashion by inspiring youth through STEM fashion shows, competitions, educational kits and hands-on workshops.
It's Showtime
by Hannah Kerner
In November 2016, The Science Line hosted the first STEM Fashion Show in partnership with the Challenger Space Center of Arizona. This was a family-focused event bringing families and other members of nearby communities.
The show not only highlighted designs incorporating STEM but also featured women and men who themselves worked in STEM fields as the models. Diverse fields were represented, including everything from experimental petrology to biomedical engineering.
Over 20 designs were shared from five different designers. My constellation dress made a second appearance as well as two new designs: a dress equipped with accelerometers and LEDs that sparkled when in motion and a men's jacket depicting the geology of the Earth's Grand Canyon and Mars' Cape York, the landing site of NASA's Opportunity rover.
Other designs at the show included jewelry from stax3d, "clothing for the off-duty astronaut" from the clothing line Paper Rocket by The Science Line board member Kellie Gerardi, a dress that changes color with temperature (demonstrated by dry ice and a hair dryer), and a series of ties, shoes, tank-tops, and dresses with NASA imagery of Mars and the Moon.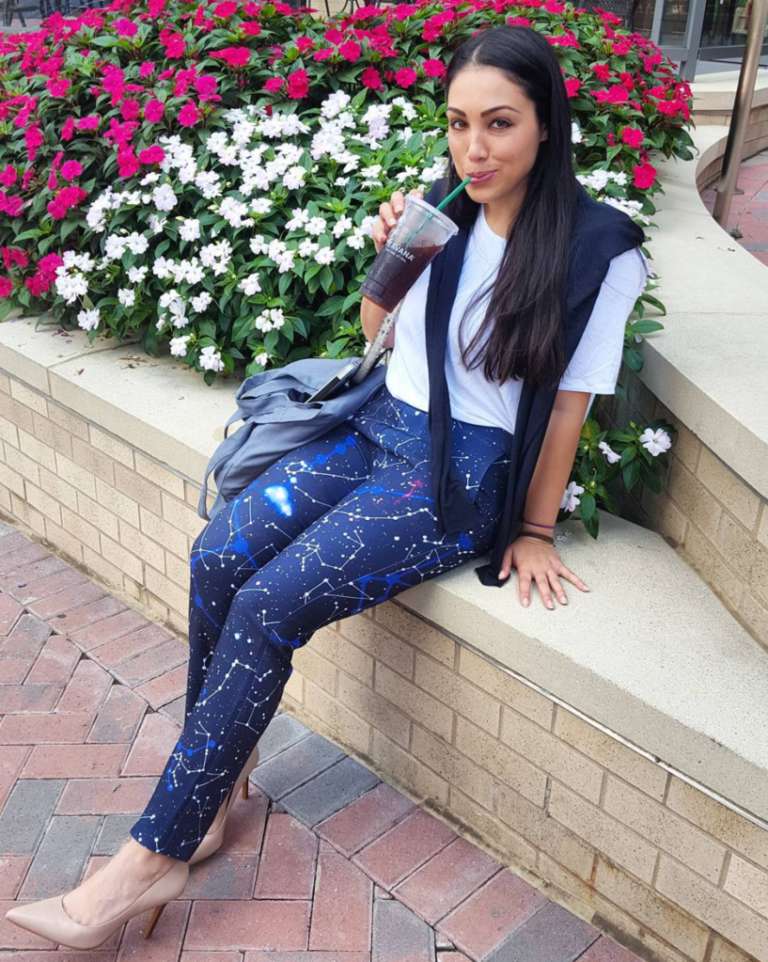 But for me, the best part came after the show. We held a reception where designers and models were able to interact with the attendees, share our experiences in our respective fields, as well as talk to the kids about the science and technology of the designs. American advertising, marketing, and social norms have programmed young girls to pay more attention to fashion, makeup, and boys than technology and exploration—just look at this side-by-side comparison of a typical Boys' Life and Girls' Life magazine cover. As a consequence, most young girls learn that STEM fields are for boys and are often "othered" at school or by their families for being interested in them. This causes them to avoid participation in STEM opportunities, and in many cases girls are actively discouraged from participating in these opportunities or scared away once they get there. (Trust me...I was, and often still am, that girl.)
This fashion show allowed us to present an opportunity for young girls that was for them and was just a step away from something they were already familiar with and interested in. When these girls came to the show and reception, they weren't made to feel like an outsider but rather could envision themselves as a younger version of us. They had something that they could participate in that was fun, expressive, and would teach them extremely lucrative skills for a future STEM career.
The Science Line will continue producing STEM fashion shows throughout the U.S. to introduce young girls to opportunities in STEM fields. The Science Line has upcoming shows in Concord, New Hampshire and New York City. In addition to these shows, The Science Line will be launching hands-on workshops this summer to teach kids about the science and technology of fashion along with useful skills like soldering, sewing, and coding.
The Science Line
Founded in 2016, The Science Line is a non-profit working to bridge the gap between science, technology, and fashion by inspiring youth through STEM fashion shows, competitions, educational kits and hands-on workshops.
The Science Line is a Fiscally Sponsored Project of Inquiring Systems, Inc. (ISI). ISI is a California Nonprofit 501(c) (3) Corporation Founded in 1978. All donations are tax deductible.
Support Our Core Enterprises
Your support powers our mission to explore worlds, find life, and defend Earth. Tomorrow's discoveries begin today.
Donate