Jason Davis • Sep 06, 2018
Orion's third flight will haul two pieces of a space station to lunar orbit
NASA says astronauts will haul two pieces of a small space station to lunar orbit in 2024, during the second crewed flight of the Orion spacecraft.
Plans for the station, which is now referred to as the Gateway, have been shaping up since 2017. The Gateway, Space Launch System rocket and Orion crew capsule represent the core of NASA's plans to send humans back to the Moon and on to Mars. The Gateway is designed to host astronauts for short-term stays, serve as a waypoint for crewed surface missions and receive samples robotically collected from both the Moon and Mars.
The first piece of the Gateway is a power and propulsion module, scheduled to launch on a commercial rocket in 2022. The first crewed Orion mission, a lap around the Moon that will not stop in orbit, is scheduled a year later, in 2023. Then, in 2024, another Orion crew will fly to lunar orbit and visit the power and propulsion module, with two more pieces of the Gateway in tow.
"NASA plans to deliver two modules on the third integrated flight of the Space Launch System (SLS) rocket and Orion spacecraft, targeted for 2024," said Kathyrn Hambleton, a NASA public affairs officer, in an email.
She also confirmed the mission will mark the debut of a new SLS upper stage and launch from a second, yet-to-be-built mobile launch platform.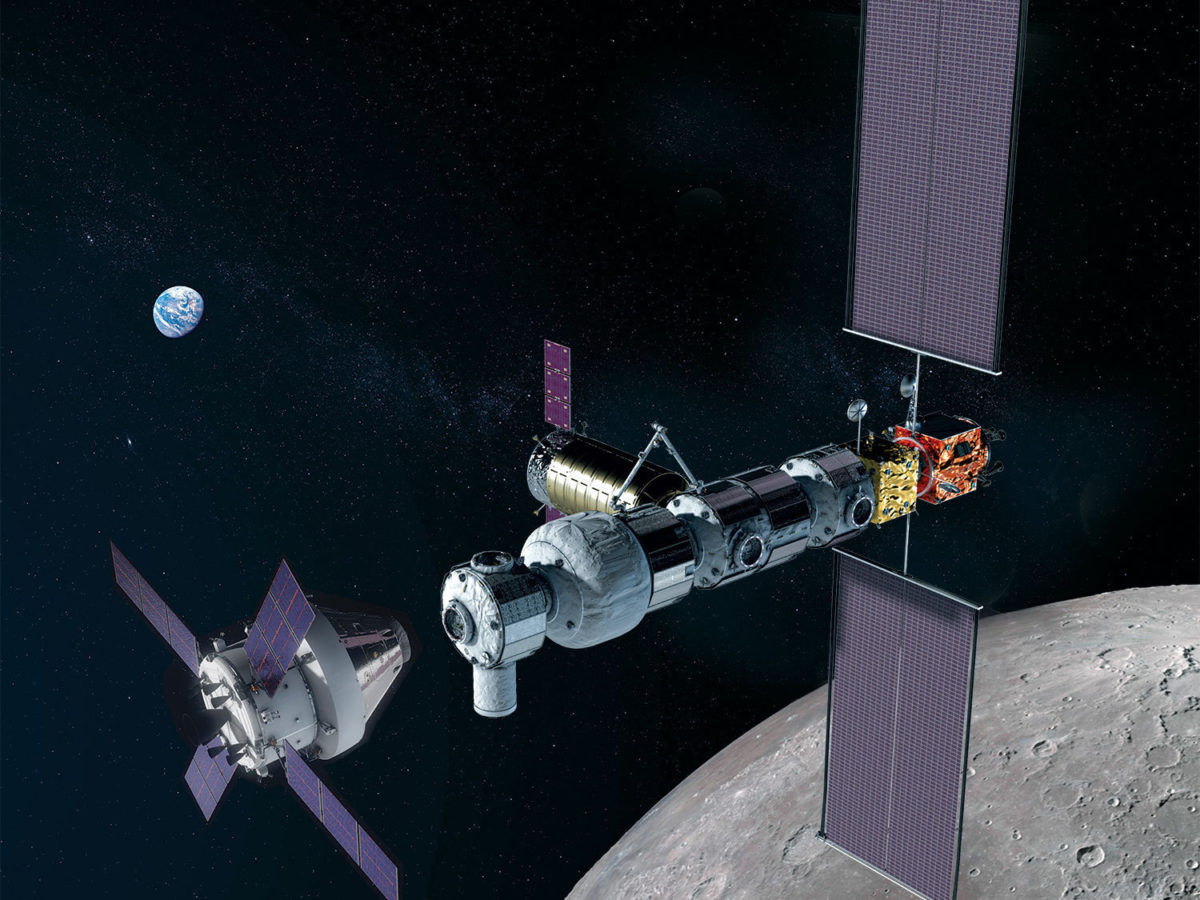 One of the two modules Orion will deliver in 2024 mission is ESPRIT, which stands for European System Providing Refueling Infrastructure and Telecommunications. As the name implies, ESA is the likely provider, though a formal agreement with NASA has not been announced.
ESPRIT, according to Hambleton, includes a science airlock, fuel storage, refueling capabilities for the power and propulsion module, additional communications equipment, and external payload stowage. The science airlock seems to be separate from an airlock that would be used to receive Moon and Mars samples set to be shipped back to Earth aboard Orion.
The second Gateway piece Orion will deliver is a U.S.-built utilization module that will provide extra space and consumables for visiting astronauts, as well as "external robotic interfaces" — presumably, a modified version of the beloved Canadarm.
Blasting Orion and both modules into space all at once will require SLS with its new Exploration Upper Stage. (Up to three initial SLS flights will use an interim upper stage.) Since the new upper stage is taller and has different interfaces, it will require use of a second, yet-to-be-built mobile launcher authorized by Congress earlier this year.
Getting all this ready in six years will be very, very difficult. Somewhere amid these lunar activities, NASA plans to launch the Europa Clipper as early as 2023 — meaning there could be two SLS flights in one year.
The budget is tight, too: The White House proposed $504 million for the Gateway in 2019, and $2.7 billion over the next 5 years. That seems like a sizable amount of money until you consider it has to cover two or three new human spaceflight modules. (ESPRIT could be provided as some sort of bartering arrangement with ESA.)
As currently envisioned, the 2024 Orion mission would last 30 days from launch to splashdown, with half of that time spent at the Gateway.
Tight timelines
| Mission | Launcher | Year |
| --- | --- | --- |
| Exploration Mission 1 | SLS Block 1 / Orion | 2020 |
| Gateway power and propulsion module | Commercial rocket | 2022 |
| Europa Clipper | SLS Block 1 | 2023 |
| Exploration Mission 2 | SLS Block 1 / Orion | 2023 |
| Exploration Mission 3 | SLS Block 1B / Orion | 2024 |
The Gateway will start out in a multi-day, elliptical orbit roughly perpendicular to the direction back to Earth. This will keep it out of the Moon's shadow and in constant contact with mission control. It also optimizes the Gateway for the south pole, where water ice deposits in permanently shadowed craters could provide resources and scientific targets for future astronauts. NASA confirmed this means the long part of the Gateway's elliptical orbit would be beneath the Moon, visible to the south pole for the majority of an orbit.
The Gateway's power and propulsion module, or PPE, launches in 2022 aboard a commercial rocket. It uses solar-electric propulsion, or SEP, an alternative to chemical propulsion that trades short-term punch for long, sustained acceleration. This will enable it to move between lunar orbits that support a variety of missions, including a low, 2-hour orbit similar to what the Apollo astronauts used.
The final call for PPE proposals is scheduled to go out on Thursday, with an award to come as soon as March 2019. That will leave just three years to build the PPE in time for a 2022 launch — another difficult deadline.
SEP is a proven technology thanks to NASA's highly successful Dawn mission, and communications satellites use SEP for station-keeping in Earth orbit. But the PPE is hardly an off-the-shelf module. It will have a 50-kilowatt-class propulsion system — an order of magnitude more powerful than SEP systems in use today.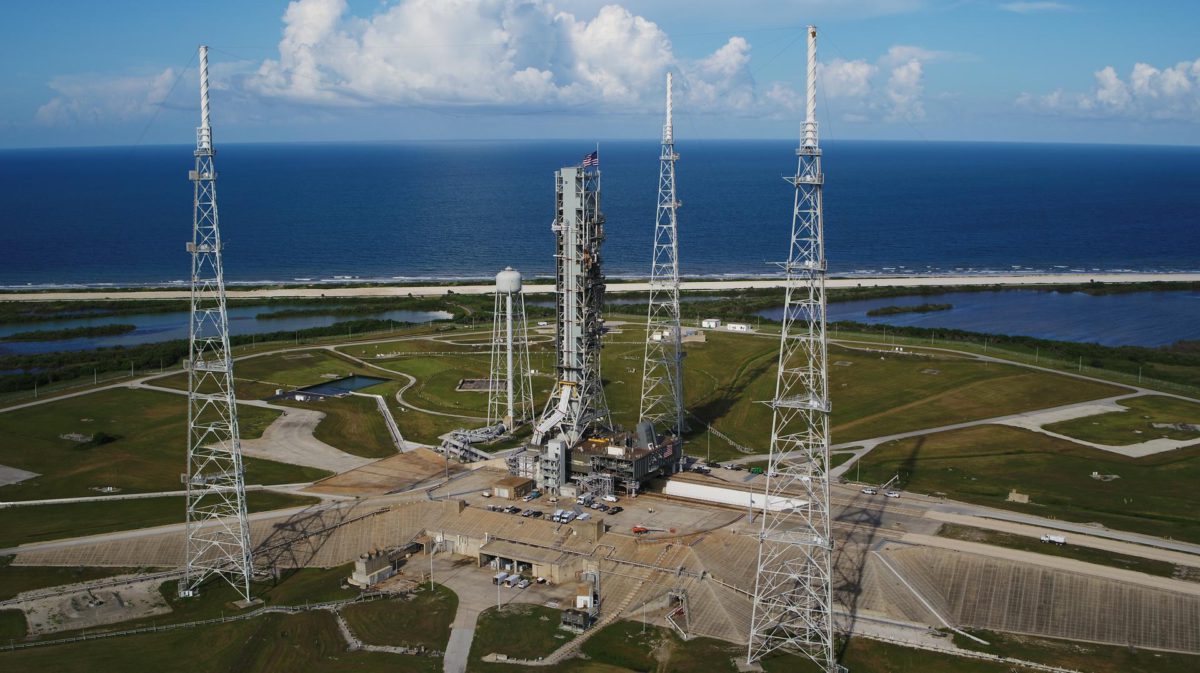 Right now, NASA's biggest short-term challenge is simply getting Orion and SLS up and running.
The Orion capsules for both Exploration Mission 1 (EM-1), an uncrewed 2020 lunar test flight, and EM-2, the crewed 2023 flight, are at Kennedy Space Center. Technicians installed the EM-1 heat shield in July — an important milestone because it can't be bolted in place until access is no longer needed to certain parts of the spacecraft.
The EM-1 Orion service module, which is being furnished by ESA, is still in Germany, but it's supposed to ship to Florida this month. The crew capsule and service module are scheduled to be mated in March 2019 and sent to Plum Brook Station in Ohio for testing.
The EM-2 Orion is still a shell — but a completed one, which is still a step worth noting. Engineers at the Michoud Assembly Facility in Louisiana recently finished all seven welds that make up the pressure vessel before shipping it to KSC. The next step is installing some additional aluminum and titanium structural components.
Another upcoming Orion milestone is an in-flight abort test scheduled for April 2019. For that, a generic Orion capsule will blast off from Cape Canaveral atop the first stage of a retired Peacekeeper missile. Fifty-five seconds into flight, Orion's launch abort system will fire, pulling the capsule away from the missile. After the abort motor finishes firing and detaches, Orion will eject its data recorders on parachutes and free-fall into the ocean. Only the data recorders will be recovered, since it's the performance of the abort system that's being tested.
Meanwhile, the first SLS continues to come together at Michoud. NASA presentations show the liquid oxygen tank and intertank already have their spray-on foam applied, while the gigantic liquid hydrogen tank is primed and ready for foam, judging by a picture taken last month.
And last but not least, the ground systems team at KSC marked a big milestone last week when it rolled the modified SLS mobile launcher out to pad 39B for the very first time. It will spend several days undergoing fit checks at the pad before heading back to the Vehicle Assembly Building.
Support Our Core Enterprises
Your support powers our mission to explore worlds, find life, and defend Earth. Tomorrow's discoveries begin today.
Donate