Opportunity has arrived at the head of Perseverance Valley, a possible water-cut valley here at a low spot along the rim of the 22-km diameter Endeavour impact crater. Investigations in the coming weeks will "endeavor" to determine whether this valley was eroded by water or some other dry process like debris flows. It certainly looks like a water cut valley. But looks aren't good enough. We need additional evidence to test that idea.
A short drive to the highest local point was done immediately after arrival and Opportunity has been working on a panorama from the overlook for the past couple of sols. The idea is to get a good overview of the valley from a high point before driving down it. But before we drive down the valley, we want to get a good sense of the geologic features here on the head of the valley. It could come in handy as we drive down the valley and may help us understand some things, particularly the lithology of any materials we find on the valley floor or at the terminus down near the crater floor. So we will be doing a short "walk-about" here on the outside of the crater rim near the "spillway" into the valley.
Above is an overview map showing the traverse southward along the rim of Endeavour crater and the arrival at the head of Perseverance Valley. For more information about the arrival, visit NASA's Planetary Photojournal.
Above, the Navcam panoramic view acquired on sol 4730 from north to south centered on due East and into the interior of Endeavour crater. Perseverance Valley descends from the right and terminates way down near the crater floor in the center of the panorama. The "mountains" on the distant horizon are of course the far rim of Endeavour crater. (The crater floor in the mid-ground is essentially the same size and relief as the scenic view of the Valle Grande from Highway 4 in New Mexico.)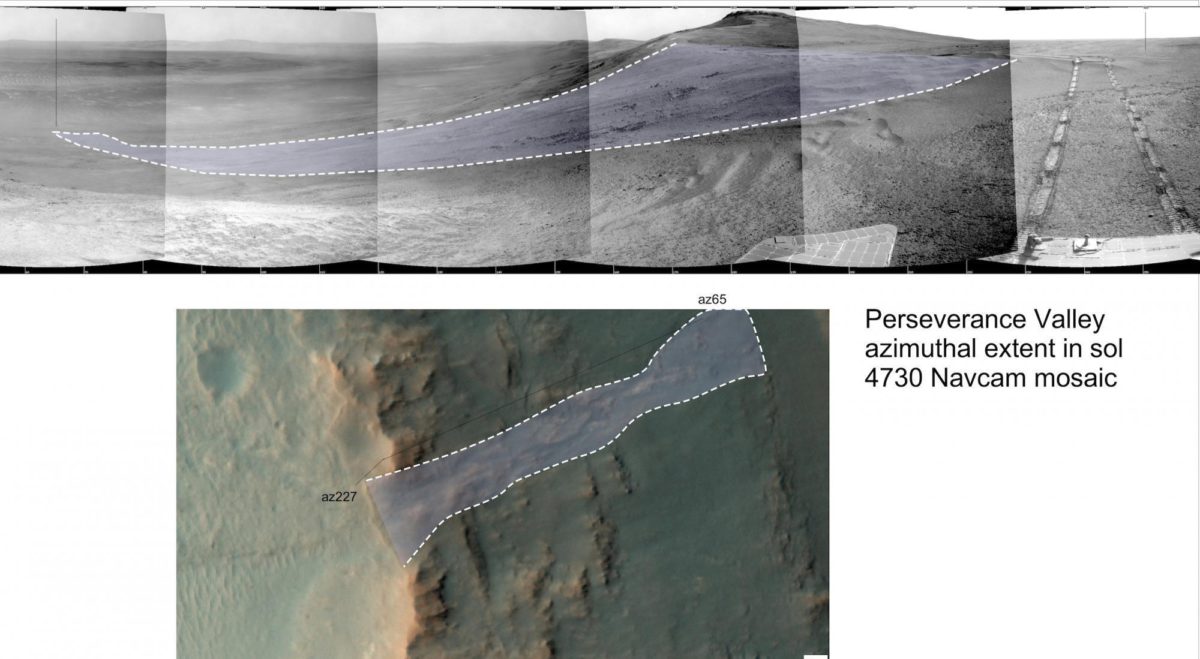 Support Our Core Enterprises
Your support powers our mission to explore worlds, find life, and defend Earth. Tomorrow's discoveries begin today.
Donate