Bruce Betts • Jan 10, 2013
Shoemaker Winner Hug Discovers Near Earth Asteroid 2013 AS27
I heard from Planetary Society Shoemaker NEO grant winner Gary Hug in Kansas, USA that he discovered a new near Earth asteroid on Jan. 7. I'll let him tell you about it in his own words, but first wanted to point out that although the Shoemaker grants are mostly designed to support the crucial orbit-defining follow-up observations of near Earth asteroids and characterization of them, the equipment provided has also continued to facilitate a fair number of discoveries even in this era of professional asteroid surveys. Bob Holmes in Illinois, USA, another Shoemaker NEO grant winner, provided the first follow up to Hug's discovery. This asteroid, designated 2013 AS27, is a big one at 140-310 meters, fortunately not on a near term collision course with Earth, but with close enough passes to Earth to lead to it being classed as a "Potentially Hazardous Asteroid (PHA)". Thanks to Gary and Bob and all the other Shoemaker NEO winners and the Planetary Society members and donors who have supported them, our world is becoming a safer place from other worlds. Now onto Gary's words:
"The Potentially Hazardous Asteroid 2013 AS27 was discovered Saturday night Jan 6th (7th U.T.) at Sandlot Observatory(H36) about 11:00 PM local time. It is the second NEO discovery at Sandlot Observatory in 4 months, the first being 2012 SY42, a Virtual Impactor discovered in September 23rd, 2012.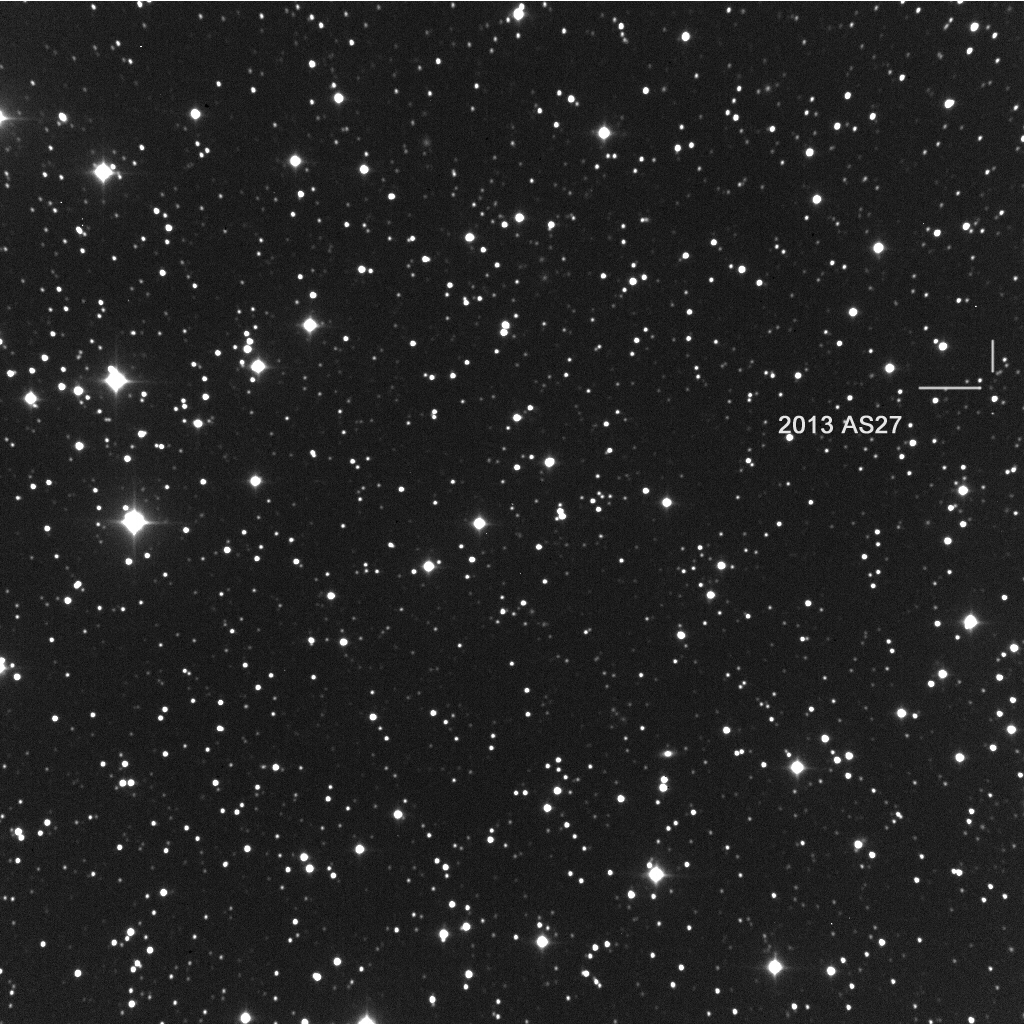 2013 AS27 was picked up while searching for another object listed on the NEOCP page. Once again because of the wide field of view of the SBIG STL1001E CCD camera afforded by a Shoemaker NEO Grant from the Planetary Society, the 18th magnitude object was noticed near the west edge of the field traveling at about 8-9 arc-secs per minute. It was too slow for most satellites but moving about 10 times faster than most main belt asteroids. I checked to see if it was a known object and when verified, I ran the astrometric analysis and turned in the data to the MPC (Minor Planet Center). Within 10-15 minutes lb4020 (my temporary designation) was listed on the NEOCP (Near Earth Object Confirmation Page) at the MPC. A few hours passed before Bob Holmes of ARI (another Shoemaker NEO Grant recipient) swept up the object and turned in follow-up data. During the next 30 hours a dozen other observatories around the world contributed observations and this morning (Jan 8th) the MPC issued an electronic circular (MPEC 2013-A42).

2013 AS27 can get as close as .034 astronomical units to the Earth. ( 1 A. U. = the average distance from the Earth to the Sun.) The H value is listed as 21.4 meaning it's likely to 140 to 310 meters wide. The combination of its mass and potential close proximity to the Earth make it an object of interest. There is no present concern, however, as it passed at a safe 10 million miles this time around."
Support Our Core Enterprises
Your support powers our mission to explore worlds, find life, and defend Earth. Tomorrow's discoveries begin today.
Donate