After 25 years in our big brown house at 65 North Catalina Avenue in Pasadena, The Planetary Society is moving on Monday to new headquarters at 85 South Grand Avenue, still in Pasadena. While it's a little sad to be leaving the old digs behind, it was time for a change; the big old house was, in fact, too big for us, and was an architecturally significant building (designed by the famous Pasadena architect brothers Charles and Henry Greene) in major need of restoration. So I'm really happy that we wound up selling it to an architectural firm that plans to set up shop there and do just that; I look forward to visiting the house in the future to see what it should have looked like.
I think the toughest thing about the move has been overcoming the fact that it is you Members who gave us the money to allow us to buy the house in the first place, which has made us feel a very strong connection to our erstwhile home. Working in a place that you had bought for us strengthened our sense of duty to you Members to pursue projects and advocate for policies that you find compelling. After 25 years in the house, I think that sense of duty is ingrained in the Society's philosophy now.We're not moving far at all. For those of you who know Pasadena geography, 85 South Grand is a gorgeous location in the Arroyo, adjacent to the southern seat of the Ninth Circuit Court of Appeals on one side and close to the lovely Colorado Street Bridge on the other, in the Western Justice Center campus. Our new home is also architecturally significant, a "bungalow" (a name more modest than it deserves) designed by the firm of Marston and Maybury. Unlike the old headquarters in the Craftsman style, with its dark wood and overhanging eaves, the new one is in the Mediterranean Revival style, with high ceilings and a bright interior. I loved the comfortable earthy squatness of the old building but I also like the airy freshness of the new one. I'm afraid the new headquarters doesn't have quite as colorful a past as the old one though. That link's a bit silly; this Pasadena Star-News article contains more actual information. (My favorite comment on that article is "The price was astronomical." Ha ha! Get it?)
I'm looking forward to the change; I think that once the disruption of the move is over, the fresh new offices (and, to be honest, the shedding of 25 years of accumulated stuff) will help us focus on what's ahead of us. It's our 30th anniversary this year; I wonder what we will have accomplished from our new headquarters in another 30 years?
Members are welcome to visit us anytime! Non-members are welcome, too, of course, but hey, why not join now, so you won't feel guilty when you come visit?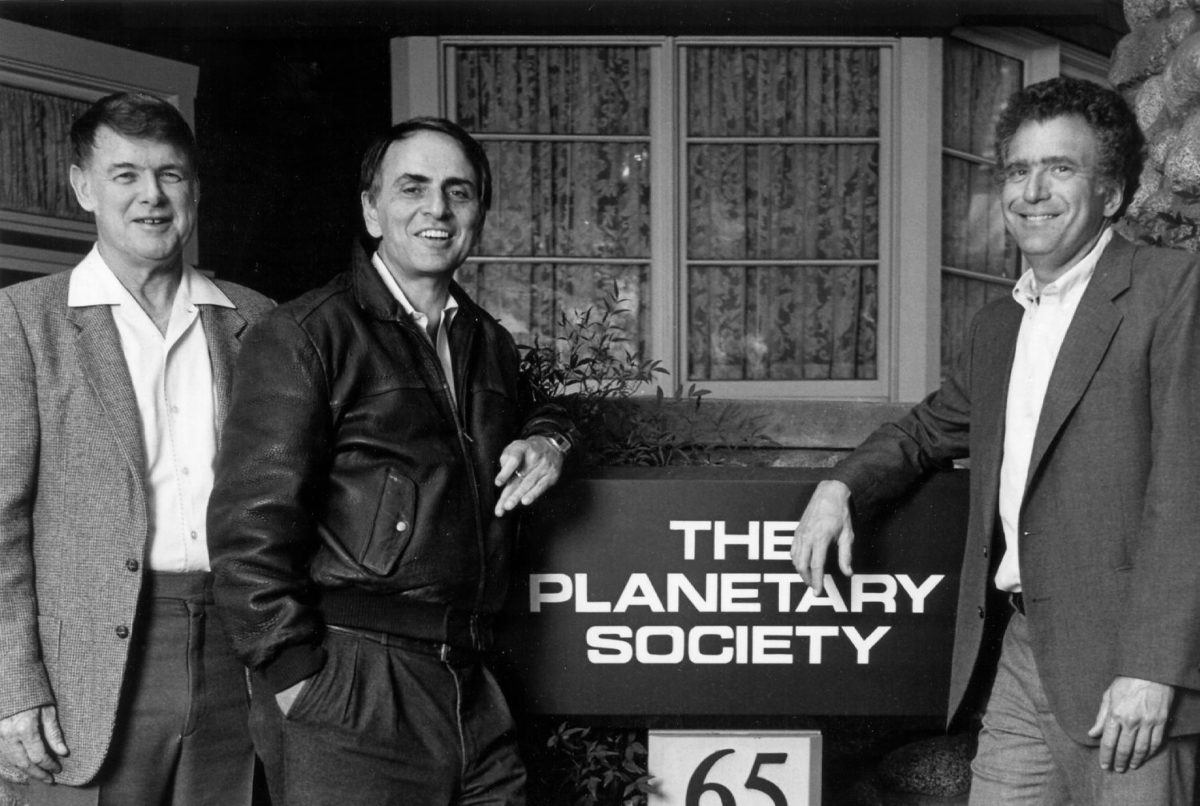 ...but I'm ready for what's new!
Support Our Core Enterprises
Your support powers our mission to explore worlds, find life, and defend Earth. Tomorrow's discoveries begin today.
Donate