Jason Davis • Nov 28, 2017
Clipper Slipper
Will NASA's Space Launch System be ready to launch a Europa mission in 2022?
NASA's upcoming Europa Clipper mission will send a spacecraft to explore Jupiter's icy moon Europa. Over the course of 45 flybys, ranging from 2,700 to just 25 kilometers, the mission will explore whether or not the moon is habitable, and pave the way for a potential future lander that will directly search for the life.
The spacecraft itself is on track to launch as early as 2022, providing the White House and Congress continue funding the mission at its required pace. But whether or not Clipper actually launches in 2022, and what rocket it uses, is another matter.
NASA recently announced the first flight of the Space Launch System, which is the current rocket of choice, won't happen until at least December 2019, and more likely, closer to June 2020. This further complicates what was already a messy tangle of politics, programmatic challenges and orbital mechanics.
When and how?
NASA has debated the priority of Clipper with Congress since before the mission's inception. With an estimated price tag between $3 and $4 billion, according to a GAO analysis, the agency worries how Clipper will impact other planetary science programs. A line in NASA's 2018 budget request states the agency's current position as such: "NASA does not recommend acceleration of the launch to 2022, given potential impacts to the rest of the Science portfolio."
Congress—particularly, Texas House Representative John Culberson—has tried to alleviate those concerns by feeding more money to planetary science, earmarking $275 million directly to the Clipper mission for 2017 alone. That money came with a mandate, written into law, that NASA will launch the mission in 2022 using the Space Launch System.
Just how much wiggle room NASA has on that mandate is tricky to decipher. Policy experts told me the only enforcement mechanism is pulling the project's funding, and if SLS isn't ready to fly, the directive could be a moot point, anyway.
Furthermore, the requirement did not come with any additional money to make it happen; who would pay for an extra SLS flight remains unclear. NASA, perhaps skeptical that it can afford to fly Clipper on SLS without additional funding, also addressed the situation in the 2018 budget: "The Europa [funding estimates] above assumes an Evolved Expendable Launch Vehicle [specifically, a Delta IV Heavy or Falcon Heavy], as the cost of an SLS flight is not yet known." NASA's official Clipper mission materials have also not adjusted to Congress's mandate, merely estimating a launch in the 2020s.
Any other rocket besides SLS—including SpaceX's upcoming Falcon Heavy—lacks the power to blast Clipper directly from Earth to Jupiter. A conventional rocket would rely on three gravity assists from Earth and one from Venus, increasing the transit time from about 2.7 years to 7.5 years.
Because it's hotter at Venus, Clipper would have to carry thermal baffles and use materials that withstand higher temperatures, increasing the spacecraft's complexity. At the moment, the Clipper program is still designing the spacecraft with those Venus requirements in mind.
SLS delay impact
A Clipper launch aboard SLS in 2022 is even more uncertain in the wake of NASA's announcement that the first flight, Exploration Mission 1 (EM-1), won't launch until at least December 2019, and as late as June 2020. After that, there will be a 33-month pause while the rocket's ground systems are upgraded to handle a new upper stage.
Direct-to-Jupiter launch windows have tight, 3-week constraints, and occur about every 13 months. The first launch window runs from June 4 through June 24, 2022. Even if SLS embarks on its first mission in December 2019, it won't be ready again by the end of the first window on June 24, 2022, and the next Clipper launch opportunity isn't until July 2023. That means NASA can't currently meet Congress's requirement that Clipper launch on SLS in 2022.
This runs counter to recent statements made by William Gerstenmaier, NASA's associate administrator for human spaceflight exploration and operations, during a recent hearing held by the House space subcommittee. When asked if the SLS launch delay would impact Clipper timing, Gerstenmaier said, "There's really no impact there. We can support pretty much whatever the science mission directorate needs for that mission, and we'll figure out whether it occurs after the first flight or after the second flight to meet their needs."
Why the 33-month delay?
At the heart of this messy situation is the 33-month stand-down after EM-1. Here's the background: SLS was such an expensive, ambitious rocket, it couldn't be built all at once. NASA opted to make the vehicle design evolvable, getting more powerful over time with an advanced upper stage, and eventually—so the plan goes—liquid-fueled boosters.
For EM-1, NASA is using an off-the-shelf Delta IV upper stage. The new upper stage, which will be introduced for the crewed, second flight (EM-2), will make the vehicle 13 meters taller. A 13-meter height change triggers a staggering amount of modifications to the mobile launcher, or ML—the tower holding all the rocket's support equipment, such as propellant, power, and access for pad workers.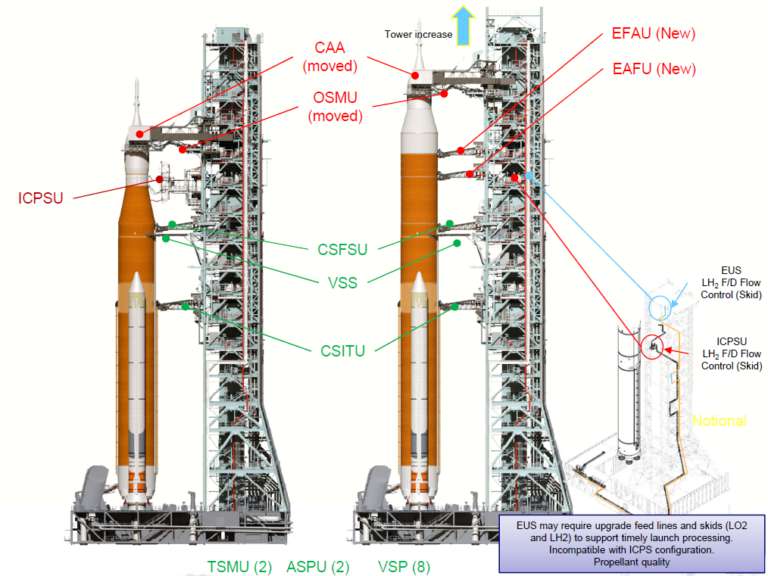 More steel must also be added to the top of the tower for height, and as a result, more steel must be added to the base to support the increased weight. (Some steel will actually be removed where not needed, to reduce the tower's total weight.)
The propellant feeds for the interim upper stage get removed, and feeds for the new upper stage are installed farther up the tower. The liquid oxygen and liquid hydrogen feed lines must be re-routed to their new locations, and NASA says more than a mile of pipes and tubes will be moved in total.
For the Orion spacecraft, the service module umbilicals must be moved. The crew access arm, which astronauts will use to board Orion itself, has to be moved. (I asked NASA headquarters why the crew access arm had to be installed for EM-1, since there will not be a crew. The reply: "For EM-1, ground crew will still need access to the spacecraft for processing and prelaunch integrated testing while in the VAB and at the launch site.")
A key electrical room must be relocated, along with 17 miles of cabling, and NASA is also building a new support room for secondary payloads that will ride along beneath Orion.
Making all this even more difficult is the fact the ML was originally built for a completely different rocket, Ares I, which was part of the return-to-the-Moon Constellation program. After the Obama administration cancelled Constellation and Congress directed NASA to build SLS, the agency modified the Ares I mobile launcher rather than start from scratch for SLS, because Congress directed NASA to use and modify existing Constellation hardware where possible. As a result, the ML is very crowded, and running up against weight limits, making the upgrade more difficult and less efficient.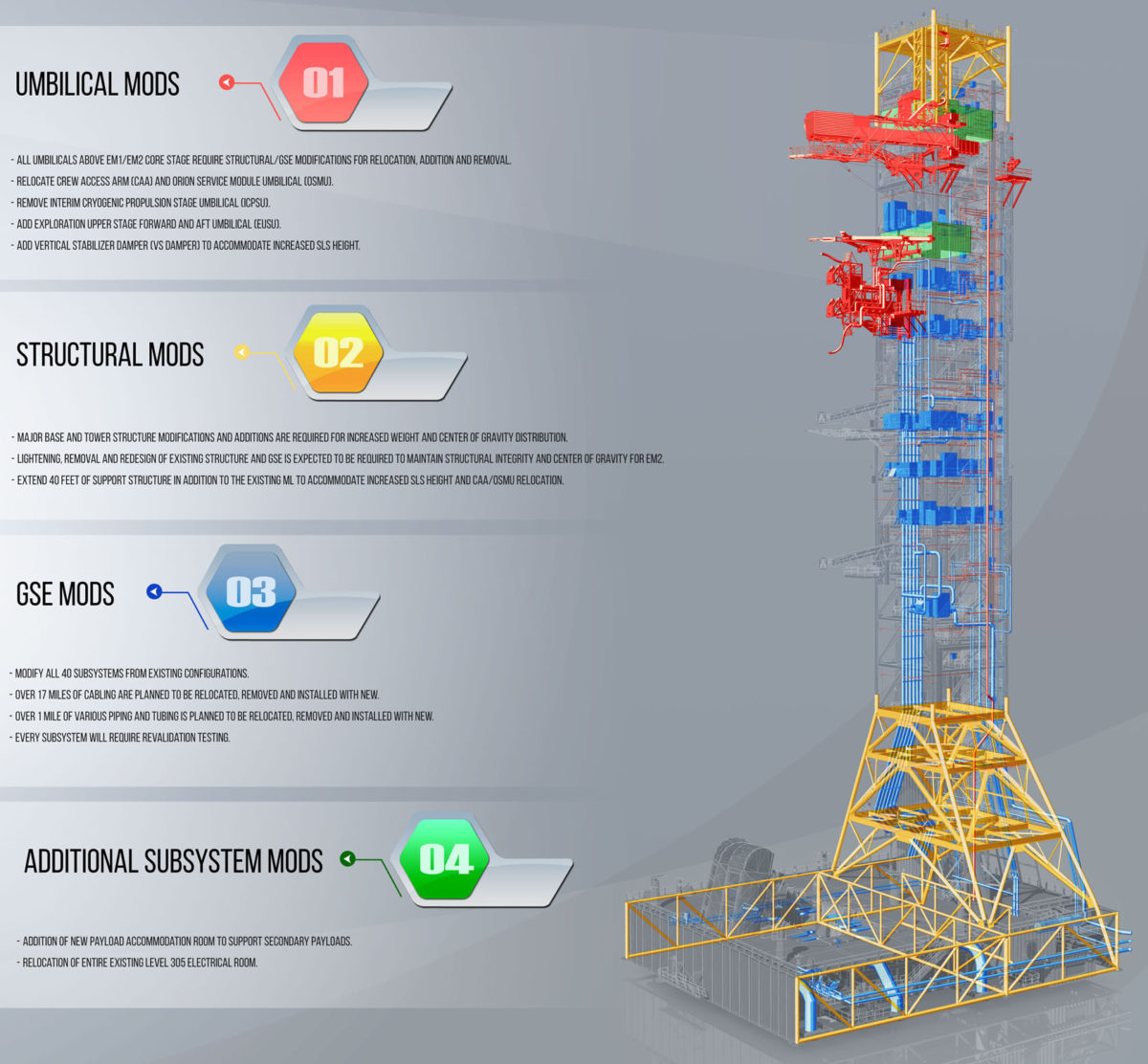 If not 2022, when?
When, realistically, could Clipper launch on SLS? I asked the Clipper team for a list of direct-to-Jupiter launch windows from 2022 through 2025. Here they are:
Launch window: June 4 through June 24, 2022
Arrive either December 24, 2024 or May 1, 2025

Launch window: July 9 through July 29, 2023
Arrive either Jan. 15 or April 25, 2026

Launch window: Aug. 12 through Sept. 1, 2024
Arrive either March 14 or Aug. 18, 2027

Launch window: Sept. 15 through Oct. 5, 2025
Arrive either June 28, 2028 or Dec. 24, 2028

Note: In order to maximize the amount of mass that can be delivered to Jupiter, the team only plans for two arrival dates. If Clipper launches early in the window, it will arrive on the first date. If it launches later in the window, it will arrive on the second date.
With 2022 off the table, the next possibility is July 2023. But there's another problem: 2023 is also the estimated launch year for EM-2, the first crewed SLS mission. At the House space subcommittee meeting, Gerstenmaier was asked whether the recent SLS delay would impact EM-2. Once again, he said there would be no impact.
If that's true, for both Clipper and EM-2 to launch in 2023, EM-2 would likely need to launch in either January or December to give ground crews enough breathing room to support a July Clipper launch. In theory, this is possible: NASA told me the ground systems architecture is designed to support a flight rate of every 120 days.
But in reality, this seems unlikely. Just because NASA can launch SLS every four months doesn't mean they can build the actual rockets at that rate. In the past, NASA officials have indicated SLS won't fly more than once per year at first, with twice-per-year flights coming later in the 2020s. Rapidly launching two vehicles after a 33-month pause could be a tall order. That could put NASA in the tough position of having to slip either Clipper or EM-2 to 2024.
A second mobile launcher?
One potential solution is a second mobile launcher.
At an October 5 meeting of NASA's Aerospace Safety Advisory Panel (ASAP), which advises NASA on safety and performance issues, panel members raised the notion the agency could build a second mobile launcher. A second ML, if started now, could in theory, be ready to support a 2022 Clipper launch—providing the new upper stage was ready in time (the Delta IV interim stage lacks the power for a direct-to-Jupiter trajectory).
Interestingly, the recommendation was made primarily for safety reasons. In an email, ASAP member Donald McErlean told me the group was concerned the SLS ground crew could get rusty during the 33-month delay between the first and second flights.
"For safety reasons, ASAP believes it is appropriate to minimize that gap to reduce the need for relearning operational skills by the workforce," McEarlean wrote. "The proposal to build a second (ML) mitigates that risk as construction can begin prior to the EM-1 launch. NASA may have additional technical reasons to build and potential uses for the second MLP that adds to its value and makes that investment more attractive, however those are not ASAP's main reason for supporting this approach."
Gerstenmaier also brought up a second ML during his Congressional hearing. "We need to potentially discuss whether it's advantageous to us to have another mobile launcher available to avoid that tie between EM-1 and EM-2," he said.
How much a second ML would cost—and whether the White House and Congress would be willing to fund it—is hard to say. NASA officials told me the agency spent $330 million on the ML for Ares I, and $400 million to upgrade the ML for the first version of SLS with the Delta IV interim upper stage.
In Oct. 2016, NASA released a contract solicitation for a design work to get the ML ready for the second iteration of SLS, with the new upper stage. Ten months later, in August 2017, the agency awarded the contract to Florida-based architecture and engineering consulting firm RS&H. The contract was worth $30 million; actual demolition, construction and installation will be handled under a separate, yet-to-be awarded contract.
A different launch vehicle?
The alternative to all this uncertainty is launching Clipper aboard another vehicle. But the longer transit time means Clipper wouldn't get to Jupiter until January 2030 at the earliest. Even if SLS can't launch Clipper until 2024, it will still arrive three years earlier, in 2027.
A shorter journey lowers operational costs because the Clipper team doesn't have to sit around waiting as long while the spacecraft makes its way out to Jupiter. It also means NASA will return to the outer solar system a lot faster, and Europa scientists that have been waiting since the Galileo mission for another up-close look at Jupiter's enigmatic moon will get their data back much quicker.
"It would be much better if we get to go on the Space Launch System," said Robert Pappalardo, the Europa Clipper project scientist, during a recent presentation at the Lunar and Planetary Institute in Houston. "And then I won't be retired yet, and can see this mission to fruition," he joked.
The ability to launch a flagship science mission like Clipper has long been hailed as a major benefit of building SLS. In the past, Congress has consistently supported the rocket, but House representatives were uncharacteristically critical of the most recent SLS delay during Gerstenmaier's appearance.
If NASA uncouples Clipper from SLS, support for the rocket could erode even further. How to resolve this complex situation is just one of many issues the next NASA administrator—Oklahoma Congressional representative Jim Bridenstine, should he be confirmed—will have to deal with.
Update: After this article was published, NASA officials said building a new mobile launcher would cost $300 million more than upgrading the existing one.
Support Our Core Enterprises
Your support powers our mission to explore worlds, find life, and defend Earth. Tomorrow's discoveries begin today.
Donate