Jason Davis • May 06, 2016
New lunar mosaics emerge as Surveyor digitization project continues
A team of scientists at the University of Arizona Lunar and Planetary Laboratory are kicking off a computer-intensive process to extract data from more than 90,000 image frames digitized from NASA's Surveyor program, a series of probes that landed on the moon in the 1960s.
The lab's Space Imagery Center, a NASA-funded data clearinghouse known as a Regional Planetary Image Facility, recently scanned a large cache of 70-millimeter film reels containing images and data from the five Surveyor spacecraft.
But digitizing the images was only the first step. The team is now finalizing a computer algorithm to examine each individual frame and catalog the accompanying metadata—camera specifics like focal length, azimuth and elevation, and temperature—that will make the data set suitable for scientific use. The Surveyor imagery will then be archived in NASA's Planetary Data System, where it can be publicly accessed.
As the work to extract the metadata continues, more first-look panoramas and an animation have emerged. The new mosaics were created by Gary Rennilson, whose father, Justin, was an original Surveyor camera scientist and now works on the digitization project.
Editor's note: Don't forget to click through to the full-resolution versions! The images are 23 and 47 megabytes in size, respectively.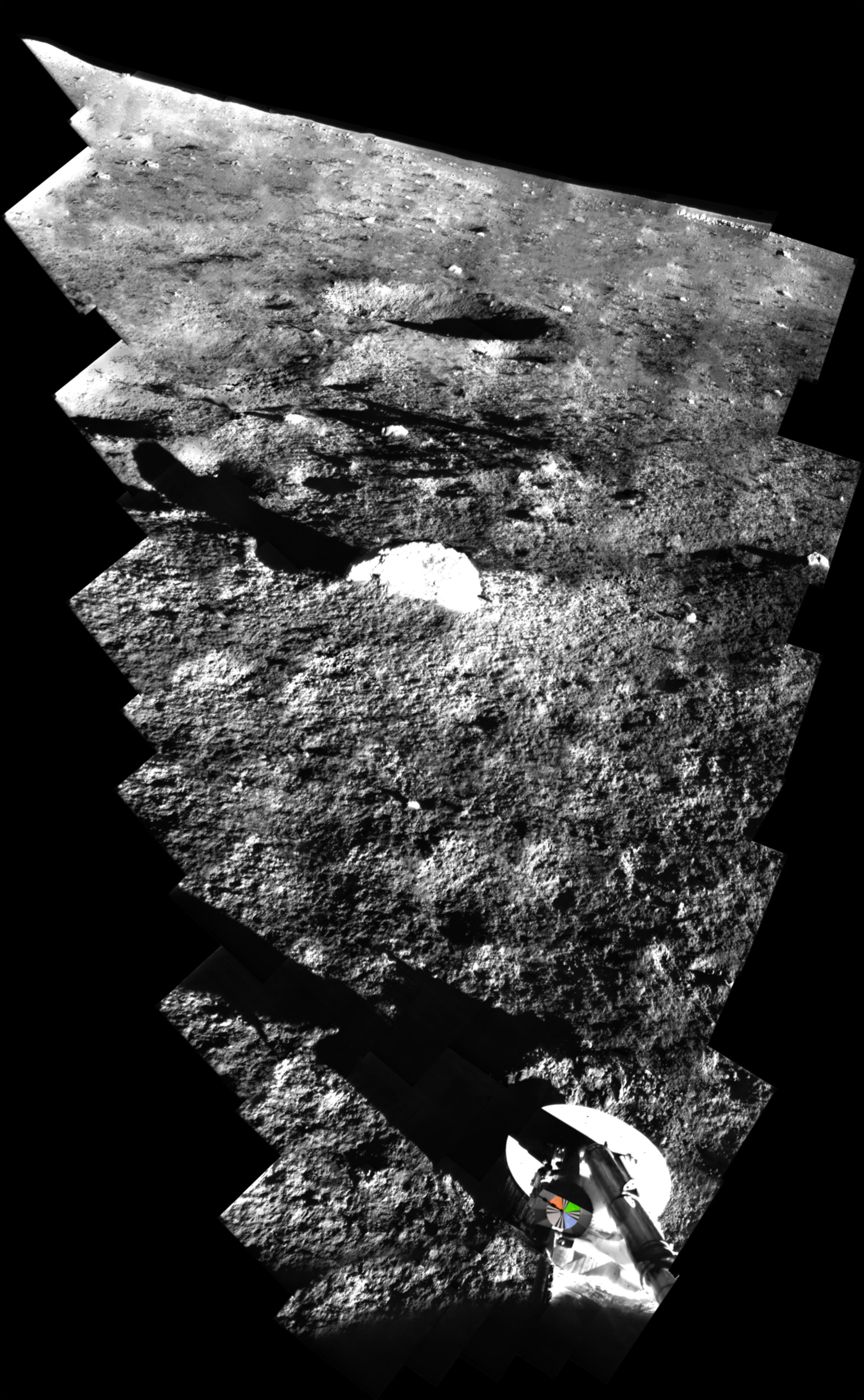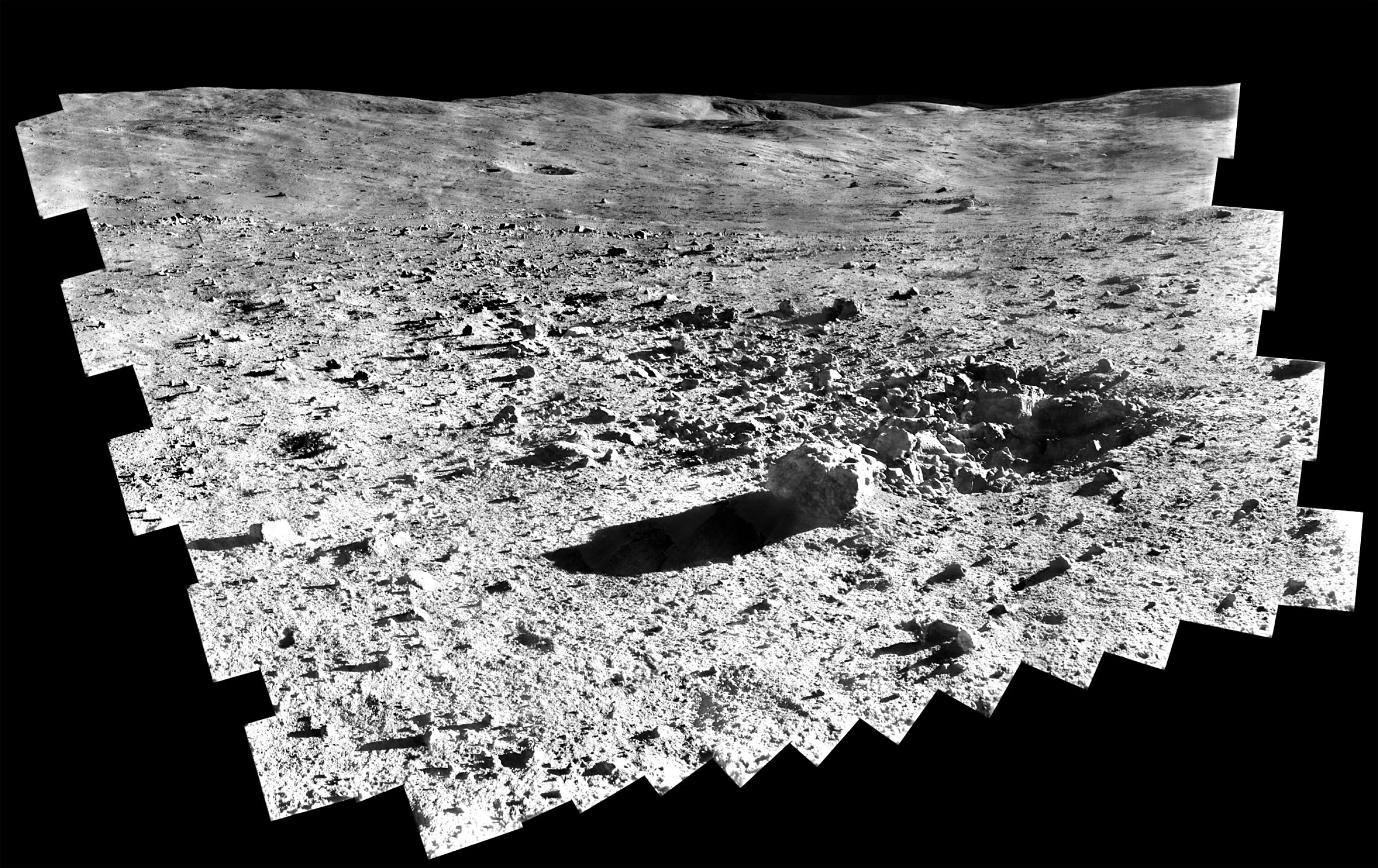 During a recent meeting at the Lunar and Planetary Laboratory, Justin Rennilson looked over a large printout of the Surveyor 7 panorama with John Anderson, a media technician who helped scan the original negatives in a darkened clean room over a period of several weeks.
"Once you get rid of the scan lines, the pictures are amazing," Anderson said. "Absolutely amazing."
"More than a thousand words," Rennilson agreed.
Of the few Surveyor panoramas assembled by hand in the 1960s, most suffered from a "fish-scale" effect, where brightness variations created visible borders between the individual frames. Later, planetary scientist Philip Stooke undertook painstaking efforts to digitize and clean up those panoramas.
The digitization process should greatly improve the accessibility of the Surveyor images—long-lost treasures from NASA's first otherworldly landers.
There are also video opportunities. Gary Rennilson has created an animation of horizon glow observed by Surveyor 7 just after lunar sunset, thought to be caused by electrostatically levitated dust particles.
In the lab, the talk shifted back to extracting the metadata from all 90,000 images. Each frame contains a Binary-Coded Decimal (BCD) block, essentially a pattern of zeros and ones that can be converted into a number string. Those numbers correlate to individual spacecraft sensor values.
Leon Palafox, a Lunar and Planetary Laboratory post-doctoral fellow, has created an algorithm to crop out the BCD block in each frame, read the zeros and ones, and feed the results into a table. If successful, this process should represent the final piece of the puzzle required to complete the digitization project.
"How long to do the entire data set?" asked professor Shane Byrne, the project's principal investigator.
"Between 10 to 20 seconds per image," Palafox said. "The bottleneck is finding the BCD block and doing the crop. And there are 90,000 images."
Byrne pulled out his phone and opened a calculator application. He punched in a few numbers, and concluded that it would take more than 10 days of computing time to parse the entire image library.
Not counting any errors, that is. Then, someone reminded the group that the original proposal called for manually checking one percent of the final results to verify accuracy. That means looking through about 900 images.
"That's a lot," said Rennilson, who is now retired and often reminisces about his time working on Surveyor at NASA's Jet Propulsion Laboratory. "But I have a lot of time," he said with a laugh.
Let's Explore More
Our time to take action for space is now! Give today to have your gift matched up to $75,000.
Donate