Jason Davis • Aug 27, 2015
Dropping Orion in the Desert: NASA Completes Key Parachute Test
The Orion capsule was nearly upside down, lying in the desert, the bottom of its gumdrop-shaped structure angled upward toward the sky. A few meters away, there was a foam-strewn crater where the spacecraft initially struck the ground. Its two, 35-meter-diameter parachutes were still attached, snaking through the sand between small creosote bushes and desert scrub. It looked as if some alien spaceship had crash-landed on a foreign, sun-parched world.

Technicians approached the capsule. We were told to stay back. The first order of business was verifying all of Orion's explosives—used to release the vehicle's various parachutes—had detonated. Under normal circumstances, the drogues, pilots and main parachutes slow the spacecraft enough to ease it into the ocean with a force akin to a 20 mile-per-hour car crash.

Stuart McClung surveyed the scene, standing nearby with crossed arms. His NASA business card says "Crew and Service Module Functional Area Manager Mechanical, Pyrotechnic, Landing Systems." A better title, he says, is simply, "engineer."

"The astronaut seats are lined up such that the feet and the body are on that velocity vector," McClung said, referring to Orion's angled path as it approaches touchdown. "We give them a toes-forward landing."

Just a half hour earlier, the U.S. Army pushed the Orion capsule—a stripped-down mockup of the spacecraft meant to carry humans beyond Earth orbit for the first time since 1972—out of a C-17 aircraft from a height of 35,000 feet. It was the program's sixteenth and next-to-last parachute development test at the U.S. Army Yuma Proving Ground in Yuma, Arizona.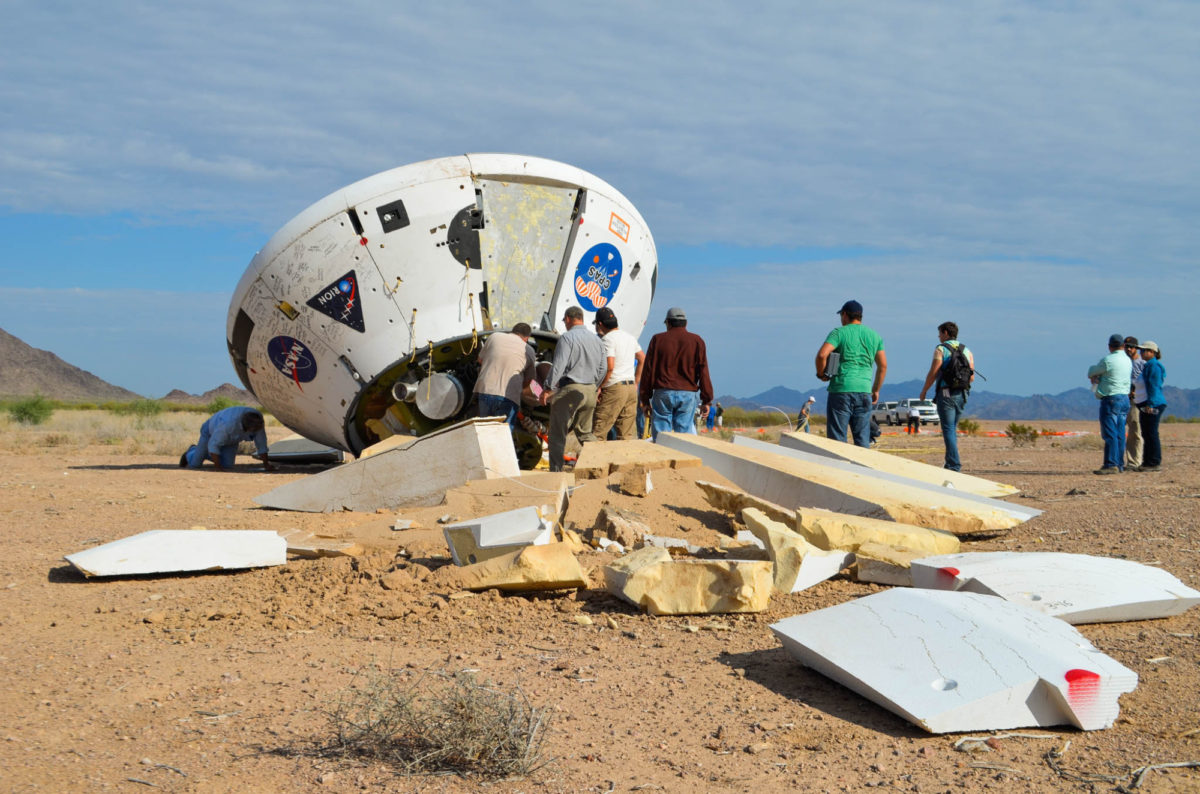 The Planetary Society's Jason Davis was on hand in Yuma, Arizona, to watch NASA's Orion parachute test on August 26. To see the entire photo gallery, visit our Flickr album.
Orion normally descends under two drogue parachutes and three mains. The drogues stabilize the vehicle first. They cut away, small pilot chutes pull out the mains, and the vehicle floats gently back to Earth. For this test, engineers intentionally disabled the explosive charges that release one drogue and one main. It sounds risky, but this is actually all Orion needs to land safely. The second drogue and third main parachutes are backups that ride side-by-side with their counterparts in the event of a failure.

The most flight-like test of Orion's parachute system to date was Exploration Flight Test 1, a two-orbit shakedown cruise in December 2014. And though NASA engineers were pleased the parachute system brought Orion back to Earth safely, they prefer testing in Yuma because they can stuff the capsule with an array of extra sensors and track the capsule closely from both the air and ground. It's a more controlled test environment, says Michele Parker, the deputy project manager for CPAS, Orion's Capsule Parachute Assembly System.

"What we like from a parachute project standpoint is that we've outfitted the vehicle with lots of measuring tools," she said, speaking to reporters the day before the drop test. "We're not coming from space so we can put cameras almost everywhere." Parker said it will take months to process all of the test data. "We do a reconstruction to where for every millisecond we know the position of those parachutes as much as we can."

It's jarring for outsiders to see Orion upside down, lying amidst cracked foam on the desert floor. But Parker and McClung say it's no big deal. The foam panels are meant to give. They protect the underlying vehicle from the damage it would incur from multiple drops. It made me think of high school physics challenges where students build egg protection devices that are dropped from a tall building onto a bulls-eye target. The team that lands closest to the center with their egg intact is the winner.

But the analogy doesn't quite work. Parker and McClung aren't dropping Orion to see if it survives—they know it will. What's more important is capturing the behavior of the parachutes under a variety of conditions. Prior to this test, the capsule was dropped with one drogue and three mains. Another drop used two drogues and two mains. This was the first try with one drogue and two mains.

Engineers also have a lawn dart-shaped test vehicle that falls faster than Orion, which puts more strain on the parachutes. Amazingly, the Orion mockup is too heavy for the Army's C-17 to carry it much higher than 35,000 feet, where it could build up more speed before the parachute deployment sequence starts. "There's no aircraft today that could take a payload of this size and get you up to 50,000 feet," McClung said.

Two of the thick, expendable foam panels were emblazoned with NASA and Orion logos. They were also covered with team member signatures. One or two couples' hearts even made it onto the craft.
Victor Glover, a member of NASA's 2013 astronaut class, grinned and chatted politely with reporters at the test site. Despite the rising Arizona morning temperature, which quickly hit 90 degrees, Glover and his colleague, Douglas Wheelock, wore bright blue astronaut jumpsuits.

Glover may have a shot at riding in an Orion capsule one day. He just completed his training in July, and is eligible for future space missions. The would-be spacefarer's first ride to orbit, however, would likely be in a Russian Soyuz or American commercial crew capsule. Orion won't fly with humans until 2021, and even then, missions will be far and few between.

"Soyuz is small. The Orion is a lot bigger than a Soyuz. A lot bigger," Glover said. "If someone just walked into [Orion], they'd probably say, 'Oh, this isn't very big.' Then you go put them in a Soyuz and they'd say, 'Oh, okay, I get it.'"

Orion is so big, in fact, that the drop test mockup isn't quite full-size. The real thing doesn't fit inside a C-17, so the mockup's top has been lopped off. "What that means for us in terms of testing," said Michele Parker, "is we have a little less stability than the actual vehicle." This makes it more likely for the parachutes' long tethers, called risers, to rub together—a dangerous situation.

As the capsule plummets toward the ground, onboard computers monitor the vehicle's orientation. There are better positions than others to deploy the main parachutes, so as Orion wobbles around, flight processors wait for a favorable attitude.

And if that orientation doesn't come, the sequence is timed to start anyway. Says Stuart McClung: "There's a timer somewhere that cuts off and says, 'I'm putting the main parachutes out, thank you very much,' independent of whether you're in a good position or not." In any case, when astronauts like Glover are onboard, NASA wants to make sure the parachutes work right—the first time. "There's no pause button," McClung said. "There's no redo on our landings."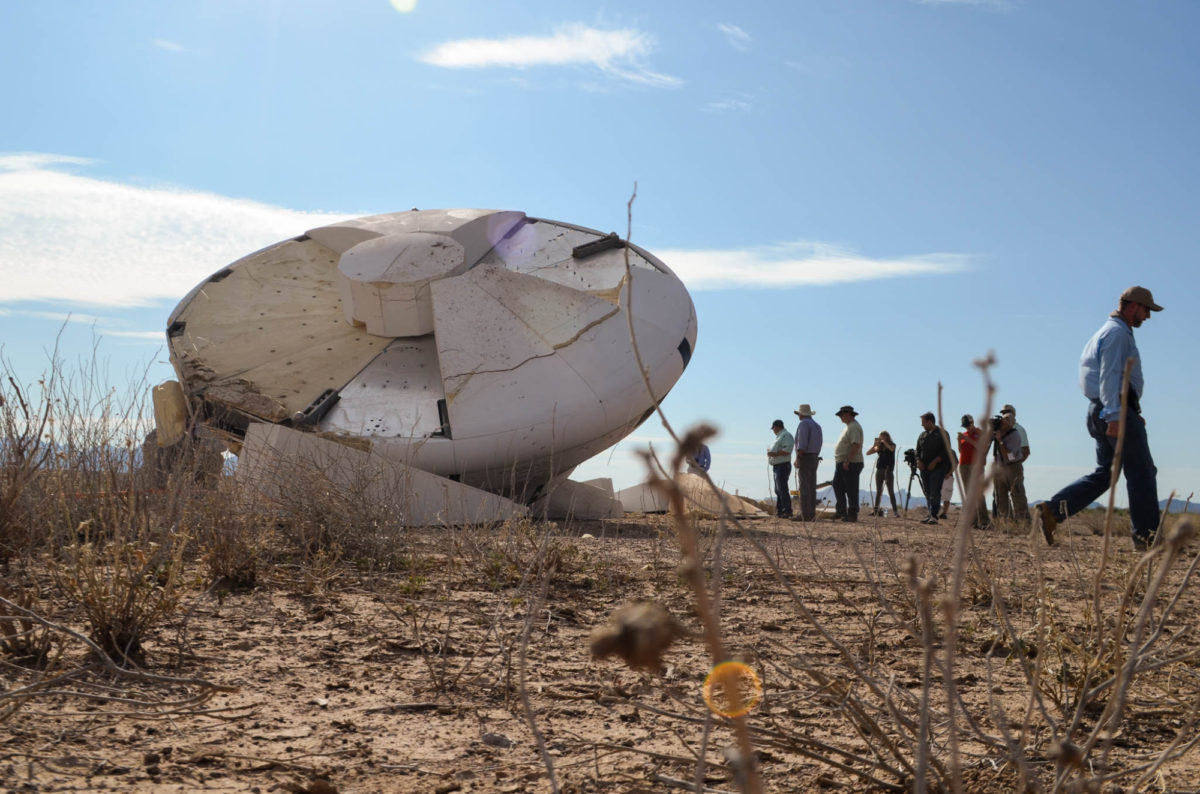 You are Part of LightSail's Legacy
Let's share the story and success of LightSail® - help secure LightSail's legacy!
Donate Today