Recently, almost a thousand researchers gathered in London for Europe's annual meeting of planetary scientists. The European Planetary Science Congress has grown significantly since it was first held in 2006, and this year was hosted by University College London, UCL.
A Festival of the Planets was held to coincide with EPSC, to raise the awareness of planetary science amongst the general public. It included an exhibition, a science fiction film night, and a less-conventional space-themed standup comedy evening. UCL's North Cloisters were also decorated by Pete Grindrod with a very impressive 40-meter-long print showing 10 miles of the surface of Mars taken by Mars Reconnaissance Orbiter's HIRISE camera.
The meeting itself covered all areas of planetary science, and with several parallel sessions serving the hundreds of attendees, there was always a sense of missing good talks at other interesting sessions.
A session I didn't want to miss was on cometary science. The comet community is gearing up for a very busy time over the next year or two. Comet ISON is rapidly approaching its date with the Sun in late November. Despite the fact that ISON, in all likelihood, will not be quite as spectacular as many predicted when it was discovered a year ago, the community are hopeful that it'll put on a decent display, and above all will provide great insights into this icy body's make-up and behavior. With the numerous preparations made for observing this comet from Earth and deep space, largely coordinated by the NASA Comet ISON Observing Campaign, CIOC, it'll be scrutinized quite literally from every angle.
As ISON's arrival nears, an ESA spacecraft is quietly snoozing as it coasts towards another comet, that it'll reach next year. The Rosetta spacecraft will be woken by an inbuilt timer on January 20th, 2014, to ready itself for arrival at 67P/Churyumov-Gerasimenko a few months later. Rosetta's project scientist, ESA's Matt Taylor, gave a great overview during the comet session of the many tasks to be carried out by the mission at 67P, including the first soft landing on a nucleus. Taylor made it clear that everyone will be very keen to check on Rosetta's well-being after its long hibernation, and introduced to the audience a 1971 hit song called Rosetta, by Alan Price and Georgie Fame. Although the verses bear very little relevance to the mission, he suggested that the chorus's words would be very relevant on the day of Rosetta's awakening…
There were some fascinating talks on the Rosetta instruments and plans for observations. Its been a long time since the instruments were designed in the 1990s, built, and then launched in 2004, and there was definitely a sense of all the teams getting very excited by the prospect of finally obtaining data from their experiments. The mission's lander, Philae, will slowly descend to 67P's surface in late 2014, and due to the extremely low gravitational pull from the nucleus, will be secured to the surface using the downward thrust from a cold gas thruster, a harpoon, as well as drills that will wind their way into the ground.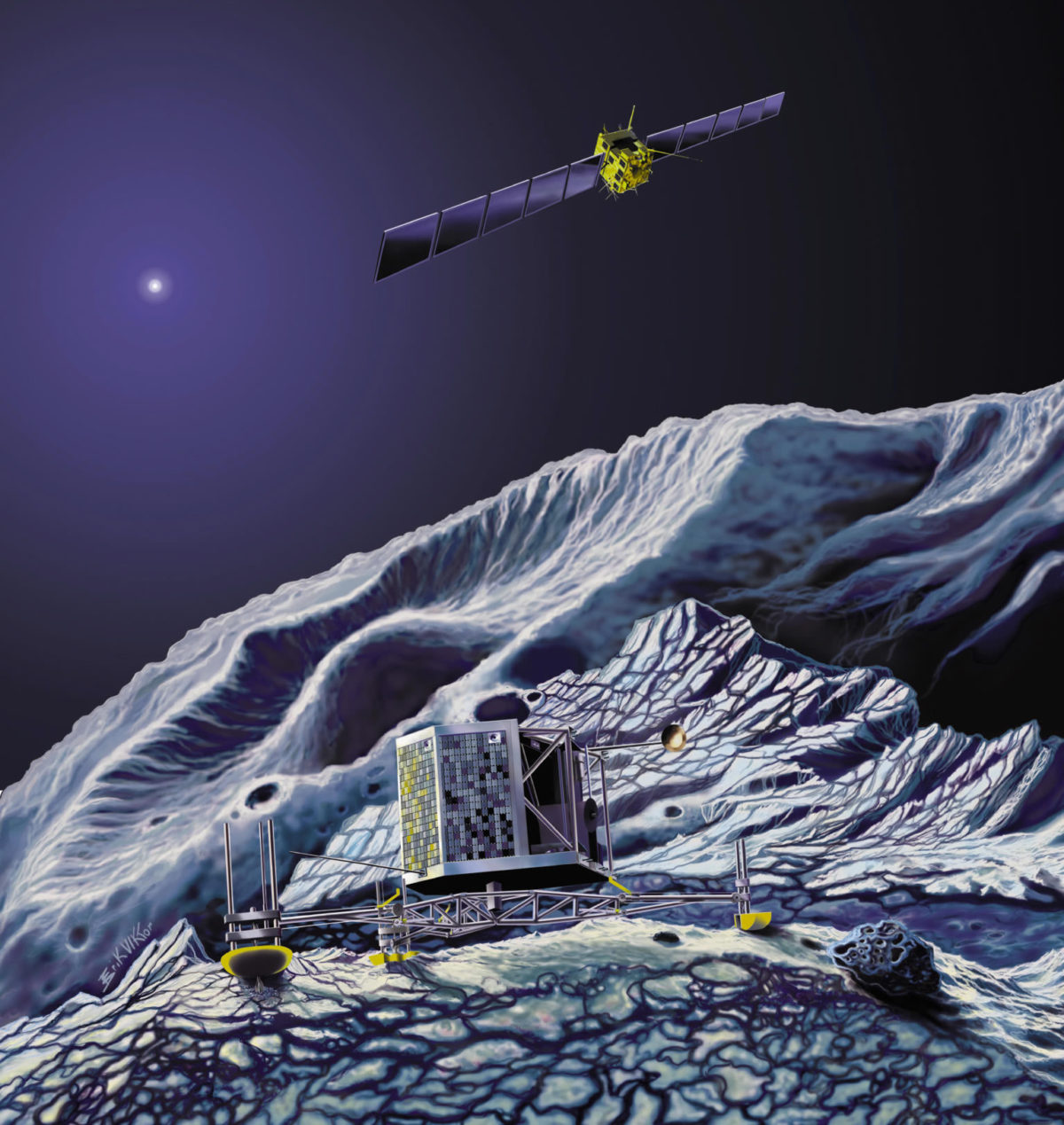 Philae is packed with all kinds of sensors and experiments to learn as much as possible about the comet's nucleus. One of these is CASSE – the Cometary Acoustic Surface Sounding Experiment, which was described by Martin Knapmeyer of the DLR Institute of Planetary Research in Berlin. Each of Philae's three feet has two pads, or soles. CASSE's sensors are in these feet: one sole of each foot contains a transmitter, and the other a receiver. Signals sent from the transmitter will be picked up and the change in the received signal will be interpreted to learn more about the surface near the lander.
As well as determining the properties of the ground when sitting on the surface, the CASSE team are hopeful that the instrument will be operating during Philae's landing itself. To prepare for this, they conducted simulated landings to see how the instrument and lander respond to landing on different types of surfaces. Having calibrated the test data thoroughly, information from CASSE on the lander will allow the reconstruction of Philae's first contact with the comet nucleus, including any bounces and measurements of the acceleration levels that each leg experiences. No matter how thoroughly the nucleus's surface will be analyzed from Rosetta and Philae, direct measurements such as those of CASSE will be needed to provide as full an understanding as possible of what a comet's surface is really like.
One of the instruments on the main Rosetta spacecraft is COSIMA – the Cometary Secondary Ion Mass Analyzer, which will measure the characteristics of the dust thrown into space around the nucleus. Martin Hilchenbach of Germany's Max Planck Institute for Solar System Research described how the instrument has already provided some surprises.
Part of COSIMA is a microscope to take high resolution images of cometary dust grains. A few tiny particles are in the instrument already, and there was an expectation that, if anything, there'd be a few more by the time Rosetta reaches its target. However, two dust particles actually disappeared from under the microscope during the spacecraft's asteroid Lutetia encounter in 2010! Hilchebach explained that COSIMA hasn't detected anything that wasn't already present in the instrument on the ground, so it hasn't been contaminated and will provide pristine observations at the comet.
There were many more presentations on various aspects of Rosetta, and the science that's being done on its target and many other comets.
In the 1980s, cometary science underwent a revolution through the combined coordinated observations of Comet Halley and direct sampling and imaging of the comet by an international flotilla of spacecraft. Thanks to Rosetta, it's very likely that we're on the verge of another revolution in cometary science, where it's not the basic questions about comets that are answered, but rather the difficult ones.
Support Our Core Enterprises
Your support powers our mission to explore worlds, find life, and defend Earth. Tomorrow's discoveries begin today.
Donate