UPDATE: I had to correct some errors in this post -- thanks to Jason and Eric for pointing them out!
I practically fell out of my chair when I saw this movie.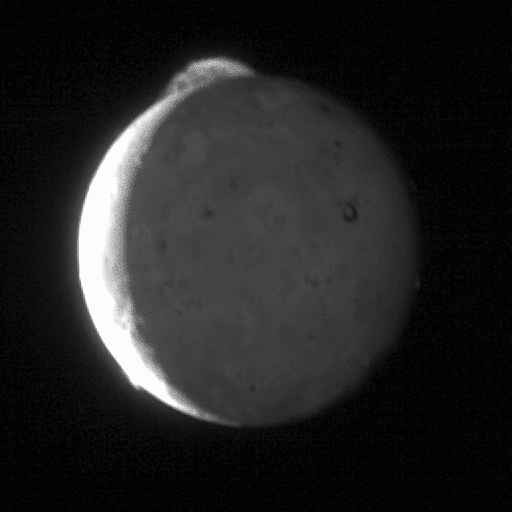 It's going to be a huge challenge to pick out the one image from New Horizons' flyby of Jupiter for this year's "Year in Pictures" feature, but I can tell you right now that this stunning animation is going to be in the running. Getting this image required a combination of luck and good planning. The luck lies in the fact that Io happened to be passing behind the rings while New Horizons was doing observations of the rings, movies to capture ring structures and possibly find new moonlets. There's also luck in the fact that Tvashtar is visible and silhouetted against the black sky -- because of its north polar location and New Horizons' equatorial trajectory, Tvashtar's plume is visible in every single New Horizons photo of Io. As for the planning, New Horizons planners noticed Io would be nearby during these ring observations, so they planned for the camera's field of view to include Io in the same frame with the rings.
Look at that plume! That thing is 330 kilometers tall! I had originally thought that the plume was fountaining lava and rock, but Io expert Jason Perry pointed out to me that the high part of the plume -- which is to say, all of the plume that is visible here -- is most likely composed of sulfur and sulfur dioxide gas (and, I assume, whatever other volatile stuff may be coming out of the volcano along with the lava). The volcano also produces plenty of lava, but that "only" flies one to two kilometers into Io's sky before falling back to the surface. Io's gravity is only 18% of Earth's -- rather similar to the gravity on Earth's Moon -- so this rain of sulfur particles and lava begins in slow motion. However, as Eric Butke pointed out to me, Io has no atmosphere, so stuff can accelerate to pretty high speeds before it slams into the ground. My imagination is failing me as I try to think about what it would be like to stand within the range of Tvashtar's fountain, with rocks smashing to the ground all around me, silently, with massive Jupiter filling the sky over my head. Unbelievable.
Support Our Core Enterprises
Your support powers our mission to explore worlds, find life, and defend Earth. Tomorrow's discoveries begin today.
Donate