Emily Lakdawalla • Sep 24, 2013
More fancy Phobos and Deimos photography by Curiosity
Here are some super-cool new images from Curiosity, taken after dark on sol 393. The first is an animation of five photos that contain both Phobos and Deimos. This time around, they aren't crossing each other, just passing by. I rotated it to put north up, so you can see how Deimos is traveling from east to west, as a good moon should, while crazy Phobos is going from west to east. It boggles my mind how good are Curiosity's photos of Phobos. Deimos is too distant and small and smooth for much of any detail to be visible, but you can actually see surface features on Phobos, and not just its huge Stickney crater.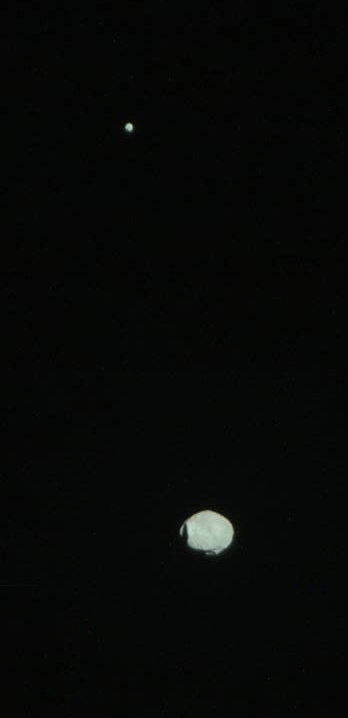 A few minutes later, Curiosity snapped a few more photos, as Phobos crossed into Mars' shadow, entering eclipse.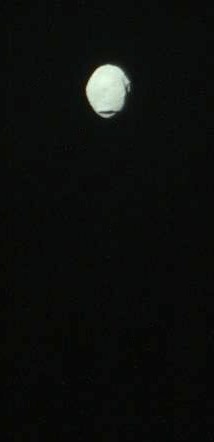 How is Phobos still visible, even while it's in Mars' shadow? It's being lit by twilight. If you were standing on Phobos while this was going on, you'd see a ring around Mars, its atmosphere lit up by the Sun. Here's a view of that twilight, taken by Rosetta as it was flying past Mars. As it happens, this animation also features Phobos. In the case of the Rosetta image, Phobos is on the sunward side of Mars, so we can see its nightside because it's being lit by bright Marslight, not dimmer twilight.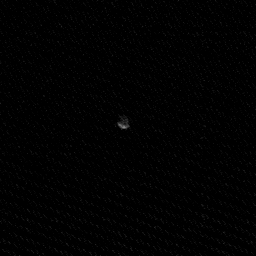 This is as good a place as any to post the official version of Curiosity's super cool animation capturing a central transit of the Sun by Phobos. This happened back on August 20, 2013 (sol 369).
Annular eclipse of the Sun by Phobos, Curiosity sol 363 Phobos, the larger of the two moons of Mars, passes directly in front of the Sun in this sequence of 89 images taken by Curiosity on August 20, 2013. The pace of the video matches the actual elapsed time of 32 seconds.Video: NASA / JPL / MSSS / Texas A & M University
You are Part of LightSail's Legacy
Let's share the story and success of LightSail® - help secure LightSail's legacy!
Donate Today