Emily Lakdawalla • Jul 21, 2015
New Horizons encounter plus one week: Weird and wonderful images from the Pluto system
So many new goodies from the Pluto system! My favorite thing today has been the release of two frames from the high-resolution mosaic over the southern end of Tombaugh regio. I have mosaicked them together and flipped them to place south up because the topography makes more sense that way.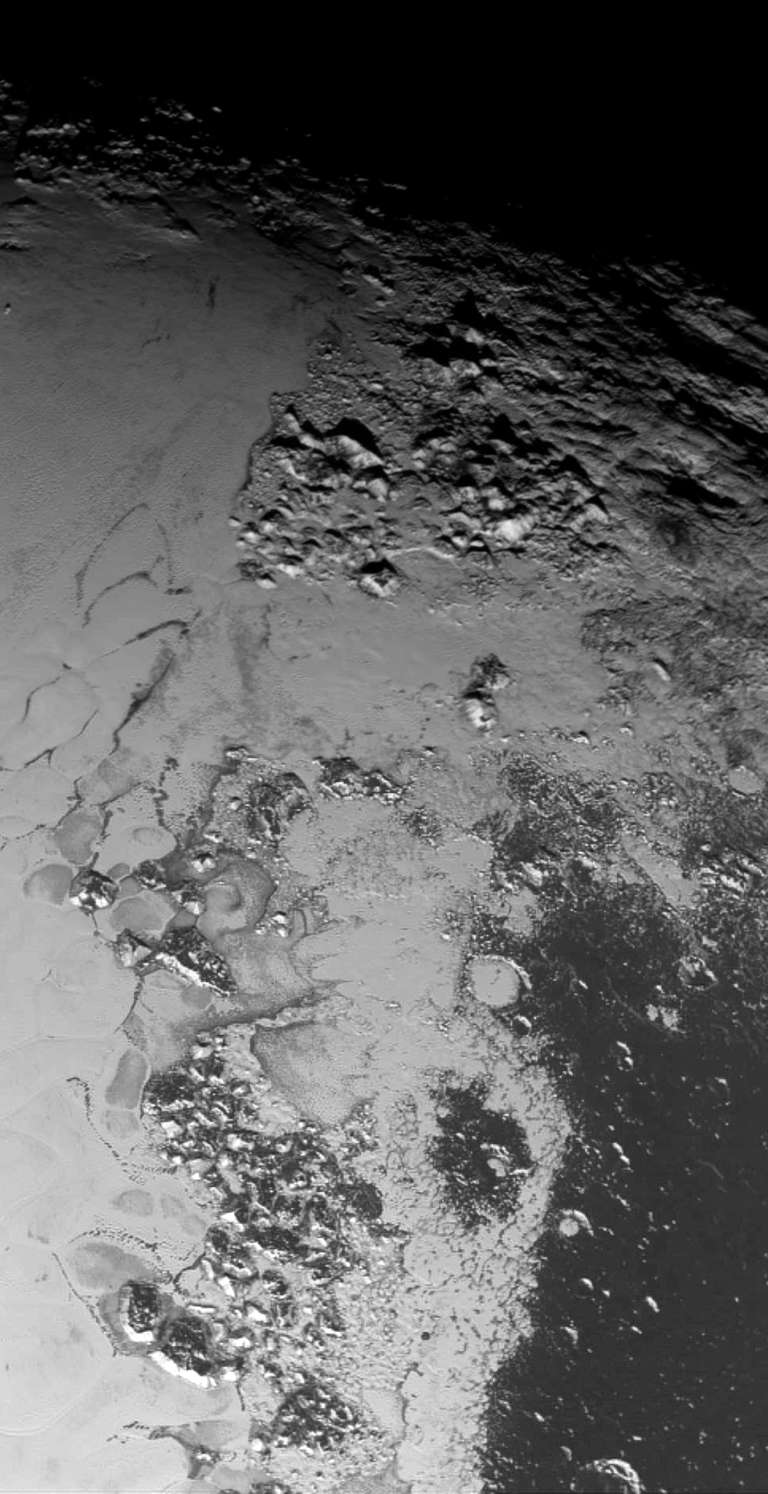 There are probably a lot of different kinds of materials in this photo. The mountains must be made of water ice, because (according to what John Spencer said at the press briefing last Wednesday) that's pretty much the only icy substance that would be strong enough to hold up kilometers-high mountains. But the plains below them could be made of a variety of materials. The dark stuff at lower right could be tholins. The image below, which was shared at Friday's press briefing, suggests that the smooth, hummocky, polygonal material at the left side of the above image could be carbon monoxide ice. There are darker patches within some of the polygons -- I wonder if that is a different ice? The bright material toward the center of the image, which has a more pitted appearance, might be a different substance again.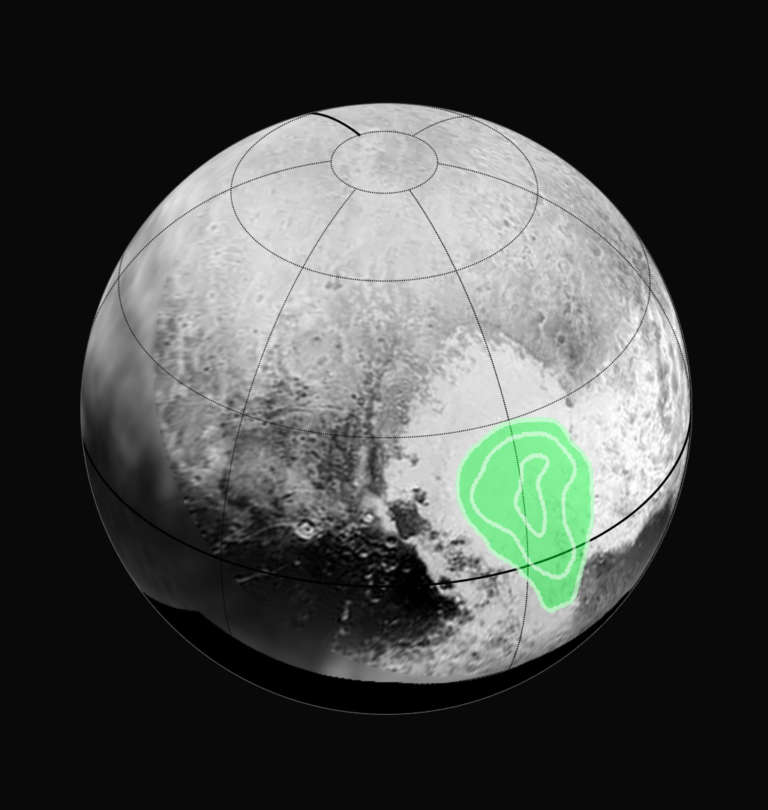 I'm not going to take more time to interpret this mosaic yet, because there's a lot more of it yet to come. One more frame from the mosaic has already been shown to the media; a portion of it is in this press-released photo, showing more polygonal, hummocky material. This morning, in New Horizons' last "early high priority" downlink, the mission should have received four more frames from the same mosaic. I very much hope to see those images in the press briefing scheduled for this Friday at 11:00 PT | 14:00 ET | 18:00 UT.
Images posted yesterday include global views of Pluto, Charon, Nix, and Hydra taken several hours before closest approach. To me, the collection begged to be posted as a scale montage, a family portrait: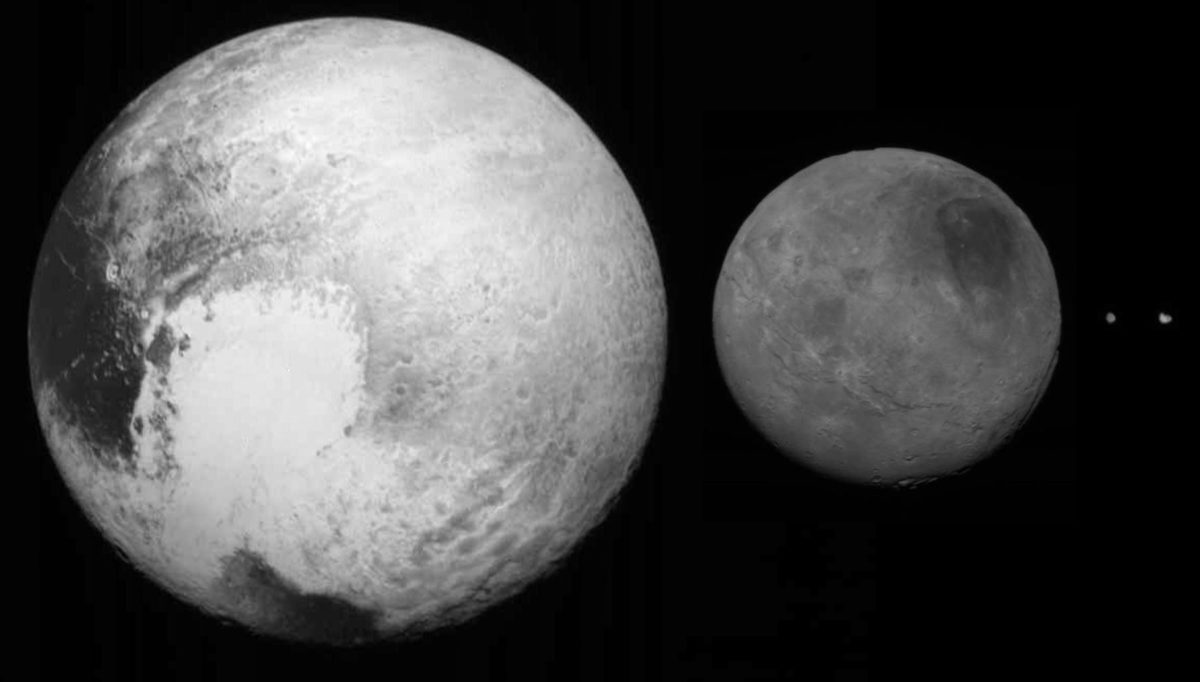 After I made that, I remembered that distances within the Pluto system are quite small, in space terms, so it's possible to make the same montage with the distances between the worlds to scale, as well. Click through twice in order to enlarge it enough to see Nix and Hydra!

Support Our Core Enterprises
Your support powers our mission to explore worlds, find life, and defend Earth. Tomorrow's discoveries begin today.
Donate