"Wow—Science Teachers!"
That was all I could think as I left this year's National Science Teacher Association conference in Chicago. If you were there, you may remember me as "the blue-haired one" or "Bill Nye's friend." For everyone else, I'm the Operations Assistant here at The Planetary Society.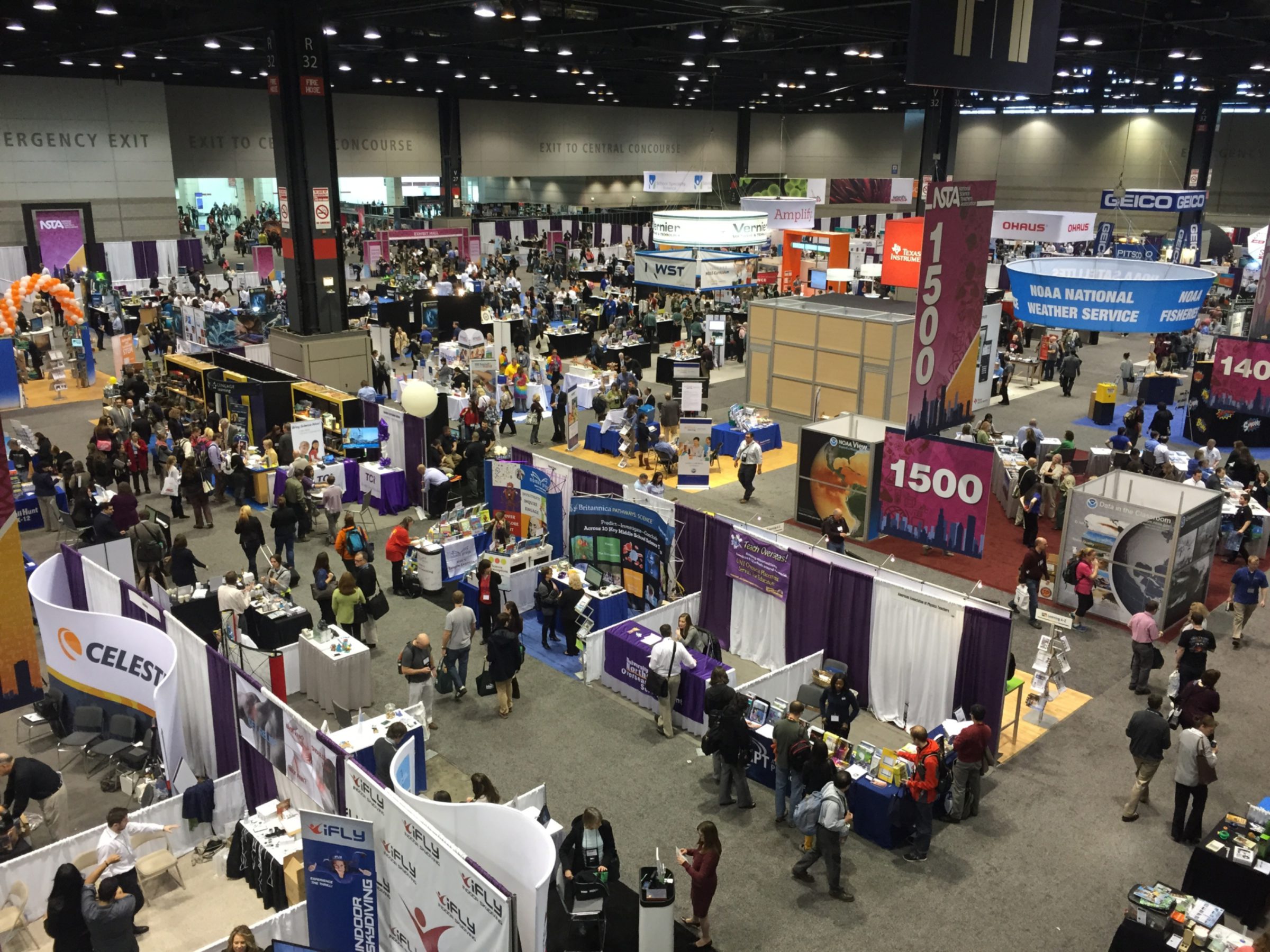 Recently we started to develop our youth education and outreach program, Planetary Kids, for which I've been granted the task of researching how we might make the most impact in the lives of young scientists locally and abroad.
Bill's annual Planetary Society lecture and book signing afforded me the huge opportunity to spend lots of time around his fans—the Billsciples as I've been calling them. His talk centered on three main ideas: raising kids to be curious spirits and critical thinkers, our solar sail spacecraft, LightSail, and the urgent need for climate change awareness. He fielded audience questions ranging from teaching science via government imposed sanctions, to his first scientific intrigue as a child. The current of energy Bill creates in a room filled with brilliant, inquisitive minds is exactly the kind energy required to change our world.
Once Bill left us in Chicago, we really got to experience the glory of the NSTA Conference. We attended a few panels and workshops, and then made our way through the massive wonderland that is the exhibition floor, playing with toys, hanging out with teachers, companies, and kids of all ages who are excited about science. We got lost in the stars of the blow-up planetariums, took a ride aboard a mobile science lab, and discovered some of the most exciting advancements in scientific education that we hope to put into practice with Planetary Kids.
So, I'd like to say thank you to all the radical science teachers, for your passion and dedication, for everything you do on a daily basis to bring science and critical thinking skills to the youth. And for being so darn cool and helping me learn how to make a rockin' program for kids. I can't wait to dive into the work I have ahead of me and I'm humbled to be a part of such a fantastic community.
Maybe it was the sheer size of McCormick Place, a behemoth convention center with sky-bridge above, the thousands of attendees, or that we were in Chicago on St. Patty's Day, but the excitement and possibility alive during the conference was galactic and I can't wait for next year.
I returned to Society headquarters inspired to work on science education, so let's keep that momentum going!
Stay tuned for updates on Planetary Kids in and feel free to reach out to me with any thoughts, questions, or ideas! [email protected].
You are Part of LightSail's Legacy
Let's share the story and success of LightSail® - help secure LightSail's legacy!
Donate Today