Emily Lakdawalla • Feb 05, 2013
Venerable Deep Impact spacecraft has photographed comet ISON
Here is a neat animated GIF of observations of comet ISON made by the Deep Impact spacecraft. I'm told that these are the first space-based observations of this comet, which is expected to put on a major show late this year. Deep Impact was more than 5 AU away from the comet at the time, so it's just a distant fuzzball -- but you can clearly make out the cometary activity, which is pretty awesome.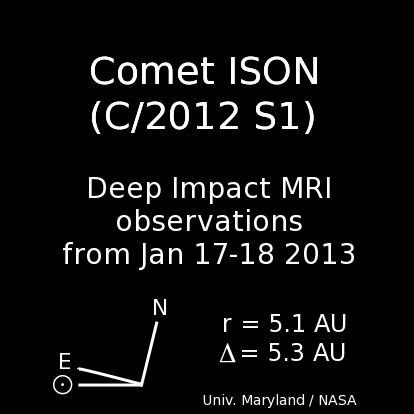 This isn't the first time that Deep Impact has performed astronomical observations! This little spacecraft has performed followup observations on exoplanets and done deep-sky imaging. Of course Deep Impact was originally a comet mission, so its instruments were designed for looking at things like ISON -- though from a closer perspective.
Here's a little more information on plans for Deep Impact's comet ISON imaging campaign, from a press release:
The ISON imaging campaign is expected to yield infrared data, light curves (which are used in defining the comet's rotation rate) in addition to visible-light images. The current movie of comet ISON was generated from initial data acquired during this campaign. Preliminary results indicate that although the comet is still in the outer solar system, more than 474 million miles (763 million kilometers) from the sun, it is already active. As of Jan. 18, 2013, the tail extending from ISON's nucleus was already more than 40,000 miles (64,400 kilometers) long.
Deep Impact is one of several NASA missions that has been extended multiple times, and which periodically appears on the chopping block. This observation shows how Deep Impact is still capable of cool science, observing a comet from a perspective that you can't get from Earth.
Support Our Core Enterprises
Your support powers our mission to explore worlds, find life, and defend Earth. Tomorrow's discoveries begin today.
Donate