Ken Herkenhoff • Jan 22, 2014
Curiosity update, sols 488-520: Steady driving while watching the wheels
Sol 489-491: Wheel Imaging Campaign (20 December 2013)
The 3-sol weekend plan starts with targeted remote science (ChemCam and Mastcam observations), then completion of the thorough wheel imaging campaign. MAHLI and Mastcam images of the wheels are planned to document wear, and MARDI images of the terrain near the left front wheel will also be acquired. I'll be on vacation for a week, but plan to monitor MSL's progress.
Sol 502: Back to Full Science Operations (2 January 2014)
The MSL rover completed the relatively light set of activities planned for the recent holiday, and is now ready to resume full science operations. The Sol 502 plan includes lots of ChemCam and Mastcam observations, plus some RMI images of the right-side wheels.
During the holiday break from tactical operations, I was happy to help John Grotzinger finalize his excellent new blog. I'm expecting that MSL will continue to produce such interesting results in 2014!
Sol 503: Fully Re-engaged (3 January 2014)
The MSL tactical operations team is fully re-engaged after the holiday break, planning a bunch of activities to keep the rover busy this weekend. Sol 503 starts with remote sensing observations, followed by MAHLI and APXS measurements of a couple of targets in front of the rover. Sol 504 is dominated by driving, with new MAHLI and Mastcam images of the wheels. Finally, untargeted remote sensing and CheMin data processing are planned for Sol 505.
As was noted during both MER and MSL SOWG meetings today, January 3rd is the 10th anniversary of Spirit's successful landing on Mars. No data have been received from Spirit since March 2010, but Opportunity is still operating!
Sol 506: 10th Anniversary of MER Landings (6 January 2014)
The CheMin data processing planned for Sol 505 was deleted from the plan, but SAM made another measurement of the atmosphere that night. The Sol 504 drive went well, and the rover is in a stable position, so a "touch and go" is planned for Sol 506. First, MAHLI images and APXS data will be acquired on a rock named "Oneida" in front of the rover. Then the rover will drive about 26 meters and take the usual post-drive images to allow planning the next drive and new scientific activities. Images of the wheels will be taken both during and after the drive.
I'll be traveling starting tomorrow to a meeting of the MER science team in Maryland, so it will be difficult for me to follow MSL's progress this week. But I'm looking forward to discussing the latest Opportunity results and celebrating the 10th anniversary of the MER landings.

Sol 512: Kodak (13 January 2014)
The weekend activities executed as planned, and the rover is in a good location to start a full campaign of wheel imaging. Originally, a short drive or "bump" was planned for Sol 512 to get the rover in position for wheel imaging. Because this bump was not needed, more time was available for contact science. This meant the Science Theme Groups and I (as SOWG Chair) had a hectic morning, preparing for both contingencies as the rover planners evaluated the data to determine whether the bump was needed. We ended up adding an additional APXS/MAHLI target for contact science, including an overnight APXS integration on "Kodak." Planning is unrestricted this week, and due to the timing of the uplink we had to start earlier than usual, at 6:00 Pacific time this morning.
Sol 513: Early Planning (14 January 2014)
I'm SOWG Chair again today, planning Sol 513, which will be dominated by a full set of MAHLI images of wheels. The images will be taken between short drives, to turn the wheels a bit and allow the entire surfaces of the wheels to be imaged. This will require a fair amount of power, so the main constraint on science planning was ensuring that we don't take too much charge out of the battery. But we were still able to add some post-drive science, including a DAN active measurement of hydrogen below the surface, a Navcam cloud search, and the usual imaging needed to plan targeted observations on Sol 514. The command sequences must be sent to the rover by about 5 PM Pacific time, so planning started 1.5 hours earlier than usual--not as early as yesterday though, when it was still dark when I drove in to work.
Sol 514: Nearby Rocks (15 January 2014)
Today was a busy planning day, as we put a lot of activities into the Sol 514 plan. We used the data acquired after the "bump" on Sol 513 to pick a couple of interesting nearby rocks for thorough ChemCam and Mastcam observations. Then one last set of MAHLI images of the wheels will be taken before the rover drives about 30 meters toward the SSW. Today was my last day as SOWG Chair this month, and I'm happy about the way it went.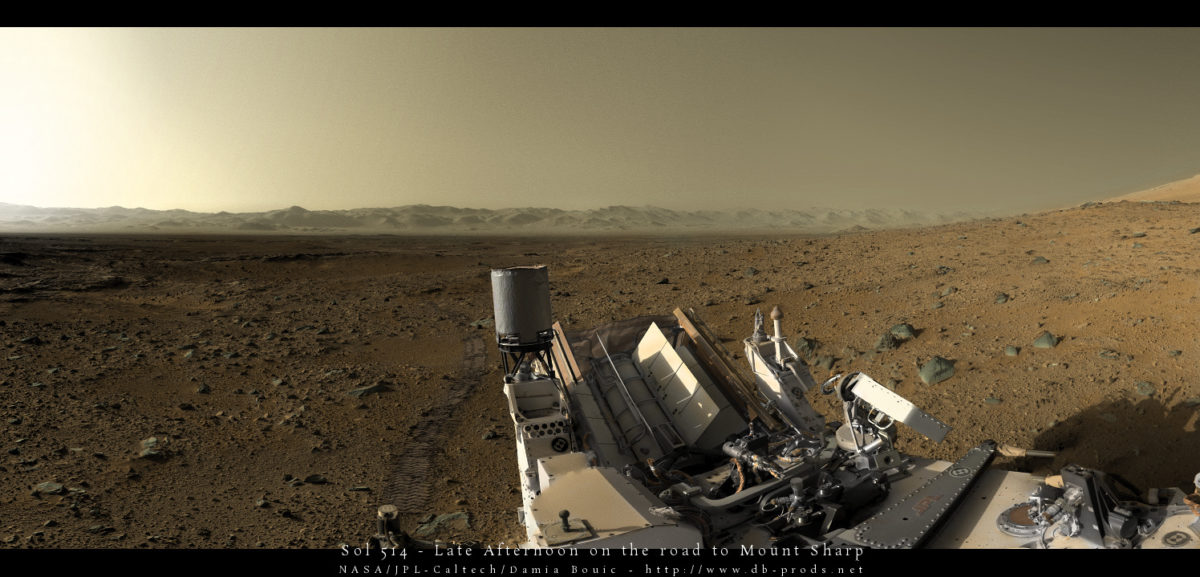 Sol 515 - 518: Oscar Contention (17 January 2014)
The drive planned for Sol 514 did not complete due to a sequencing error, so the error was corrected and successfully implemented on Sol 515. The post-drive data look good, so targeted remote sensing contact science is planned for Sol 516, including ChemCam, Mastcam, APXS and MAHLI observations of a rock dubbed Oscar. More targeted remote sensing is planned for Sol 517, then another drive (about 16 meters) with wheel imaging on Sol 518. The rover will be busy again this weekend!
Sol 520: No Rest for the Rover (22 January 2014)
Another drive was planned on Monday, despite the federal holiday, and it went well. The images taken after that drive were used to plan targeted remote sensing (Mastcam and ChemCam) on rocks dubbed Doran and Togo on Sol 520. Then another drive was planned to get the rover in position for another set of wheel images, which are planned every time the rover has driven 100 meters.
You are Part of LightSail's Legacy
Let's share the story and success of LightSail® - help secure LightSail's legacy!
Donate Today