What happened to Beagle 2? It's been a mystery for 11 years. That mystery appears to have been solved. Here is a color photo, taken on December 15, 2014, that members of the Beagle 2 and Mars Reconnaissance Orbiter HiRISE teams have determined is very likely to be the Beagle 2 hardware sitting on the surface of Isidis Planitia:
This is actually the third picture of the hardware that HiRISE took. Comparing three images in the flicker gif below, it really seems that the bright spot at upper right is shifting around. More than likely, what we're looking at is actually light glinting off of some of Beagle 2's solar panels; which panel sends the glint to HiRISE depends on the lighting geometry of each observation.
If that really is light glinting off of deployed solar panels, HiRISE has shown us that Beagle 2 worked. Its entry worked; its parachute worked; its airbag-assisted landing worked; its initial deployments worked, at least partially.
Which is heartbreaking. So close -- and yet, never heard from.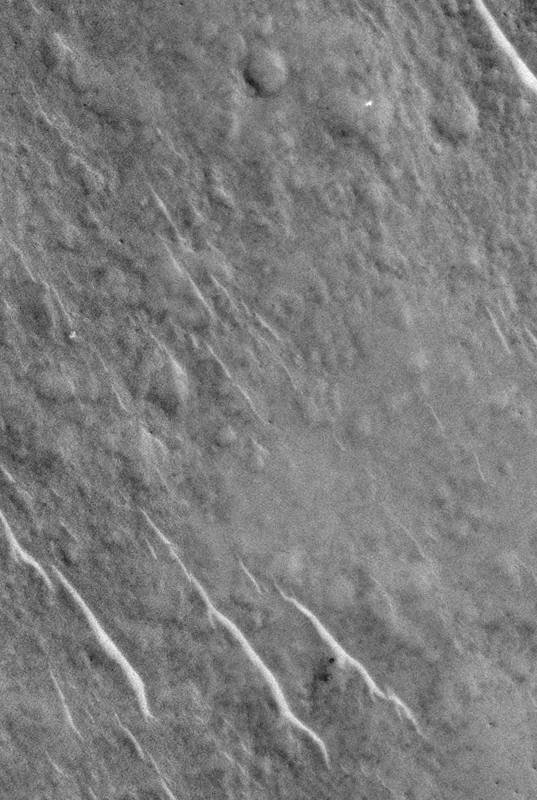 There are many fine articles to read today on the search and the implications of what HiRISE has seen. I can't add much to that, so I'll just link to them here. Instead, I'll do what I do best: locate and process images, and guide you to where you can find them yourself. Would you have found Beagle 2, had you been searching?
We know that Beagle 2 departed Mars Express on December 19, 2003; the Mars Express Visual Monitoring Camera snapped this photo of the departing saucer. That was the last we knew of its existence.
After its loss, Mars Global Surveyor searched for some time, and then HiRISE took up the effort. There's no question that Beagle 2 hit Mars; even if its parachute never opened, gravity must have carried it to the surface within Isidis Planitia. But searchers didn't know if they were looking for a parachute and open lander, or an impact crater. Beagle 2 was very small, and its parachute would not have been easy to spot.
Beagle 2 was a disk 0.65 meters across. If everything worked after landing, it would have unfolded a four-petaled set of solar panels, increasing its total size to a bit more than a meter. Although HiRISE can achieve resolutions as high as 25 centimeters per pixel, it takes more than one pixel to recognize an object; Beagle 2's small size is at that limit. In general, parachutes are easier to spot than landers, because they're bigger and brighter. However, Beagle 2's parachute is not so easy a target to spot. The parachute was made of spinnaker ripstop nylon, a gossamer-thin fabric weighing only 23 grams per square meter. This is so thin that it was quite translucent: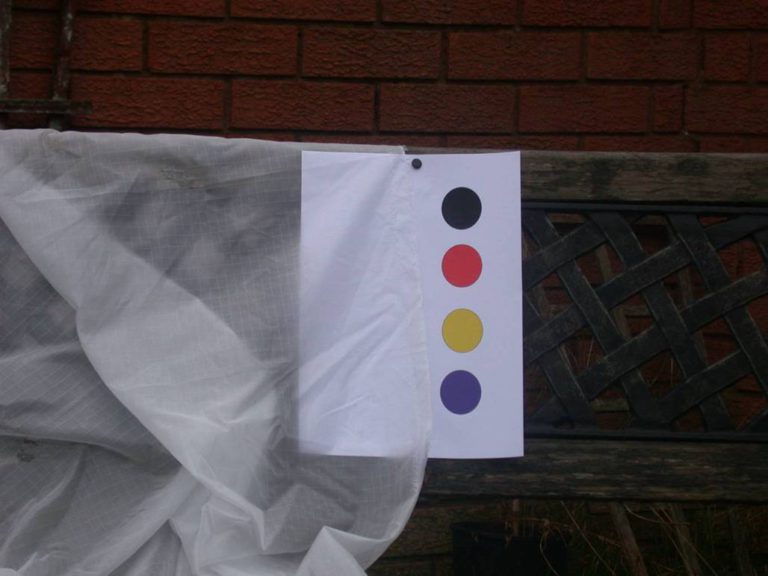 The parachute's rigging lines stretched 11.4 meters and connected to the backshell with a 30-meter-long strop, so one would expect the backshell and parachute to be separated by less than 40 meters.
A while ago, Doug Ellison simulated what the lander and its parachute and various other parts might look like on the surface, and then downsampled it to HiRISE resolution. Here's the result....your mileage may vary.
Okay, that's the context for today's announcement. The Beagle 2 hardware was located in HiRISE image ESP_030908_1915, taken on February 28, 2013. A followup image, ESP_037145_1915, was taken to confirm it on June 29, 2014. A third image, ESP_039308_1915, nabbed the location in color on December 15. Here's a location map: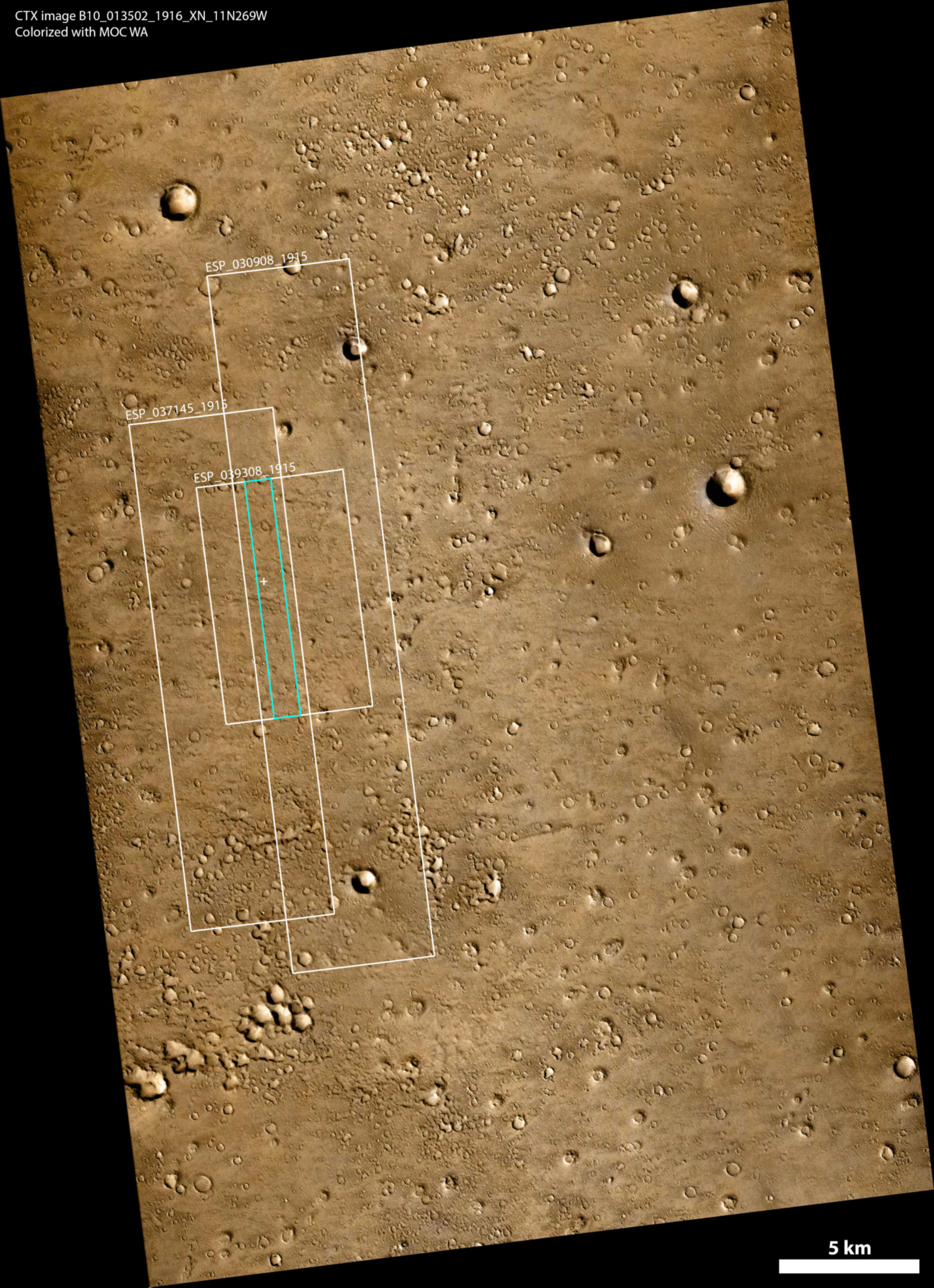 Here is the view of the lander in the three HiRISE images:
All three images show a bright object, although it appears to shift position slightly from one image to the next; this could be due to slightly different illumination geometry, with glints coming off of different solar petals in different images. Here's a detailed look at the lander: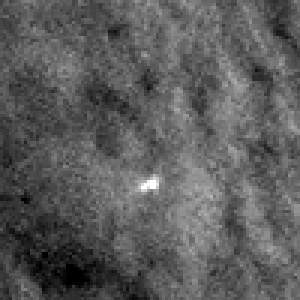 If you'd like to take a look at the data yourself, and investigate the putative parachute and back cover, here is a guide to the location of the lander in the images. The map-projected data are easier to interpret in terms of scale and location, but for objects this small it's never a bad idea to check out the original pixels as they came off the camera detector, which is what you'll find in the non-map-projected data. I did look at that but it didn't give me any more or less confidence that what we are looking at is Beagle 2 hardware, so I'm not showing it here; I hope you enjoy investigating it for yourself!
Grayscale, map-projected: x:7907; y:46015
Grayscale, non-map-projected: x:15788; y: 50231
Grayscale, map-projected: x:19044; y:24794
Grayscale, non-map-projected: x:3750; y:43122
Grayscale, map-projected: x:9542; y:15959
Grayscale, non-map-projected: x:11310; y:17207
IRB color, map-projected: x:2643; y:14784
IRB color, non-map-projected: x:3310; y:17207
Merged IRB, map-projected (note: merged IRB has a resolution of 50 cm/pixel): x:4772; y:7980
Also check out Peter Grindrod's archive of context maps and images from a variety of other Mars orbiters.
You are Part of LightSail's Legacy
Let's share the story and success of LightSail® - help secure LightSail's legacy!
Donate Today