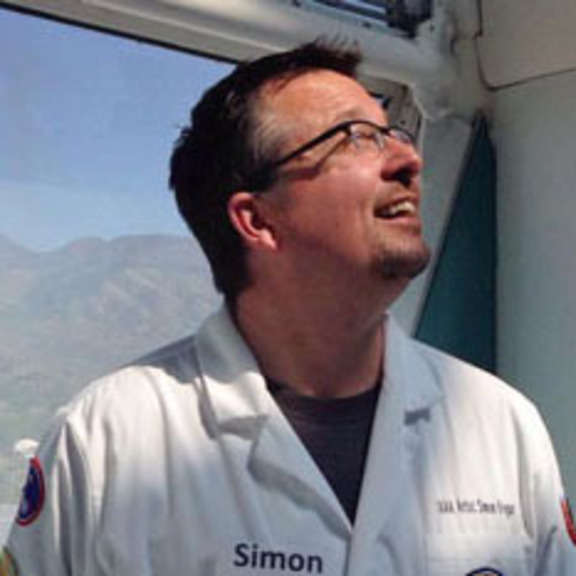 Simon Kregar
Space Artist
Simon Peter Kregar, Jr. is an award winning fine artist whose focus is promoting science and an awareness of our place in the Universe. Classically trained, his subjects include authors, scientists, astronomical art, and noted astronauts
He was nominated for the prestigious Governor's Arts Award for three consecutive years, which recognizes excellence in artistic expression and outstanding contributions to the Arizona arts community.
Simon's work is featured in the book "The Art of Space" and 'Spaceships"by Ron Miller and has been featured on websites such as The Universe of Carl, The Smithsonian, The European Space Agency and the Cassini Imaging website Ciclops.. He has been invited to show at the Biosphere 2, Flandrau Planetarium, University of Arizona Lunar and Planetary Laboratory, Pima Air and Space Museum, SpaceFest, The Division of Planetary Sciences Annual meeting, The International Symposium on Personal and Commercial Spaceflight, and the Tucson Museum of Art.
In addition his portraiture was shown at the White House in 2016 as part of the AARP's Portraits of Care campaign and his work was awarded to the winner of the Caregiver of the year. Simon has work in the collection of Dr. Lawrence Krauss, Jim Lovell, Dr. Carolyn Porco and John and Susy Young.
Simon currently is the CoChair of the Tucson-Chapter of International Artists, which promotes Space Art and has helped develop and run Art shows for such venues as the International Symposium of Personal and Commercial Spaceflight, The Space Tech Expo, the Biosphere 2, The Arizona Science and Astronomy Expo, The Flandrau Planetarium and Science Center and the University of Arizona's Lunar Planetary Laboratory.
Simon subscribes to the school of Neuroesthetics which takes a scientific approach to the study of aesthetic perceptions of art and music
"I try to serve the most basic function of fine art through my work, inspiration. My hope is to help build a common culture founded in science and rational thought combined with an understanding of who and where we are in the Universe. I also have my heroes who inspire me, those people that have changed the world through their passion and work and unwavering dedication to determine the nature of reality. I feel that it is important we not only remember these people, but honor them in a way that is fitting of their respective achievements."
Ever since I was a kid, I've had an enormous interest in the sciences; everything from quantum physics to anthropology. One of my first memories was of the Apollo 11 moon landing and my excitement as I watched it. I have been an artist most of my adult life, but it was only about 5 years ago that I became very interested in science education. I realized that I could combine both my passions, art and science, to communicate my wonderment and awe for the universe and those who enrich our understanding in the cosmos in which we live."
Latest Planetary Radio Appearances