Bill Nye & Planetary Society Celebrate Proposed 2016 Budget for NASA, Challenge the White House to Continue the Trend in 2017
Planetary Science Budget Increase a Critical Step in Restoring Health of the Program
For Immediate Release
December 16, 2015
Contact
Erin Greeson
Phone: +1-626-793-5100
Pasadena, Ca. (December 16, 2015) -- On December 15, the U.S. Congress revealed its proposed plans to fund the federal government in 2016. The proposed budget includes $19.3 billion for NASA, an increase of $1.3 billion over the previous year. NASA's Science Mission Directorate will see its budget grow to support all sciences, including a much-needed restoration of the Planetary Science Division to $1.631 billion. This is the fourth year in a row that Congress has rejected cuts to NASA's Planetary Science Division.
Bill Nye, CEO of The Planetary Society -- the world's largest non-profit space interest group -- issued a statement in response:
"This budget is great news for space supporters and really for all humankind. We reached -- and exceeded -- The Planetary Society's goal of $1.5 billion per year for NASA's planetary exploration program. This is a big win for NASA, planetary science and all of Earth's citizens who understand and advocate the need to explore other worlds.

"Mars was once very wet. Europa is a world right here in our own Solar System with an ocean twice as big as our own. Forms of life may have begun on both worlds. Planetary exploration tells us more about how we fit in the cosmos. Discoveries made on other worlds profoundly change this one. The proposed 2016 budget will enable NASA to explore farther and deeper into space.

"This year, The Planetary Society's supporters sent a record number of messages to Congress in support of planetary exploration. The People have spoken for space exploration. It's an exciting time. We challenge the White House to embrace the bipartisan support for planetary science and NASA, and to preserve these increases in their 2017 budget request."
For U.S. budget details and analysis, read the latest blog update from Casey Dreier, director of advocacy at The Planetary Society, "An Extraordinary Budget for NASA in 2016".
Media Resources
Please find the following resources for reporting purposes. The Planetary Society photographs and videos are available for media and public usage (please credit accordingly in caption):
Video: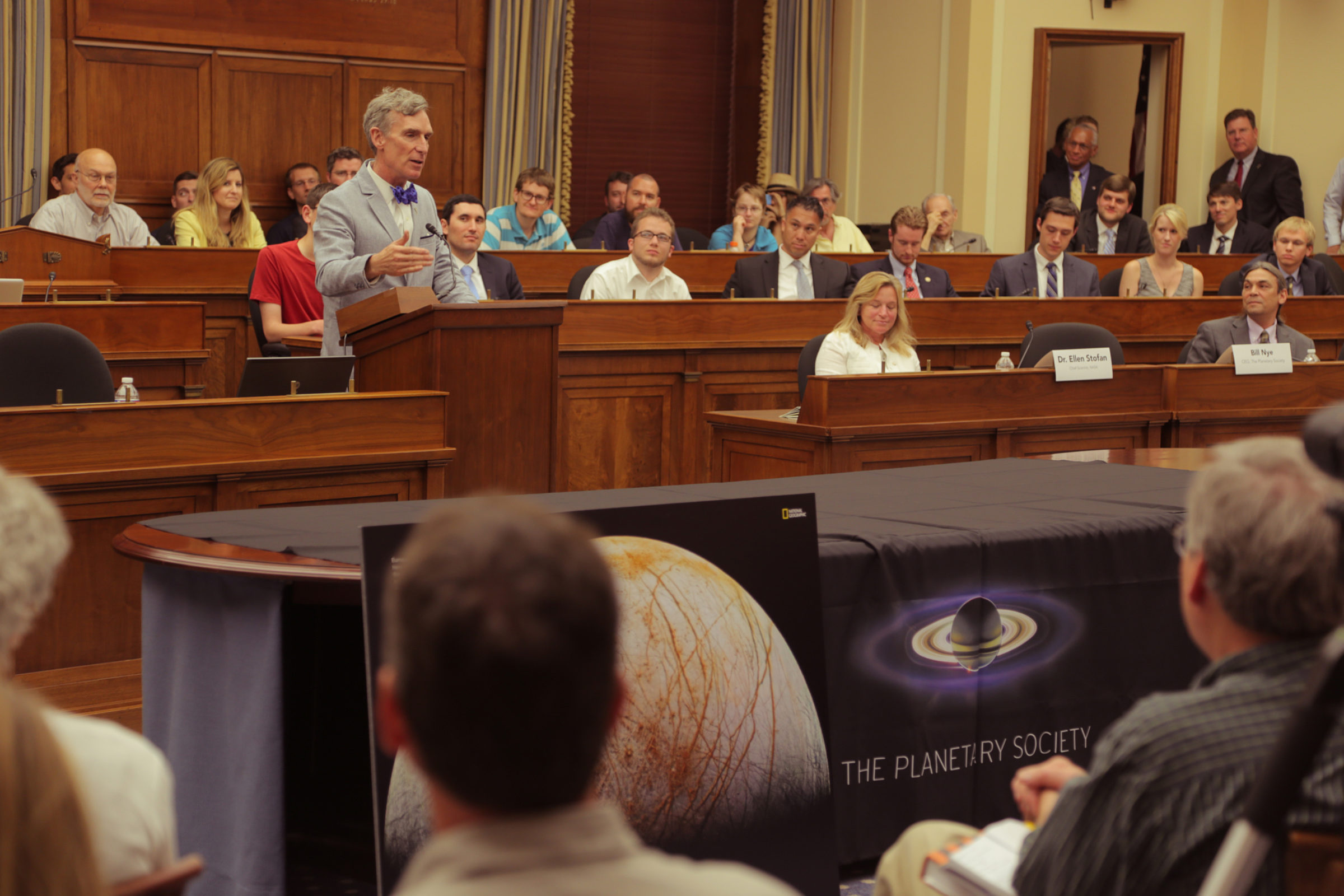 About The Planetary Society
The Planetary Society has inspired millions of people to explore other worlds and seek other life. With the mission to empower the world's citizens to advance space science and exploration, its international membership makes the non-governmental Planetary Society the largest space interest group in the world. Carl Sagan, Bruce Murray and Louis Friedman founded The Planetary Society in 1980. Bill Nye, a longtime member of The Planetary Society's Board, serves as CEO.
###