Frequently Asked Questions
Answers to common questions about membership in The Planetary Society. Join us and find your place in space.
Is my membership gift 100% tax deductible?
Your gift is tax-deductible to the fullest extent of the law. To calculate the tax-deductibility of your donation, deduct the fair market value of any of the items you may have received in consideration of your contribution. You'll find the fair market value of the benefits you received listed on the acknowledgement letter we send you after you make your donation. If you choose to decline all of the benefits with a listed fair market value, then your contribution is fully tax-deductible.
Can I maximize my charitable deduction and opt-out of the donor gifts?
If you would like your gift to be 100% tax deductible and maximize your donation to The Planetary Society, you may elect to opt-out of the tangible gifts associated with your membership level.
Can I share a membership with someone in my household, or are memberships only available to individuals?
If you share your love of space with a member of your household (someone who lives at the same address), you can sign up for our Explorer Family/Dual package, which includes two membership cards and two T-shirts. A renewing Explorer member can also upgrade to Explorer Family/Dual and receive one additional T-shirt and a membership card for the additional member.
Can I share a membership with someone not in my household?
If you share your love of space with a friend or family member, share your passion for space exploration by giving a gift membership to The Planetary Society. Go to planetary.org/gift and select the level that you would like to give—it's that simple!
I purchased a gift membership, how long until my recipient receives their membership cards and welcome package?
Your recipient's membership card(s) and their welcome package will be mailed via post once your recipient has activated their membership via their digital gift certificate. Some deliveries may require more time due to the ongoing impacts of the pandemic. Please allow 4 to 6 weeks for delivery from the time of membership activation.
I purchased a gift membership, how does my recipient redeem their membership?
Your recipient will need to visit the redemption URL on their digital gift certificate and enter their redemption code (found on the gift certificate or in your confirmation email). Then your recipient will fill out their information and once they click submit their member experience will begin.
Why does it cost me less to select sustained monthly membership payments instead of the one-time payment structure?
The slightly reduced prices of a monthly membership are our way of demonstrating our gratitude for your sustained commitment to The Planetary Society's mission and objectives.
Are there different rates for International and Domestic members?
Our International members now pay the same rates as our Domestic members.
Are there any lower cost memberships available for students?
Are there any lower cost memberships available for teachers and educators?
Yes! Teachers and educators can consider the Explorer level for educators, and receive a special membership rate. Thank you for cultivating the next generation of interplanetary explorers!
Are there any lower cost memberships available for seniors?
When will I receive my membership card and gift items?
Your membership card and any gift items you've selected will be mailed to you in a separate package via post. Please allow 4 to 6 weeks for delivery. Some deliveries may require more time due to the ongoing impacts of the pandemic.
Are there sizing charts and other product details for member t-shirts?
T-shirt specifications including sizing charts, features, and care instructions are available for both women's t-shirts (PDF) and men's XS-3XL and 4XL t-shirts (PDF).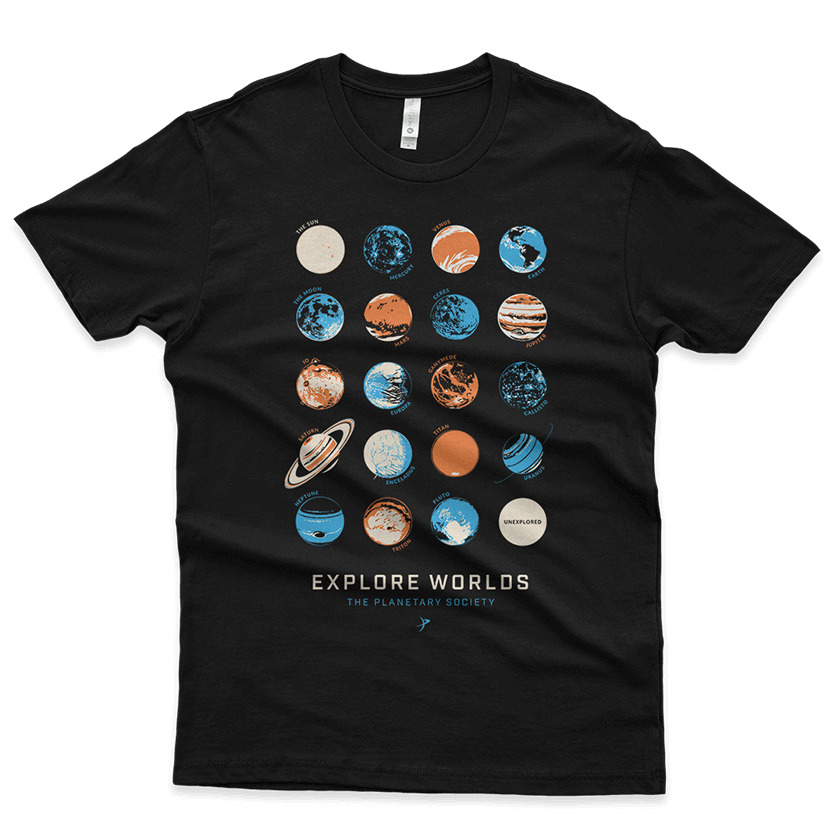 The official Planetary Society T-shirt is exclusively for members. This beautiful print by Thomas Romer of Chop Shop features strange and wondrous worlds of our solar system and includes an illustrated, fact-filled digital guide.
I'm already a member of The Planetary Society; how do I renew or upgrade my current membership?
Thank you for being a part of our team! We have a special link for members who would like to renew.
Do renewing members get premiums for new membership levels?
When members upgrade to a new membership level, they will receive all of the benefits associated with the level to which they've upgraded. In addition, to thank you for your support, we offer unique premiums, like our T-shirt or lapel pin, to members the first time that you join or upgrade to a new level of membership.
When did the newly designed Membership Program take effect?
The current Membership Program was announced on July 1st, 2016 so we are now in year two of this transition. Members who enrolled in our former program are invited to renew into the new program at the date of their established renewal period, or may elect to renew early in order to start receiving the new benefits even sooner.
What was the reason for creating the current Membership Program?
After 35 years of working as a member-based organization, we felt it was time to renew and expand our commitment to working as collaborators with our members in designing the future of The Planetary Society. Formerly, we had multiple membership programs functioning independently. Our current membership program is designed to present a philanthropic experience for all of our members, inclusive of meaningful benefits and exciting ways to engage with our organization.
What are the different levels of membership?
The membership Program levels are outlined in the table below.
Level
Sustaining Rate
One-Time Rate
Regular Membership
Curiosity Team (Students)
N/A
$25
Explorer (Seniors)
N/A
$40
Explorer (Educators)
N/A
$45
Explorer (Individual)
$4/month
$50
Explorer (Family/Dual)
$6/month
$75
Mariner
$10/month
$125
Pathfinder
$20/month
$250
New Millennium Committee
Visionary
$40/month
$500
Scout
$80/month
$1,000
Surveyor
$200/month
$2,500
Rover
$400/month
$5,000
Pioneer
$825/month
$10,000
Voyager
$1,650/month
$20,000
New Horizons
$2,500/month
$30,000
What are the benefits of membership?
The number one benefit that members enjoy, of course, is connecting with the PB & J—the passion, beauty and joy—of space exploration. Along with this we provide many intangible and digital benefits through our journalism and education programs, advocacy efforts, members-only features on our website, invitations to events where you can meet other Society members as well as our staff and volunteers, and access to travel programs! When you become a member, you gain access to all of these benefits on an ongoing basis.
In addition, many of our members love swag—and we do, too! As a thank-you to our members, we offer some very cool premiums like t-shirts, pins, mission patches, posters, books and much more. But, let's face it, premiums can be costly and divert important resources from the primary work of our mission: to empower the world's citizens to advance space science and exploration. For that reason, we offer these special thank-yous only when you first join or upgrade to a new level of membership. And remember, if you love our swag and want more of it, you can always find it at our online store at planetary.org/store.
Memberships across all levels receive the following basic benefits:
personalized membership card and social media donor badge
subscription The Planetary Report magazine (choose digital or print version)
member e-newsletters
opportunities to influence space programs through our advocacy campaigns
invitations to special events including Planetary Radio Live
your name sent to space on select space missions
access to our exciting worldwide member travel programs
Click buttons below to review unique premiums for each membership level:
With a membership of $4/mo or $50/yr, if you are new member or upgrading from Student, Curiosity, Senior or Classic levels will receive as a premium:
Official member T-shirt in your choice of size
For two members in the same household.
With a membership of $6/mo or $75/yr, if you are upgrading from the Explorer (Individual) level you will receive as a premium:
An additional member T-shirt in your choice of size
An additional membership card
New members choosing this level and those upgrading from Student, Curiosity, Senior or Classic levels will receive as a premium:
Two official member T-shirts in your choice of sizes
Two personalized membership cards
With a membership of $10/mo or $125/yr, if you are upgrading from the Explorer (Individual) or (Family/Dual) level you will receive as a premium:
New members choosing this level and those upgrading from Student, Curiosity, Senior or Classic levels will receive as a premium:
Official member T-shirt in your choice of size
Official member logo pin
With a membership of $20/mo or $250/yr, if you are upgrading from one of the previous levels you will receive as a premium:
Space Images: an awe-inspiring set of four 8x10 inch prints
Plus any other premiums from lower levels that you have not yet received
New members choosing this level and those upgrading from Student, Curiosity, Senior or Classic levels will receive as a premium:
Official member T-shirt in your choice of size
Official member logo pin
Space Images: an awe-inspiring set of four 8x10 inch prints
With a membership of $40/mo or $500/yr, if you are upgrading from one of the previous levels you will receive as a premium:
Recognition in the New Millennium Committee, the Society's most prestigious donor recognition society, including name recognition in The Planetary Report and on planetary.org
Exclusive advocacy teleconferences with Chief Advocate Casey Dreier and CEO Bill Nye
Planetary Society logo pen — made of 100% aerospace-grade real carbon fiber
Plus any other premiums from lower levels that you have not yet received
New members choosing this level and those upgrading from Student, Curiosity, Senior or Classic levels will receive as a premium:
Official member T-shirt in your choice of size
Official member logo pin
Space Images: an awe-inspiring set of four 8x10 inch prints
Recognition in the New Millennium Committee, the Society's most prestigious donor recognition society, including name recognition in The Planetary Report and on planetary.org
Exclusive advocacy teleconferences with Chief Advocate Casey Dreier and CEO Bill Nye
Planetary Society greeting cards with planetary photos
With a membership of $80/mo or $1,000/yr, if you are upgrading from one of the previous levels you will receive as a premium:
Space exploration calendar
Plus any other premiums from lower levels that you have not yet received
New members choosing this level and those upgrading from Student, Curiosity, Senior or Classic levels will receive as a premium:
Official member T-shirt in your choice of size
Official member logo pin
Space Images: an awe-inspiring set of four 8x10 inch prints
Recognition in the New Millennium Committee, the Society's most prestigious donor recognition society, including name recognition in The Planetary Report and on planetary.org
Exclusive advocacy teleconferences with Chief Advocate Casey Dreier and CEO Bill Nye
Planetary Society logo pen — made of 100% aerospace-grade real carbon fiber
Space exploration calendar
With a membership of $200/mo or $2,500/yr, if you are upgrading from one of the previous levels you will receive as a premium:
Official sterling silver logo pin
Plus any other premiums from lower levels that you have not yet received
New members choosing this level and those upgrading from Student, Curiosity, Senior or Classic levels will receive as a premium:
Official member T-shirt in your choice of size
Official member logo pin
Space Images: an awe-inspiring set of four 8x10 inch prints
Recognition in the New Millennium Committee, the Society's most prestigious donor recognition society, including name recognition in The Planetary Report and on planetary.org
Exclusive advocacy teleconferences with Chief Advocate Casey Dreier and CEO Bill Nye
Planetary Society logo pen — made of 100% aerospace-grade real carbon fiber
Space exploration calendar
Official sterling silver logo pin
With a membership of $400/mo or $5,000/yr, if you are upgrading from one of the previous levels you will receive as a premium:
Pin, patch, and medallion set for LightSail
Plus any other premiums from lower levels that you have not yet received
New members choosing this level and those upgrading from Student, Curiosity, Senior or Classic levels will receive as a premium:
Official member T-shirt in your choice of size
Official member logo pin
Space Images: an awe-inspiring set of four 8x10 inch prints
Recognition in the New Millennium Committee, the Society's most prestigious donor recognition society, including name recognition in The Planetary Report and on planetary.org
Exclusive advocacy teleconferences with Chief Advocate Casey Dreier and CEO Bill Nye
Planetary Society logo pen — made of 100% aerospace-grade real carbon fiber
Space exploration calendar
Official sterling silver logo pin
Pin, patch, and medallion set for LightSail
With a membership of $825/mo or $10,000/yr, if you are upgrading from one of the previous levels you will receive as a premium:
Official gold-plated logo pin
Acknowledgement on Planetary Radio broadcast
Plus any other premiums from lower levels that you have not yet received
New members choosing this level and those upgrading from Student, Curiosity, Senior or Classic levels will receive as a premium:
Official member T-shirt in your choice of size
Official member logo pin
Space Images: an awe-inspiring set of four 8x10 inch prints
Recognition in the New Millennium Committee, the Society's most prestigious donor recognition society, including name recognition in The Planetary Report and on planetary.org
Exclusive advocacy teleconferences with Chief Advocate Casey Dreier and CEO Bill Nye
Planetary Society logo pen — made of 100% aerospace-grade real carbon fiber
Space exploration calendar
Official sterling silver logo pin
Pin, patch, and medallion set for LightSail
Official gold-plated logo pin
Acknowledgement on Planetary Radio broadcast
With a membership of $1,650/mo or $20,000/yr, if you are upgrading from one of the previous levels you will receive as a premium:
Postcards from Mars book and art-framed photograph autographed by author and Planetary Society board member, Dr. Jim Bell
Plus any other premiums from lower levels that you have not yet received
New members choosing this level and those upgrading from Student, Curiosity, Senior or Classic levels will receive as a premium:
Official member T-shirt in your choice of size
Official member logo pin
Space Images: an awe-inspiring set of four 8x10 inch prints
Recognition in the New Millennium Committee, the Society's most prestigious donor recognition society, including name recognition in The Planetary Report and on planetary.org
Exclusive advocacy teleconferences with Chief Advocate Casey Dreier and CEO Bill Nye
Planetary Society logo pen — made of 100% aerospace-grade real carbon fiber
Space exploration calendar
Official sterling silver logo pin
Pin, patch, and medallion set for LightSail
Official gold-plated logo pin
Acknowledgement on Planetary Radio broadcast
Postcards from Mars book and art-framed photograph autographed by author and Planetary Society board member, Dr. Jim Bell
With a membership of $2,500/mo or $30,000/yr, if you are upgrading from one of the previous levels you will receive as a premium:
The Planetary Society brass telescope
Plus any other premiums from lower levels that you have not yet received
New members choosing this level and those upgrading from Student, Curiosity, Senior or Classic levels will receive as a premium:
Official member T-shirt in your choice of size
Official member logo pin
Space Images: an awe-inspiring set of four 8x10 inch prints
Recognition in the New Millennium Committee, the Society's most prestigious donor recognition society, including name recognition in The Planetary Report and on planetary.org
Exclusive advocacy teleconferences with Chief Advocate Casey Dreier and CEO Bill Nye
Planetary Society logo pen — made of 100% aerospace-grade real carbon fiber
Space exploration calendar
Official sterling silver logo pin
Pin, patch, and medallion set for LightSail
Official gold-plated logo pin
Acknowledgement on Planetary Radio broadcast
Postcards from Mars book and art-framed photograph autographed by author and Planetary Society board member, Dr. Jim Bell
The Planetary Society brass telescope