It's Mars launch season! This July, the United States, China, and United Arab Emirates are all launching spacecraft to Mars that will arrive in February 2021. NASA and China are sending rovers to the surface, while the UAE aims to place a spacecraft in orbit. China and the UAE are each attempting their first Mars missions, and only NASA has ever successfully operated a spacecraft on the Martian surface for more than a few seconds. This page is your home for launch times, resource guides, and ways you can support Mars exploration with The Planetary Society.
Bookmark this page: planetary.org/mars2020
Mission Guides
Learn why each mission is important, how it works, and ways you can get involved.
Current launch times
Last updated 7 July 2020
Hope (UAE): 14 July, live coverage at planetary.org/live
Tianwen-1 (China): Estimated around 23 July; China has yet to publish an exact date. If China's state-owned TV network live-streams the launch, we will embed it at planetary.org/live.
Perseverance (NASA): 30 July, live coverage at planetary.org/live

Stay up-to-date! Our newsletter The Downlink has a weekly roundup of space news, facts and images you can share, and actions you can take to support space exploration.

Subscribe
Why Mars?
Learn why we explore Mars and see maps of past, present, and future landing sites.
Mars Sample Return
NASA's Perseverance rover will collect samples that will be returned to Earth in 2031. Getting them back will require the most ambitious Mars missions in history and require sustained public support to succeed. Learn why Mars Sample Return is one of our top policy priorities, and how you can help.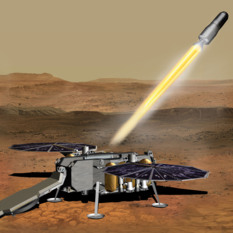 Despite advances in space technology, certain science questions, including whether or not a Mars rock contains signs of ancient life, can only be answered in Earth-based laboratories.
Sounds from Mars
What does Mars sound like? Two microphones aboard NASA's Perseverance rover will find out. Learn about the crowdfunded microphone we flew to Mars in 1999 that began with a proposal to NASA by our co-founder Carl Sagan.
Mastcam-Z Stories
The Planetary Society is an education and outreach partner for the Mastcam-Z instrument on NASA's Perseverance rover. We feature personal stories from the team sending this cutting-edge camera system to Mars.