Emily Lakdawalla • Dec 13, 2018
Mars Reconnaissance Orbiter Spots InSight Hardware on Mars
Mars Reconnaissance Orbiter may not have managed to spot InSight under its parachute, but it has finally spotted the lander, its parachute, and its heat shield resting on the Martian surface. The images confirm the location of InSight's landing site, a little to the north and west of the center of the landing ellipse.
First, the fantastic hardware images: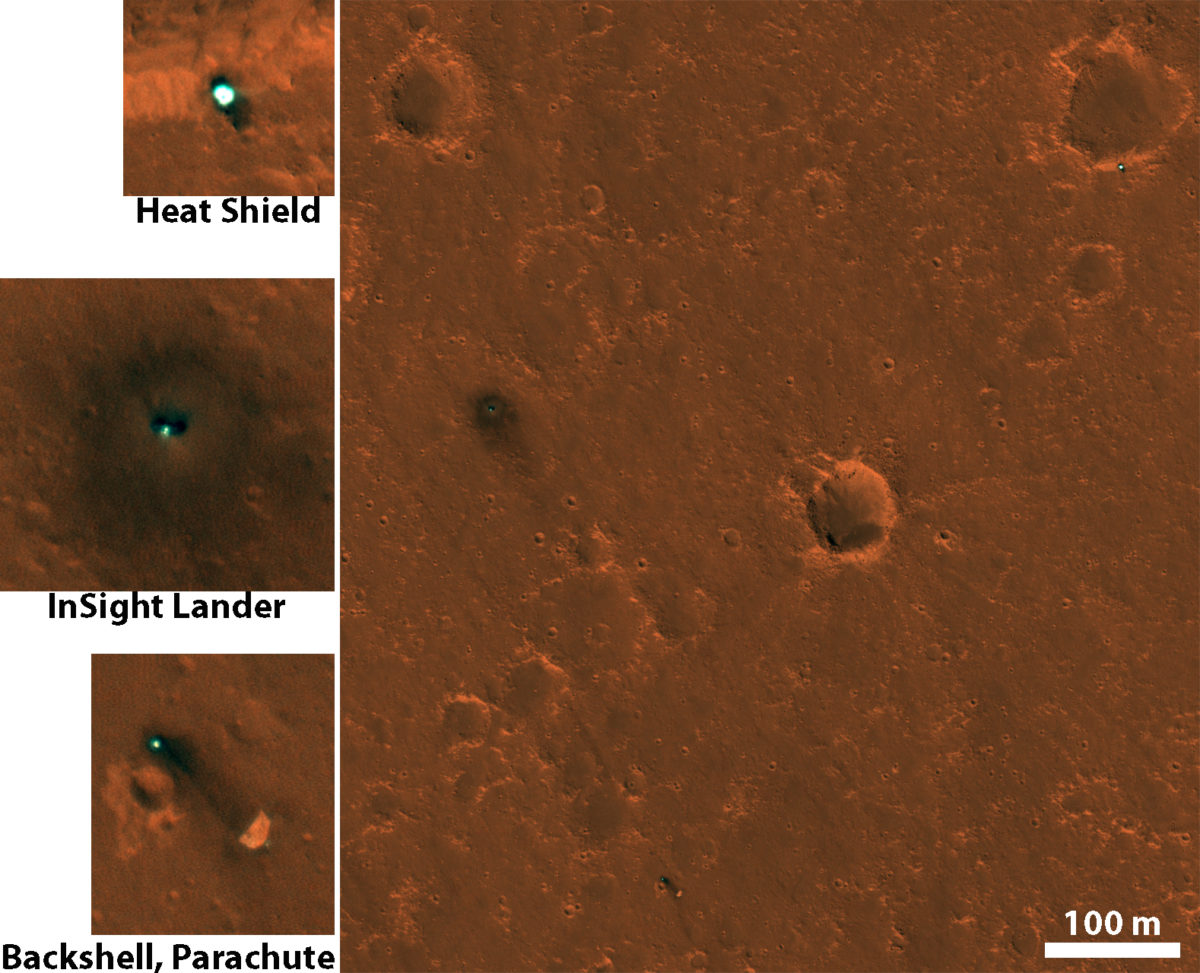 Higher-resolution versions of the images of the lander, the backshell and parachute, and the heat shield are all available. These will not be the best images HiRISE takes. I'm sure they'll target the landing site regularly over time, to watch how the blast effects of the landing rockets fade with time and wind.
I was prepared for this moment with a set of base maps. The best image of the landing location that was taken before landing is ESP_036761_1845. By good fortune, the lander fell near the center of the swath, which means HiRISE got the region in color before the landing. Here's the landing location in that HiRISE image: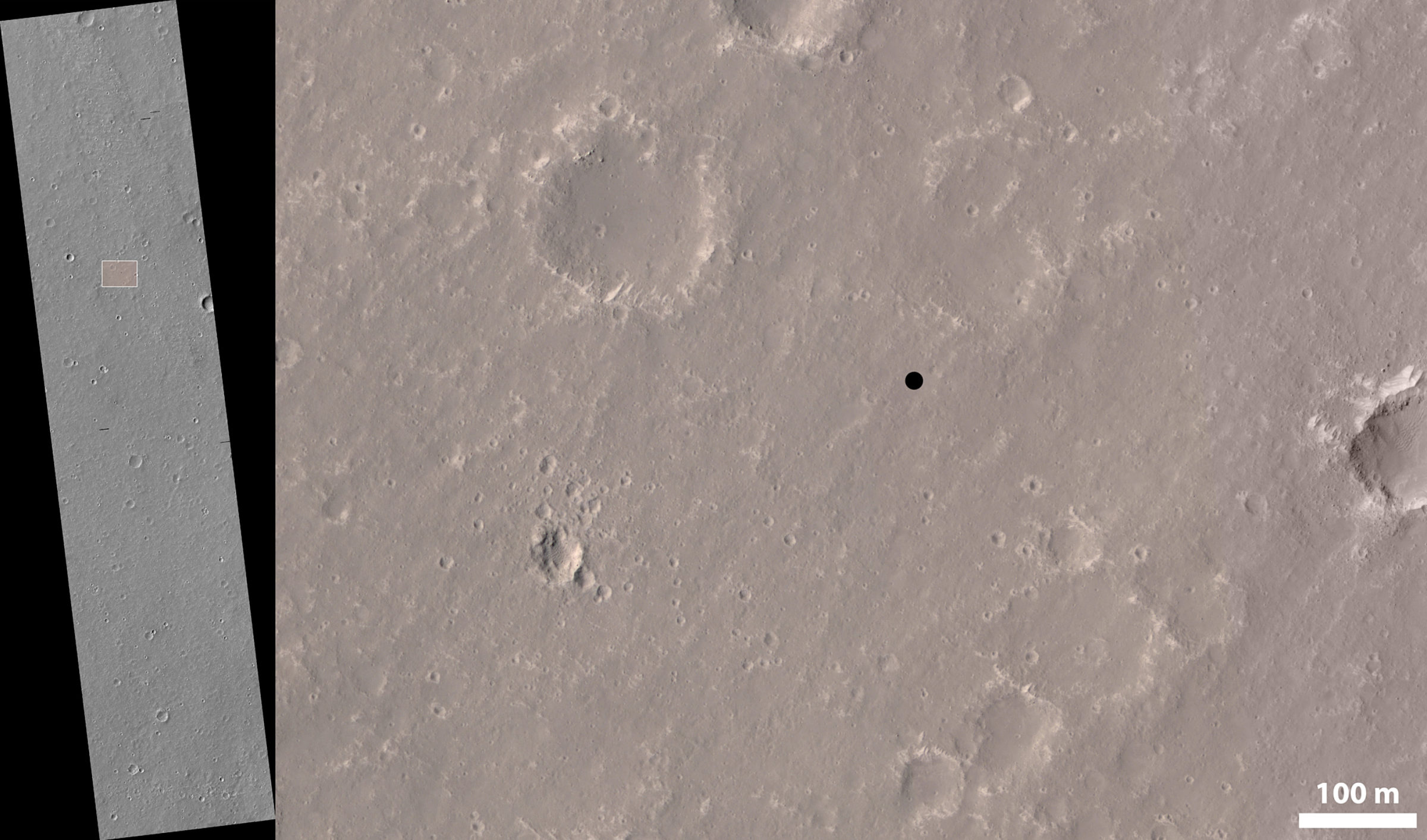 Using that location, I was able to locate the landing site within InSight's landing ellipse. Here it is: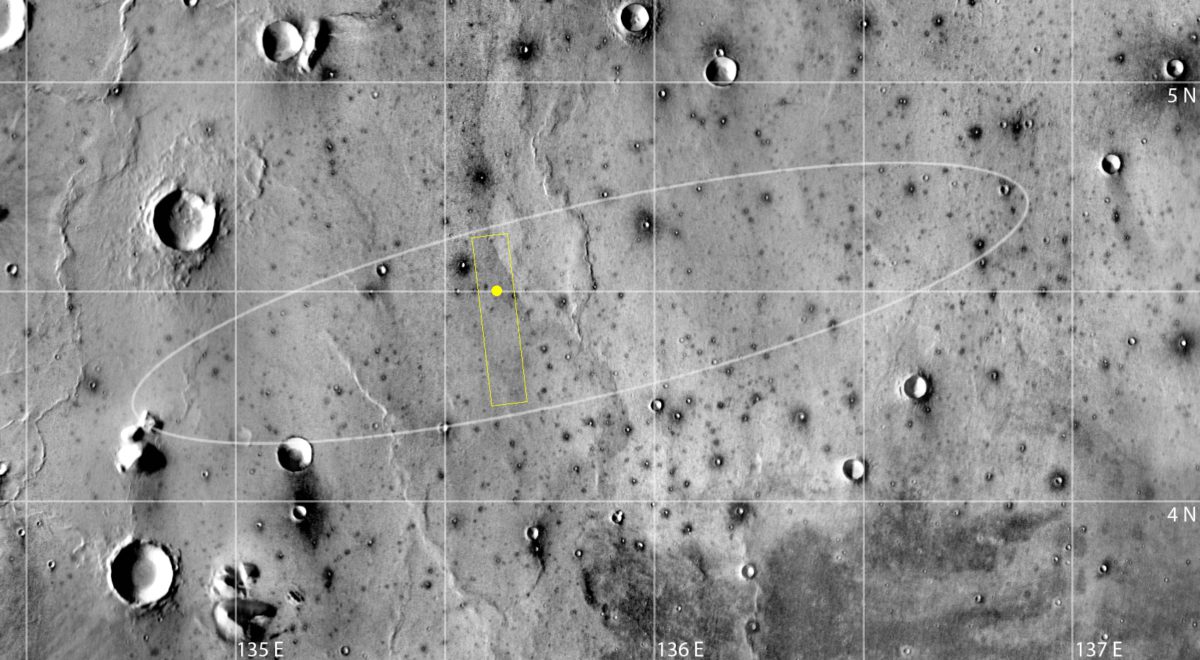 Here is the landing site location information that the MRO team has derived, though the numbers may be off by as much as 60 meters (or 0.001 degree). The lander itself is reportedly at 4.499897° N, 135.616000° E.
InSight Lander:
Planetographic:4.5510° N, 224.4755° W
Planetocentric:4.499897° N, 135.616000° E
Parachute:
Planetographic:4.5424° N, 224.4707° W
Planetocentric:4.491393° N, 135.620800° E
Heat Shield:
Planetographic:4.5570° N, 224.4640° W
Planetocentric:4.505831° N, 135.627500° E

— Livio L. Tornabene (@rocdocmars) December 13, 2018
If anybody needs illustrations or diagrams for a paper, talk to me!
Support Our Core Enterprises
Your support powers our mission to explore worlds, find life, and defend Earth. Tomorrow's discoveries begin today.
Donate