Amateur astronomer Patrick Wiggins sent me this neat little animation of comet Garradd moving against background stars through an hour's worth of observing. I'm not any kind of astronomer but if I were I think I would get a kick out of looking at things that appear to move within one night of watching -- asteroids, comets, Jupiter's spots. I'm impatient that way.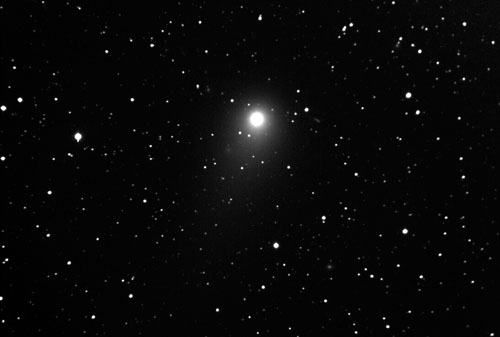 Patrick reminded that you can turn animations like this into 3D images. I took sequential frames from the animation above and turned them into a red-blue anaglyph animation, where the comet pops forward out of the image: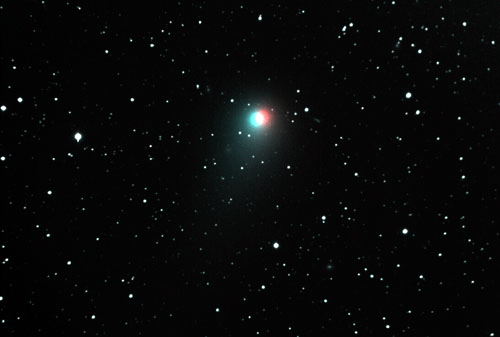 There is a 3D effect, and it is true that the comet is (a lot) closer to us than the background stars, but the 3D effect has nothing to do with the instantaneous physical position of the comet with respect to the stars. When we see the world in 3D, it's because of parallax. Our eyes occupy two different positions, so when we look at objects against a background, the object appears in a different position with respect to the background in our two eyes.

The 3D effect here isn't due to instantaneous parallax like that which we see with our own eyes; the parallax arises from the motion of the comet through time. Or maybe it arises from the motion of Earth changing our point of view on the comet. Or maybe it's a bit of both. Everything's in motion!

Thinking about this further, I realized that if an observation like this managed to catch two moving objects in the same field of view, the faster-moving object would appear to be closer to your eyes than the slower-moving object. So there's an observing challenge for you amateur astronomers -- someone send me an animation containing two moving things in the same field!
Support Our Core Enterprises
Your support powers our mission to explore worlds, find life, and defend Earth. Tomorrow's discoveries begin today.
Donate