Look at the center of this star-studded image and you'll find an emerald green dot. That is a nearby brown dwarf, bigger than a planet but barely a star, that's dimly glowing away at a temperature not a whole lot hotter than the inside of your oven.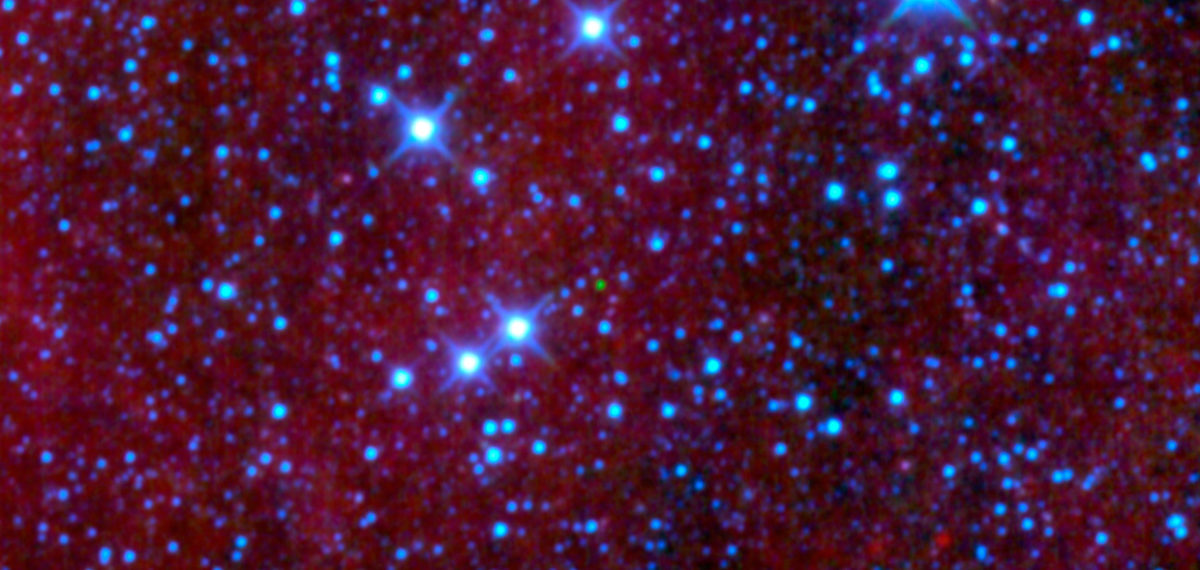 WISE scans the sky in infrared wavelengths, longer than the human eye can see, in which many things from stars to comets emit thermal radiation. Brown dwarfs are cooler than other stars, but warmer than most planets; this one is among the coolest known, with a temperature of about 600 Kelvin (330 Celsius, or 620 Fahrenheit). This warmth should cause it to glow in the shorter wavelengths to which WISE is sensitive, shown in green and blue in this image. (They don't specify the wavelengths, but WISE only senses four different ones; if the image is processed in the same way as the comet Siding Spring one was, 3.4-micron light is colored blue; 4.6-micron light is green; 12-micron light is orange; and 22-micron light is red.) But as the WISE team explains in their image caption, the methane in the brown dwarf's atmosphere absorbs light at the shortest wavelengths, so that the only channel in which it shows up in the WISE image is green.
The exact distance to this tiny cold star isn't known, but they say it's relatively close, somewhere between 18 and 30 light years away. They've said since before launch that it's possible that WISE may yet discover brown dwarfs that are nearer to us than the nearest known stars. This one isn't that close; it'd have to be about 10 times nearer than it is to be closer than our nearest known stellar neighbor, and isn't going to make it onto Wikipedia's list of the 50 nearest stars. Still, it's not that far away as stars go, and we hadn't spotted it before WISE turned its infrared eyes on the heavens!
You are Part of LightSail's Legacy
Let's share the story and success of LightSail® - help secure LightSail's legacy!
Donate Today