While he was in Japan to observe IKAROS' sail deployment, Lou Friedman couldn't help but notice the country's excitement over the impending return of Hayabusa. He sent an email to me this morning, saying:
Hayabusa has become an anthropomorphic hero in Japan, usually depicted in newspapers and in publications as a male character. The name means "Falcon," and the Japanese Falcon is getting a lot more publicity in Japan than SpaceX's rocket Falcon 9 in the U.S. Movies and stories are being written about it. Its saga is an adventure story of heroism.
The mission has an exceedingly ambitious goal using a new technology from a space center that has not yet completed a planetary mission. While there have been many setbacks and engineering difficulties on its seven-year mission, it has nonetheless been brilliantly programmed and controlled by its mission operators and is now on the verge of returning to Earth. Automated sample return from the surface of a solar system body has only been done once before, by the Soviet Union from the Moon in 1972. It is difficult. Whatever is the result, the mission is an engineering triumph.To illustrate Japan's emotional investment in Hayabusa's saga, here's a drawing by renowned Japanese manga artist Machiko Satonaka: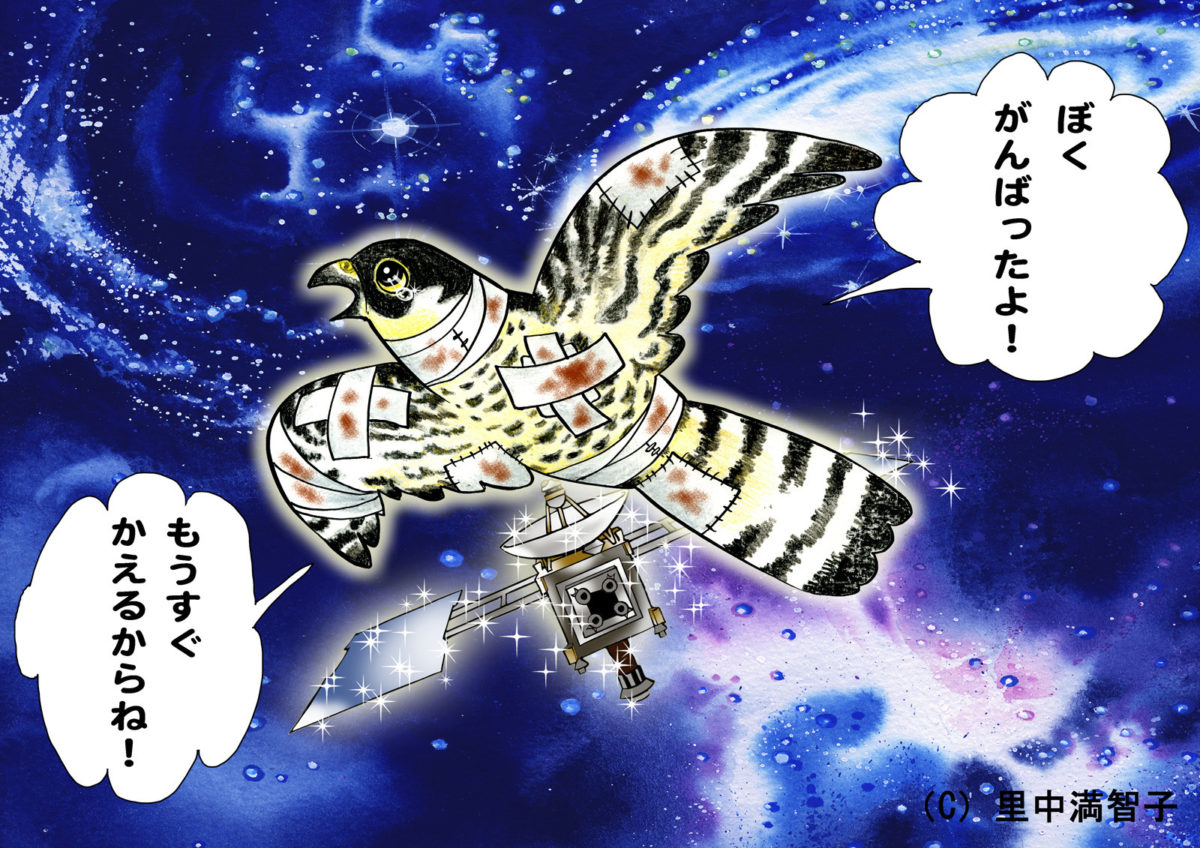 Meanwhile, now that the third trajectory maneuver has been successful in targeting Hayabusa at its planned entry point, preparations are underway to receive the capsule in Australia. Here's the ground track that Hayabusa will take on its final approach:
Local Australian newspapers have announced roadblocks along the few highways that traverse the Woomera Prohibited Area: "A 60 kilometre section of the Stuart Highway will be closed by SAPOL (South Australian Police) from 10PM to midnight on the 13th of June 2010. The southern roadblock will be located 60 km north of Glendambo and the northern roadblock will be located approximately 120 kilometers south of Coober Pedy." (Thanks to UMSF user "Canman" for that info.) Daniel Muller posted the locations of the two roadblocks on Google Maps, so you can see for yourself where they are.
JAXA has advertised to the press the opportunity to apply for access to a feed of raw video (with no audio) from the control room, which will be available from 18:00-24:00 JST on June 13 -- which is 2 am to 8 am my time. It is going to be a brutal night, but hopefully it will have a happy ending!
Support Our Core Enterprises
Your support powers our mission to explore worlds, find life, and defend Earth. Tomorrow's discoveries begin today.
Donate