EDIT: It's been pointed out to me that Calypso is in Tethys' trailing (L5) Lagrangian point, not the leading one as I had here earlier!
Cassini performed a close flyby of Mimas yesterday, the only one planned for the whole mission. The images from that encounter are not yet on the ground, but there are some preliminary goodies: Cassini got pretty close to Calypso yesterday, on the way in to Mimas. Calypso is one of the smaller moonlets of Saturn at only 34 x 22 x 22 kilometers in diameter. Here's my take on one of the two red-green-blue image sets. At least in the raw JPEG images posted to the Cassini public website, I see basically no color variation across the little moon's surface.
Here's a neat video of Cassini's changing perspective on Calypso during the flyby. It bounces back and forth several times so that you can see Calypso's shape from its rotation.
Calypso flyby Animation showing Cassini's flyby of Calypso on 14 February 2010. The movie is composed of 24 frames taken with the narrow angle camera (NAC).Video: NASA / JPL-Caltech / SSI / animation by Ian Regan
Like Telesto, Helene, and Polydeuces, Calypso occupies a funny balancing point in the Saturn system, in one of the Lagrangian points of a larger moon. Late on a Sunday evening I'm grateful for Wikipedia's explanation of what exactly a Lagrangian point is:
Calypso trails Tethys in its orbit around Saturn, in the L5 point; Telesto leads it, in L4. (Likewise, Polydeuces trails Dione, while Helene leads it.) The Lagrangian satellites of Saturn share a common look -- icy white and smooth. Here's some of the best Cassini views of Telesto and Helene, which are similar in size to Calypso. Polydeuces was discovered by Cassini and is only a tenth the diameter of the others; Cassini hasn't managed to resolve much detail on that one.
The smooth look is, I think, because these bodies tend to collect dust. The Lagrangian points in a system like Saturn's must be akin to the great garbage patch at the center of the Pacific gyre -- it must be a place where material tends to collect, all floating around at pretty low relative speed. If there is even a smallish nucleus available, that floating Saturnian trash would probably tend to collect, forming a garbage moon. But in the Saturn system, the "trash" we're talking about isn't plastic grocery sacks; it's bits of dusty ice. So I imagine Calypso (and the other Lagrangian moons) as an enormous, barely packed fluffy snowball.
The view of Calypso is pretty cool, I think. There are some intriguing, subtle topographic features highlighted in the glancing sunlight near the terminator: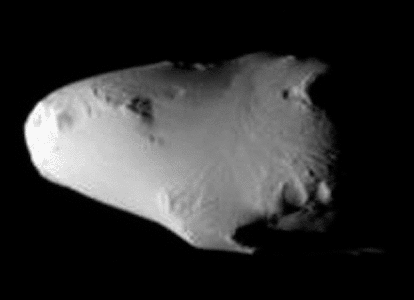 Grooves are not uncommon features on small bodies in the solar system. Depending on the place, there are a variety of reasons why you might see grooves. Because the grooves on this thing are not straight lines, I'm going to speculate wildly and say we see evidence of material flowing across Calypso, seeking a local gravity low -- the remnant of slow-mo avalanches of icy fluff.
The pictures from the Mimas flyby are supposed to hit the ground at 4:30 tomorrow morning my time. I'll be checking to see if they've come in but don't know how soon I'll be able to craft a blog entry, as it's a school holiday here in the U.S. (President's day, when we honor Lincoln and Washington). So if you're eager to see them, go to the Cassini raw images website yourself! If you're wondering what you're looking at, Jason Perry's Looking Ahead article for the CICLOPS website is, as always, incredibly useful.
You are Part of LightSail's Legacy
Let's share the story and success of LightSail® - help secure LightSail's legacy!
Donate Today