Quite a night! I set my alarm for 3:15 am in order to get up and watch LCROSS crash into the Moon. My 5-month-old obligingly woke up at 2:45 to be fed -- which meant that I got half an hour less sleep than I might've, but also meant I could feed her and get her back in bed in time to catch the action. Good girl.
Armed with a cup of coffee and a heating pad for my recently sprained shoulder, I queued up NASA TV and a couple of the promised live feeds as well as TweetDeck so I could Twitter what was going on. I was pleasantly surprised by just how many people there were Twittering away about LCROSS, especially once the NASA TV feed started.
Everything seemed to go according to plan, except for one thing: as far as I can tell, nobody anywhere saw any visual confirmation of the impact. That doesn't necessarily mean bad news; the real data will come from thermal instruments and spectrometers and such, and the reduction of that data may take days to weeks. It was a bit disappointing not to see anything though. Despite that, it was quite thrilling to watch the Moon grow in the LCROSS spacecraft's forward view, especially since it presented such an unusual perspective on the Moon, looking down on its south pole. It made the Moon as unfamiliar as, say, Mimas, or Mercury, for a little while.
The LCROSS spacecraft's data feed to Earth seemed to work fabulously. I had my fingers on my Ctrl-PrtSc keys almost continuously to grab screen captures from the fine NASA TV feed provided by MSNBC. From those I put together these three animations of the LCROSS camera images.
Now to go do my morning routine. There's a press briefing planned for 7:00 PDT, in about an hour, which I'll do my best to cover, though the baby will no doubt be making my life more interesting then!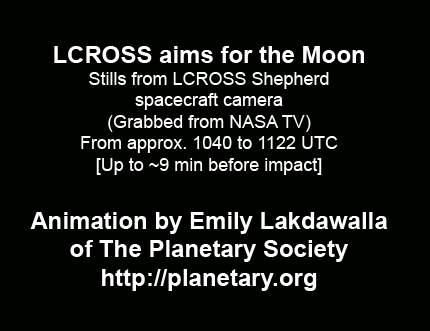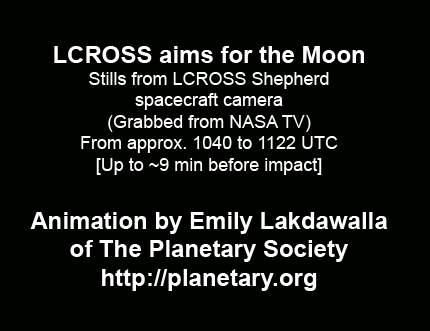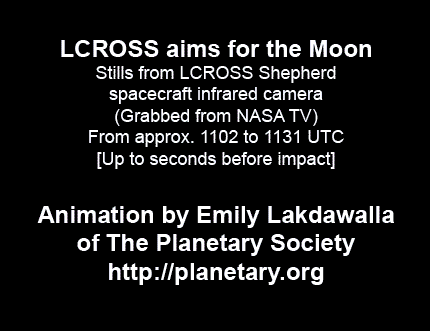 EDIT: here's a video from NASA via YouTube.
You are Part of LightSail's Legacy
Let's share the story and success of LightSail® - help secure LightSail's legacy!
Donate Today