Jason Davis • Jun 23, 2016
All about China's new rocket and spaceport, which may see action this Saturday
Sometime between Saturday and Wednesday, China plans to launch a brand new rocket from a brand new launch site, and conduct a small-scale test of its next-generation crew capsule.
An actual launch target has not been confirmed, but online sources indicate the first attempt will be made Saturday, June 25, possibly around 11:30 or 12:00 UTC (6:30 or 7:00 a.m. EDT).
The rocket is the Long March 7, a medium-lift launcher expected to become the new workhorse of China's space fleet. Among other things, it will be capable of blasting cargo freighters to the country's Tiangong 2 space station, which should launch later this year.
The test flight will also christen China's new spaceport, located on an island in the South China Sea.
It's a big milestone for the country's space program, which has human spaceflight plans that include a three-module space station (launching after Tiangong 2) that is expected to be completed around 2022.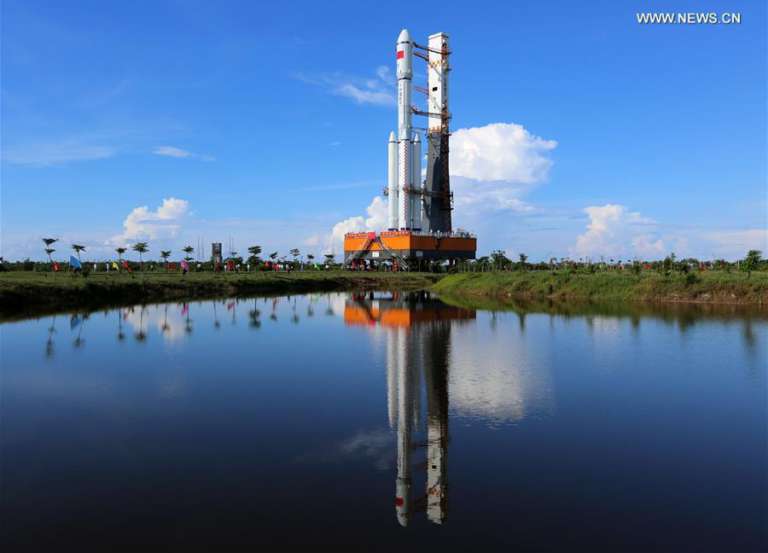 The rocket
The Long March 7 is a medium-lift, two-stage rocket with add-on boosters capable of hauling 13.5 metric tons to low-Earth orbit. That puts it just below the capacity of SpaceX's Falcon 9 (advertised max haul of 22.8 mT), and the United Launch Alliance Atlas V (up to 18.9 mT).
Chinese launchers currently burn a highly toxic combination of hydrazine and nitrogen tetroxide. Perhaps the most well-known demonstration of those propellants' toxicity came during the Apollo-Soyuz Test Project mission in 1975, when all three American astronauts had to be hospitalized after an air valve mishap during spacecraft reentry.
Instead, the Long March 7 will use rocket-grade kerosene and liquid oxygen—the same fuel combination used on the Falcon 9 and Atlas V.
Because the new launch site is located on a rain-prone island, the new Long March is weatherproof, with engineers having made changes to the rocket's sensitive exterior components, including the payload fairing.
China also has another, more powerful rocket under development called the Long March 5. It has a lift capacity of 14 metric tons to geosynchronous transfer orbit, putting it on par with the United Launch Alliance Delta IV Heavy. Much of China's existing Long March fleet is expected to be phased out in favor of the 7 and 5, which complement the lighter-lift Long March 6.
The launch site
China's existing launch sites are located inland. This means spent rocket stages occasionally fall near unsuspecting villagers, and since rocket components must be transported to launch sites by rail, their sizes must be limited to fit through tight spots like tunnels.
With the opening of the new launch site, all that will change. The Wenchang Satellite Launch Center is located on the island of Hainan, east of Vietnam in the South China Sea. Rockets can now be delivered by ship, the same way U.S. boosters are ferried by boat to Cape Canaveral and Vandenberg Air Force Base.
At 19 degrees north latitude, Hainan is closer to the eqauator than Cape Canaveral (28 degrees), which gives it a significant advantage that will broaden China's payload capabilities. Chang'e 5, a lunar sample return mission scheduled to launch in 2017, will launch from Hainan aboard a Long March 5 rocket.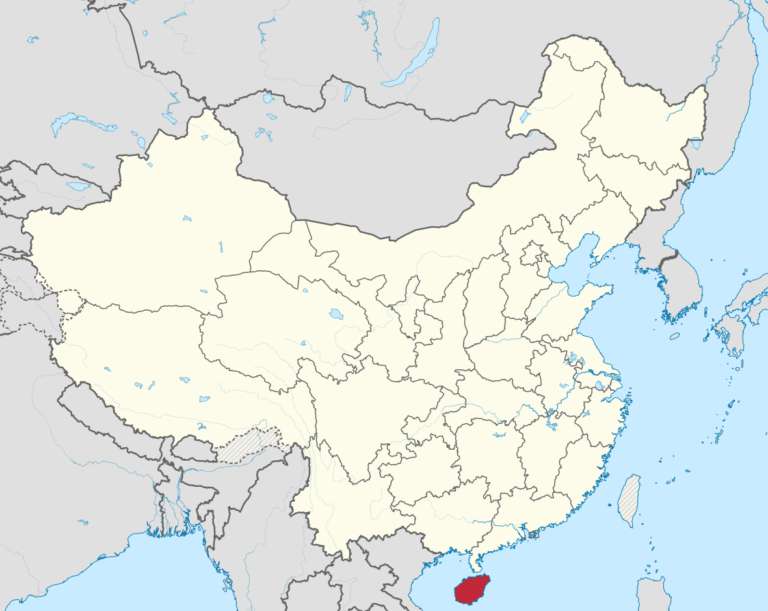 The payload
The rocket's first test flight will carry a scaled-down version of a new human spaceflight reentry capsule.
China's current human-carrying craft, Shenzhou, is similar to the Russian Soyuz. According to China Space Report, a paper published in the Chinese Journal of Aeronautics described two versions of a gumdrop-shaped successor vehicle capable of carrying up to six astronauts to both Earth orbit and deep space destinations.
There isn't a lot of public information about the reentry demonstration aspect of the mission, though unconfirmed reports suggest the capsule may orbit the Earth and land near China's Jiuquan Satellite Launch Center in Inner Mongolia. The Long March 7 will also reportedly carry a flcok of nanosatellites.
The future
China hasn't flown humans into space since 2013. That should change later this year, when a two-person crew visits the newly launched Tiangong 2 station for what could be a 30-day stay. After that, a cargo ship named Tianzhou will be sent to the station next year atop a Long March 7 from the new Hainan complex, demonstrating in-space resupply capabilities similar to those used by automated freighters visiting the International Space Station.
Tiangong 2 may only be visited by a single crew. After that, China plans to start constructing its full-fledged, three-module space station as early as 2018. It could be operational by 2022.
The country's space program recently made headlines when it signed an agreement with the United Nations that could open up the new space station to international collaboration:
Although U.S. law prohibits cooperation with China in space, other countries might be interested in flying experiments—or even astronauts—to the new station.
In other international cooperation news, Emily Lakdawalla noted yesterday an upcoming Chinese lunar relay satellite will use standard communications protocols in case other countries are interested in using it. Furthermore, Russia says the Chinese are interested in a deal to purchase the politically controversial RD-180 engine, which is being phased out here in the U.S.
Here's a short video montage showing the Long March 7 rollout, recently published by the Chinese military (we had this embedded at first, but it was automatically playing).
Finally, did you know the Wenchang Satellite Launch Center has mascots? Of course it has mascots. The launch complex is looking for naming suggestions; I suggest "Launchy," "Nominal," and "Max-Q."
You Can Be a Planetary Defender!
Support the team of astronomers defending Earth with a gift today.
Defend Earth