Jason Davis • Oct 30, 2014
LightSail Vibration Test Shakes Loose New Problems
The Planetary Society's LightSail-A spacecraft is marching onward toward a possible 2015 test flight. Four new stiffener brackets installed on the spacecraft's solar arrays corrected a pesky bowing problem, and LightSail was cleared to begin vibration testing late last week. But the test, meant to simulate the stresses of an Atlas V rocket launch, shook loose new problems that the team will have to address.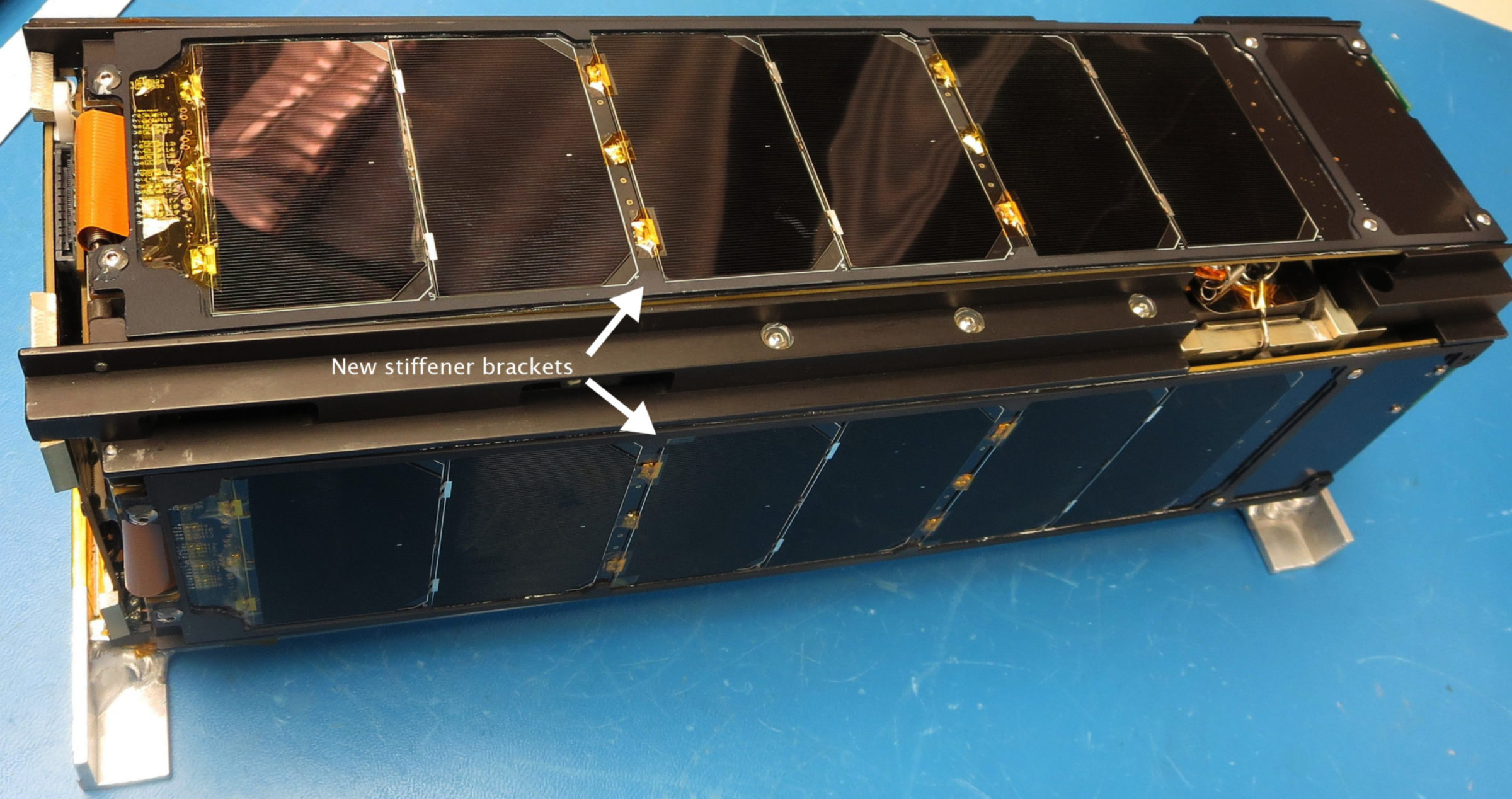 During my last update, I described how LightSail's prolonged stint in storage caused the spacecraft's solar arrays to bow beyond acceeptable levels for safe P-POD integration. The team scrambled to fix the problem with four new stiffener brackets. Remarkably, the brackets were designed, fabricated and installed in about two weeks. Subsequent measurements showed the brackets shrunk the spacecraft's dimensions enough for Cal Poly to determine there was no danger of LightSail getting stuck in its P-POD.
With little time to spare, vibration testing occurred on Oct. 24. Have you ever wondered what it would feel like to sit in a little metal box hanging off the bottom of an Atlas V Centaur upper stage? (No? Just me?) If so, this video of LightSail during its random vibration test is for you (warning—turn down your speakers).
LightSail 1 random vibration test LightSail 1 undergoes random vibration testing at Cal Poly San Luis Obispo on Oct. 24, 2014. The test simulates the stresses of an Atlas V launch.Video: Riki Munakata
Unfortunately for LightSail, the test shook a few things loose. First of all, a couple screws fell out. A post-test analysis revealed these screws were lacking a healthy glob of Loctite, so that's an easy fix.
Secondly, the antenna grounding wire mounting broke away from a ring terminal. That's a mouthful—basically, this mounting grounds LightSail's antenna. Without it, the spacecraft's communications system could get wonky—or not work at all. You might recall the radio and antenna system have had their share of difficulties. The antenna has been integrated and de-integrated several times, causing undue wear and tear to the mounting. Like the screws, this is an easy fix—the team will simply install a new grounding system. Here's a photo of the broken mounting: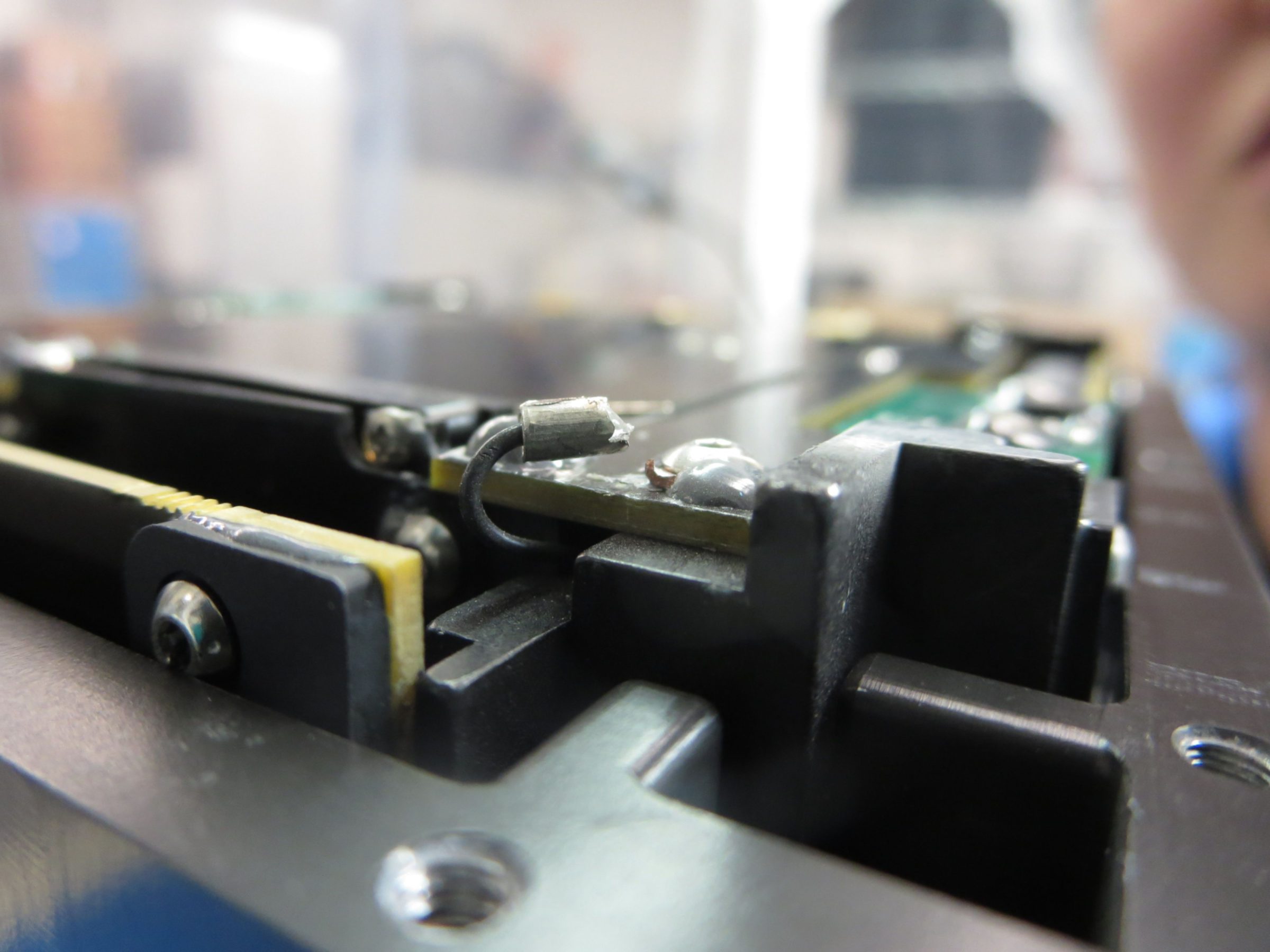 Finally, the solar arrays managed to work themselves open a little bit during the vibration test. These arrays are spring-loaded and tied against the spacecraft using burn wires. When it's time to deploy the arrays, the burn wires heat until they sever, and the spacecraft's side panels swing open. But on two of the four solar arrays, the burn wires are connected on just one corner, making the panels susceptible to twisting and bending. Riki Munakata of Ecliptic Enterprises Corporation told me the team is still determining exactly what caused the panels to jiggle open. After that, they'll come with a plan for a fix.
The vibration test results have been presented to NASA's Launch Services Program, which oversees ELaNa, the agency's Educational Launch of Nanosatellites program. Once the three problems are corrected, LightSail will go through a second round of vibration testing. Then it can move on to the final test: a trip through the thermal vacuum chamber. This means the spacecraft won't be ready for final integration by Nov. 1 as originally planned, but Cal Poly is generously granting the team an extension. All of the Atlas V-bound CubeSats must be ready for a mission readiness review currently scheduled for early December, so as always, the clock is ticking. But for now, the LightSail-A test mission has survived to fight another day.
You are Part of LightSail's Legacy
Let's share the story and success of LightSail® - help secure LightSail's legacy!
Donate Today