Ryan Anderson • Aug 08, 2010
The Geology of Glacier National Park: Part 1
This article originally appeared on Ryan Anderson's "The Martian Chronicles" blog and is reposted here with permission.
Well, the field trip is over and I am happy to say that I was not eaten by any bears. They seemed much more interested in the huckleberries.
I am also happy to say that I know a little bit more about the geology of Glacier National Park (and about how to interpret sedimentary geology in general) than I did before I left. The park is famous for its large-scale geography of course: towering mountains and deep valleys carved by rivers of ice. Glaciers tend to form broad U-shaped valleys, while rivers and streams cut V-shaped valleys. Take a look at this picture and you can see glaciers have been involved, even though they are mostly gone now (and the few that remain are disappearing fast: there will be no more glaciers in the park by 2030).
Despite the spectacular views, we actually spent most of our time in the park with our backs to the vistas, staring intently at rocks that most visitors would pass by without a second glance. Most of the rocks in Glacier are Precambrian sedimentary rocks, deposited around 1.5 billion years ago. The world was a very different place back then, with essentially no oxygen in the atmosphere and no multicellular life. Without large life forms crawling around in the mud of the seafloor (a process called "bioturbation"), the physical processes that shape the sediments are nicely preserved, and I learned a lot about how to interpret their record.
For example, take a look at this ripple: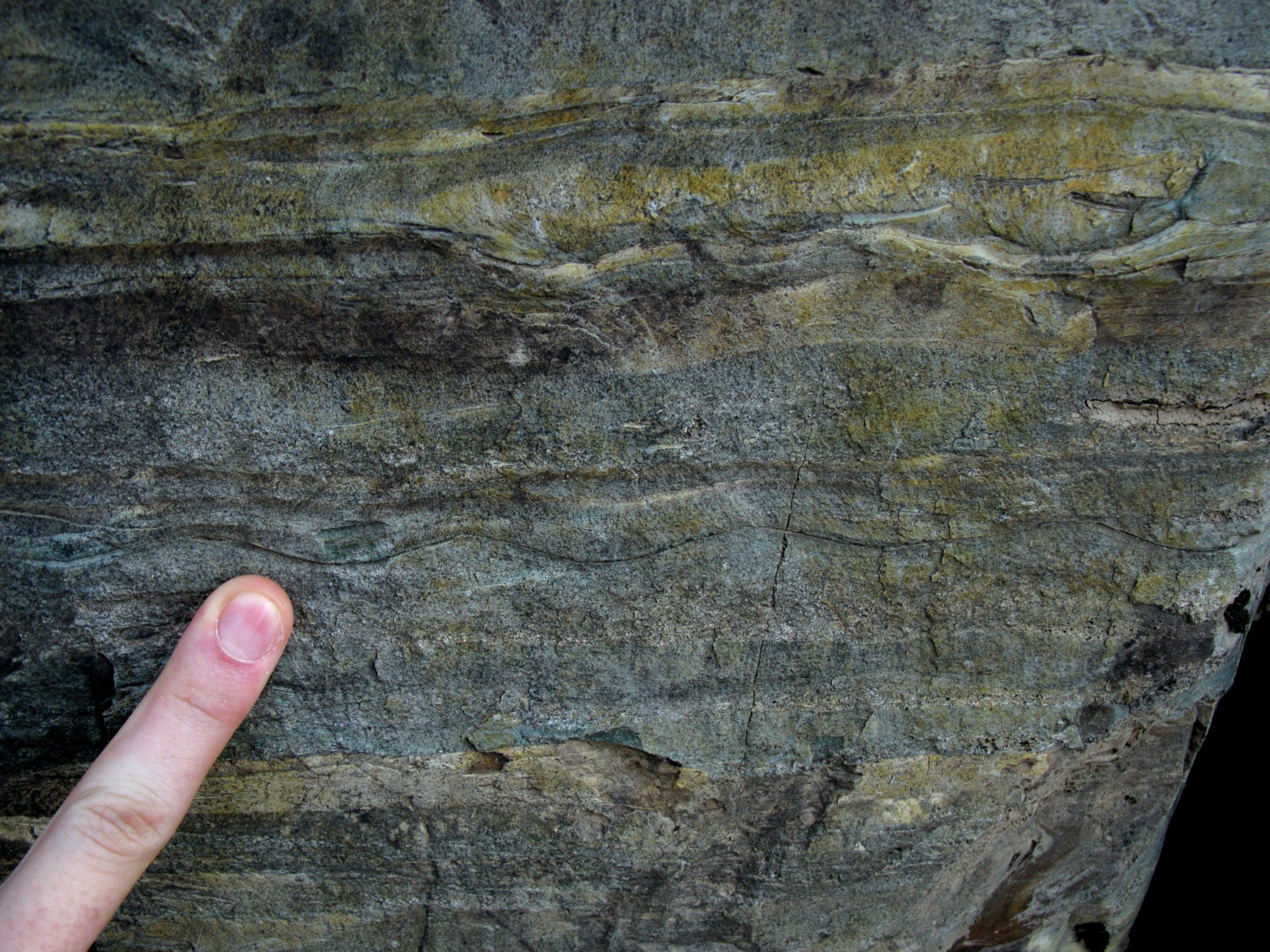 A ripple means that the water was flowing and moving sediment, but you can actually learn more than that based on its shape. This ripple is symmetric, meaning that the water was flowing back and forth, rather than only in one direction. That tells us that it didn't form in a stream, but more likely due to the movement of tides or waves.
Here's another interesting feature:
You can see that the layers here aren't parallel—there's a lens of material with a relatively flat top, but a curved lower portion that cuts into the underlying layers. This is a little channel, carved into the lower sediments while they were still soft and filled with coarser material!
The coarseness of the sediment tells you a lot about the environment where it was dropped. It takes a much faster, more energetic flow to carry rocks than it does to carry sand. Silt and mud will stay suspended in all but the most tranquil of bodies of water, so what happened here?
This location is actually much younger cretaceous rock outside the park, where the ancient Precambrian mountains have been broken down and deposited in a floodplain. (lots of dinosaur bones have been discovered in other outcrops of this cretaceous rock, but alas, we didn't find any) There has been some crazy deformation in this area, tilting the layers so that they are almost vertical, but you can still see striking evidence of different environments here. This spot actually shows another much larger example of a channel, filled with big green and red rocks. (The channel is the coarse layer behind the geologist in the picture that narrows as you go upward) The size of the rocks in this channel means the water must have been flowing pretty fast to move them. But you can see that other parts of the same outcrop are very different. The tan stuff is extremely soft, and when you crush it between your fingertips, it turns into a powder with grains far too small to see or feel.
This soft stuff could have been emplaced when the river carrying the larger rocks flooded its banks, dumping its sediment as it stagnated in the floodplains. This same process is why places like the Nile river valley are so fertile. It's not a sure thing that the fine-grained stuff came from a flooding river though. It could also be fine ash from a volcanic eruption (a more likely scenario for Mars!).
There's a lot more cool geology to show you from the park, but this post is long enough, so I will leave you with a puzzle. Take a look at this bizarre rock texture that we saw all over the park:
What do you think it is? We were asked the exact same question by our field trip leader to get us to practice explaining completely unknown rock types, something that could very well happen on Mars. Stay tuned for my next post where I'll attempt to explain what this texture is!
Support Our Core Enterprises
Your support powers our mission to explore worlds, find life, and defend Earth. Tomorrow's discoveries begin today.
Donate