Emily Lakdawalla • Sep 01, 2014
ESA invites amateurs to produce portraits of comet 67P
The last week has seen a pause in ESA's erstwhile daily releases of NavCam images of comet Churyumov-Gerasimenko. They explained the pause in a blog post late last week. With Rosetta quite close to the comet now, they can no longer be sure of getting the entire comet in a single NavCam shot, so they've switched to taking mosaics of four photos rather than single frames. It takes time to rotate and point the spacecraft to acquire those four images; in that time, the spacecraft moves, the comet rotates, and shadows shift. So the four images don't match perfectly; you can't just turn a crank and produce a pretty photo. To make a mosaic, you have to do some warping and squishing of the pictures. But it's also not really satisfying to release quarter-images individually, either, if only from a website management perspective.
I proposed a solution in a comment a few days ago: "Why not combine the 2x2 array of images into a single file, maybe with lines separating them to make it clear they are distinct frames? Then all the data are there for the image magicians in the amateur community to have fun trying to mosaic them, but you only have a single file to upload to the ESA website each day." And lo and behold, that's what they did: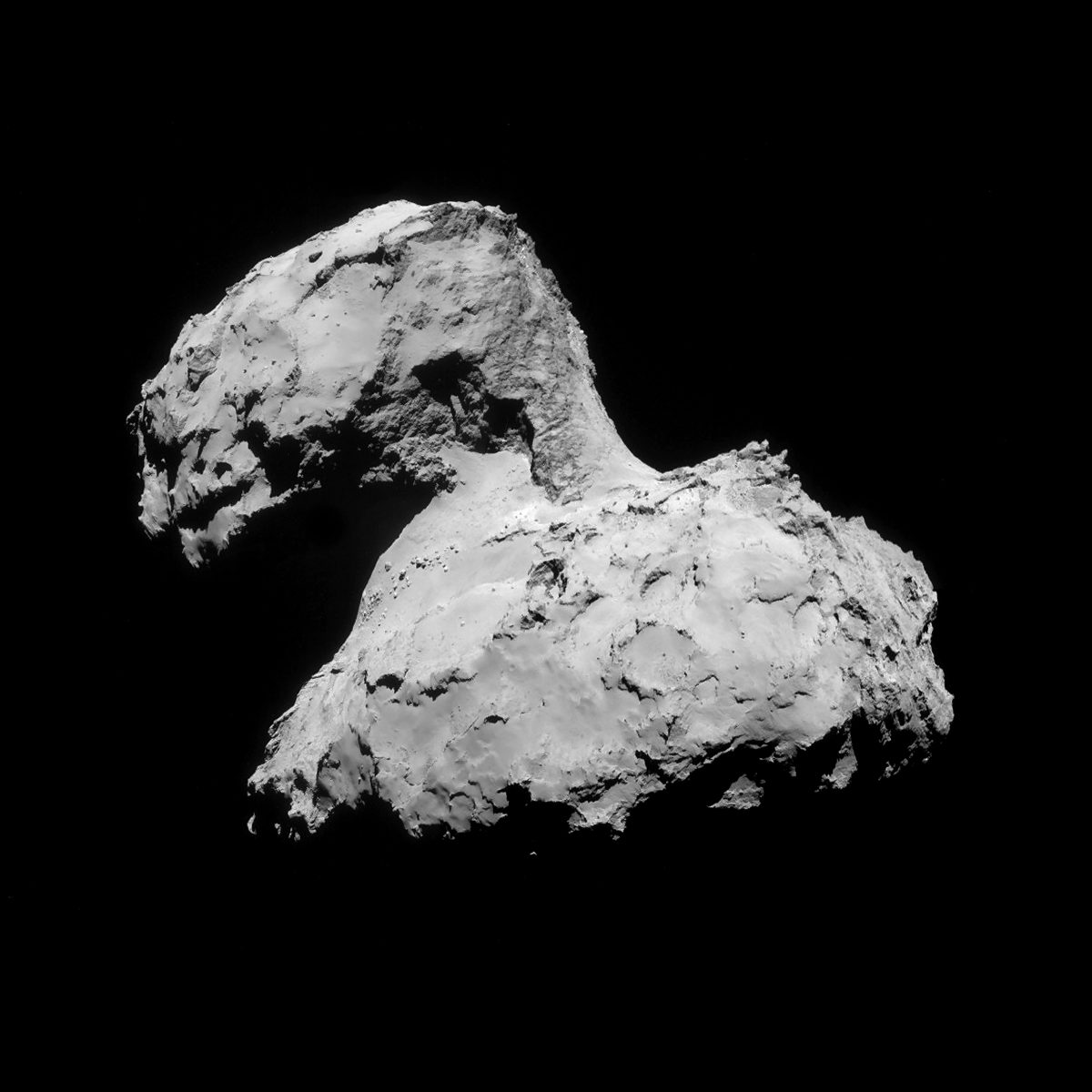 I'm fascinated by the different textures of surface materials -- smooth here, scarred and craggy there, with spires of material silhouetted against space. This capybara comet is cool from any angle.
In the original images above, you can see a darkening toward the image corners. That's called vignetting and is common in cameras; it's a natural result of the round lenses that we use to focus light on square detectors. It's easy to fix digitally. One piece of very good news in the blog entry accompanying these photos is that "The images have been cleaned to remove the more obvious bad 'pixel pairs' and cosmic ray artefacts." The NavCams have quite a number of these "bad pixel pairs" and I've despaired of correcting them myself; thanks to ESA for taking the time to remove their effects before releasing the photos; it makes the photos look so much nicer.
I'm glad to see the image stream restarted, and even gladder that ESA has invited the public to help out with producing pretty pictures from Rosetta!
Support Our Core Enterprises
Your support powers our mission to explore worlds, find life, and defend Earth. Tomorrow's discoveries begin today.
Donate